Next time you stand in front of your wardrobe in your pyjamas, clutching a cup of coffee and agonising over what to wear, spare a thought for the presenters of This Morning.
Why? Because their outfits are going to be seen by not just their colleagues and friends – but by millions of viewers at home as well. "I get a lot of women asking where I get my clothes from," says Alison Hammond.

"They just constantly want to know where we get anything from."

The bubbly Brummie is speaking alongside a host of the show's regulars at a launch for This Morning Live, a four-day event taking place in her hometown in May.
"You forget, really, that you're in everybody's homes for two hours a day, and we always say it's a real family environment here but, actually, we're part of your family, because we're in your living rooms," says Holly Willoughby, standing in front of the ITV show's famous blue couch.
So how do the presenters decide what to wear for their daily appearances in the nation's homes?
We went backstage and chatted to the This Morning stars to find out…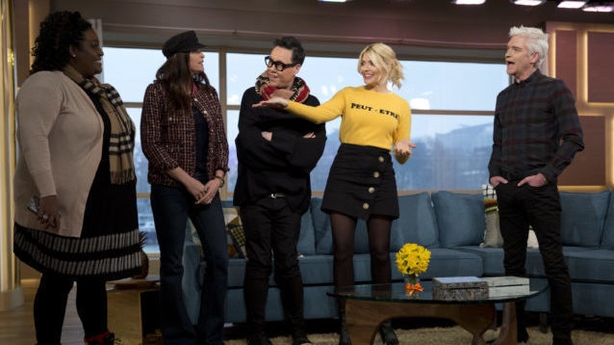 1. They don't have a fleet of stylists to help - go with what works for you
"I style myself, absolutely, I know what I like and I know what suits me," says Lisa Snowdon, 46, looking every inch the fashion icon in a tweed blazer, flared jeans and a baker boy cap.
"I think that's why I love doing fashion on This Morning, because I want women to feel empowered, I want women to know what to wear for their body types."
But the presenters do have some help from backstage stylist, David O'Brien.
"When me and Rylan are presenting the show, David will choose what clothes we're gonna wear, because he wants it to look a certain way," Hammond, 43, explains.
"But he's actually cool, in the sense that we can wear whatever we want."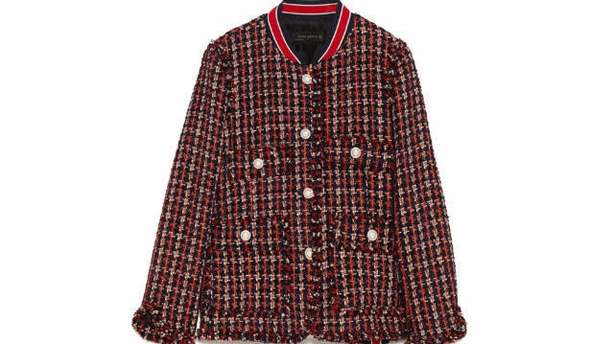 Zara Tweed Jacket with Striped Detail, €79.95
2. There are some things they can't wear
"Cameras can pick up a lot of dots and spots and things like that, so you've got to be quite careful of strobing," Snowdon explains, meaning fabrics with busy prints and tight stripes are often a no-no.
In that case, Hammond says, "David might say, 'Alison, can you change your top?', or something like that, so we'll always have a stash of clothes here."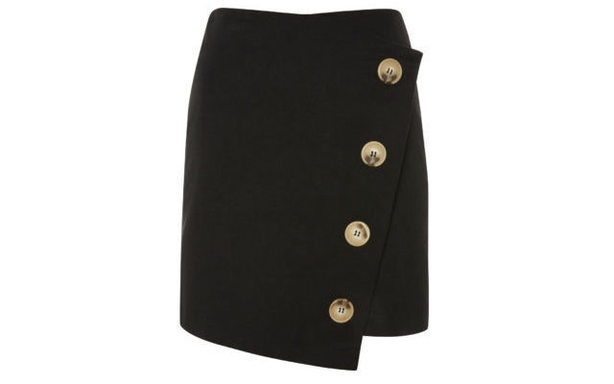 Topshop Twill Asym Wrap Skirt, €40
And while the presenters want to look good, they don't want to draw too much attention to themselves, says Bryony Blake, who presents beauty segments on the show: "You don't want to have a really low-cut top or anything, I'm really aware of that."
Snowdon adds: "I'm quite cautious of lengths of skirts and if there's any splits or anything. You have to think of all these things."
3. Denim is a fashion favourite among the presenters
"A nice pair of jeans always goes a long way," Snowdon continues. "I've got these that are my staples, they're J Brand.

"Dark denim always looks really nice on TV with a nice jacket or blouse."
Blake agrees: "I always think if you wear a jacket or a blazer, it looks really cool. You can wear a T-shirt and tuck it into some jeans with some boots."
4. Comfort is paramount
"I'm a big girl, so all I want is comfort!" Hammond says, laughing.
She's not alone; all the presenters agree that feeling at ease is their number one priority in terms of what they wear.
"I try and keep it a bit casual because, when you're demonstrating make-up and stuff like that, it can be a bit difficult, so you have to be comfortable," Blake says.
5. They're all big fans of high street fashion
It's not all designer fashion for these celebs.
"I love telling people, 'It's Zara, it's Topshop!'," enthuses Snowdon, saying she often gets asked where her on-screen outfits are from. "I am conscious of making it more high street and affordable price points."
Blake is also a fan of Zara and says Mango does excellent blazers, and all the presenters mention shopping online at ASOS.
"I love ASOS Curve, I think they're brilliant," Hammond says, "and I'm always in Yours clothing, I find they're so comfortable and wearable, and not too expensive."
As for online shopping: "My top tip would always be to order two sizes if you're unsure," Snowdon recommends.
"Because there's nothing more frustrating than getting something delivered and being really excited, then opening it up and it just doesn't fit. I always go for the two sizes so I can just return one."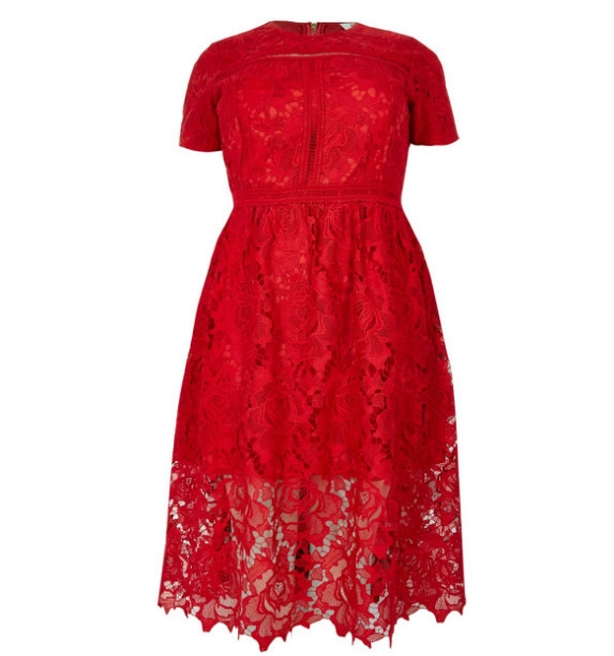 Red lace midi dress from River Island Plus, €120
6. Bright colours look good on TV
"I've been wearing a lot of black cardis over things and I've tried to change that, hence the pink cardigan today," Hammond explains. "I'm going to try and be a little bit more colourful this year."
7. But everyone loves black too
"I'm so used to wearing black most of the time because [as a make-up artist] I always have to wear black," Blake says – but not everyone is trying to steer away from the monochrome look like Hammond.
"Since Christmas, the only thing I wear on TV now is black or white," Rylan Clark-Neal says, "which is quite a conscious decision – it's the Davina in me!

"I'm going to carry it on, you can never go wrong with black and white."