Love him or hate him, 'The Notorious' Conor McGregor is one of Ireland's leading style icons.
Voted as 'Most Stylish Man' at the VIP Style Awards in 2015, McGregor is as famous for his outlandish style outside the ring as he is for his victories in it.
So what has the UFC star been wearing this Summer? Well, it ain't subtle.
Check out the most stylish moments of TIME honoree Conor McGregor here.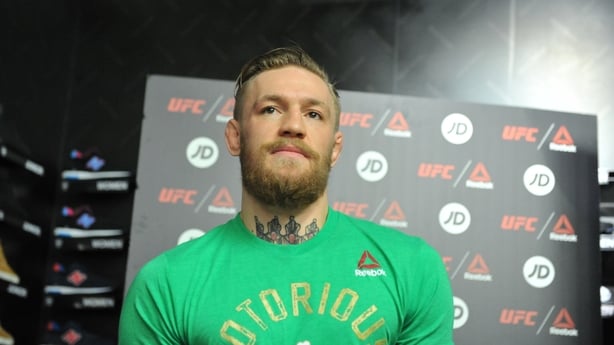 2017 has already been a huge year for McGregor who had his first son in May with partner Dee Devlin. Career wise, he has pulled boxing legend Floyd Mayweather out of retirement and into the ring this August for a fight that will go down in history no matter the result.
Clearly, McGregor is gearing up for a huge year and his outfits have been reflecting his energy. From Givenchy to Gucci, the fighter has been splashing out on his wardrobe.
Givenchy
McGregor is back in the gym with Coach Kavanagh to train for his fight against Mayweather but there are no shabby gym shorts in sight. Instead, Conor has been snapped wearing a logo-taping jersey jacket from Givenchy which comes in at a cool €1,185 in Selfridges.
Rolex
When it comes to watches, Conor dabbles in numerous brands but always seems to come back to his favourite tried and true. His impressive assortment of Rolex pieces even earned him the cover of luxury watch magazine Haute Time.
Conor's latest timepiece is a Rolex Day-Date in platinum with a president bracelet, and an ice blue face set with diamonds. No word on a price as enquiries must be made to a Rolex retailer but we're guessing it's more than all your Communion money put together.
Dolce and Gabanna
The "champ champ" has a love for polo shirts like no other. He has an assortment ranging in colours, prints and designs but the below navy polo shirt is from Dolce and Gabanna. These shirts can cost anywhere from €170 to €245.
Gucci
The below Instagram post shows Conor rocking a pair of white leather, Ace embroidered, sneakers. You can pick up a pair from Gucci if you have $640 to hand. While you're at it, you can get the matching cotton socks with tiger print for $95 a pop.
Louis Vuitton
At home, Conor relaxes with his baby boy while wearing a Louis Vuitton shirt which you can find here for $510. Let's hope Conor Jr doesn't spit up on this particular number.
Check out more of Conor McGregor Jr's wardrobe here. Fendi pre-walkers anyone?