Cannes 2017: Colin Farrell hits the red carpet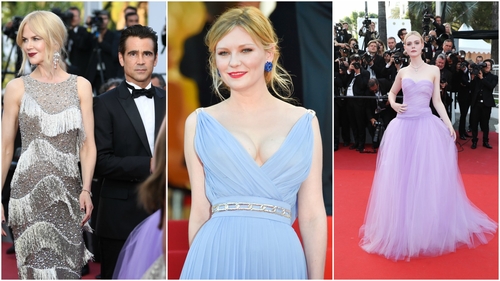 The 2017 Cannes Film Festival is in full swing. Celebrities including Will Smith, Elle Fanning and Marion Cotillard are ruling the red carpet.
This year's president of the jury, director Pedro Almodóvar, and jury members Fan Bingbing, Gabriel Yared, Will Smith, Park Chan-Wook, Agnès Jaoui, Maren Ade and Paolo Sorrentino are busy at work.
Opening night (Wednesday, May 17) started with the screening of Arnaud Desplechin's awaited Ismael's Ghosts. The French Riviera saw a number of celebrities treading upon the red carpet that night!
Stars such as Susan Sarandon, Lily-Rose Depp and Uma Thurman slayed with their looks.
Day 2 (Thursday, May 18) was full of photocalls and the screening of Loveless by Andrey Zvyagintsev. Celebrities such as Robin Wright and Julianne Moore brought amazing outfits to the red carpet.
It was also time for other celebrations such as the Chopard dinner in honour of Rihanna and her Rihanna X Chopard Collection.
Day 3 (Friday, May 19) was the screening of Netflix's controversial Okja movie starring Jake Gyllenhaal and Tilda Swinton. Rihanna and Bella Hadid stole the show with their looks that night.
Day 4 (Saturday, May 20) saw the screening of Robin Campillo's 120 Beats Per Minute and Ruben Östlund The Square. Celebrities such as Kendall Jenner and Kristen Stewart attended the screenings while making a splash on the red carpet!
Day 5 (Sunday May 21) was the day for another Netflix production screening, The Meyerowitz Stories by Noah Braumbach starring Emma Thompson, Dustin Hoffman and Ben Stiller. The crew had the best time on the red carpet! It was also the time of John Cameron Mitchell's How To Talk To Girls At Parties screening, starring red carpet queens Nicole Kidman and Elle Fanning.
Day 6 (Monday, May 22) saw Michael Haneke's Happy End screening starring French actors Isabelle Huppert and Mathieu Kassovitz, and also Yórgos Lánthimos' disturbing The Killing of a Sacred Deer, starring Nicole Kidman and our very own Colin Farrell.
The two women of the day, Isabelle Huppert and Kidman, rocked the red carpet!
Day 7 (Tuesday, May 23) the film of the day was Naomi Kawase's Hikari screening, but above all the Cannes Festival 70th anniversary photocall and celebrations! All the celebrities gathered together to capture this historic moment.
Day 8 (Wednesday, May 24) was certainly one of the most awaited days with the screening of Sofia Coppola's The Beguiled starring no less than Nicole Kidman, Kirsten Dunst, Elle Fanning and our very own Colin Farrell. This is definitely Nicole Kidman and Elle fanning's year! It was also time for French director Jacques Doillon's to present his movie Rodin, starring Vincent Lindon.
We will keep you up to date with every red carpet moment throughout the festival so be sure to check in with us every day!
In the meantime, check out our favourite Cannes Film Festival fashion moments of all time here!