I love spending time looking for original pieces in vintage shops! Coming from Paris, we have more than our fair share of shops and I was curious to discover what Dublin's vintage scene was like...
However, after sampling the amazing vintage shops London had to offer, I haven't looked at the Parisian ones the same way! Once I arrived in Dublin, I wanted to see if the city's vintage spots had the same cool and eclectic atmosphere as those in London.
Here are my top five vintage shops in Dublin:
1. Lucy's Lounge
Where is it? 11 Fownes Street Upper, Temple Bar, Dublin 2.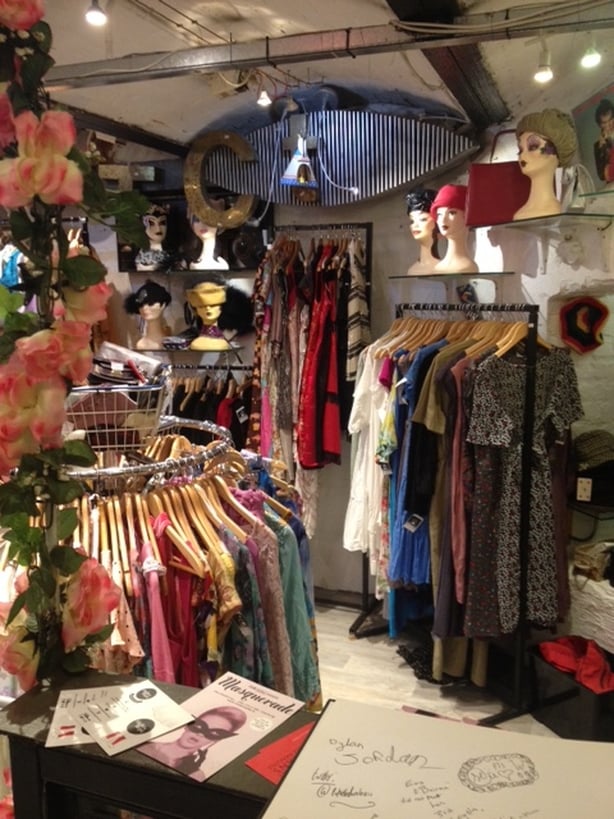 With its pink facade and eclectic signs, you can't miss Lucy's Lounge! Located in the famous Temple Bar area, Lucy's Lounge is both a vintage shop and a tattoo studio - the coolest stuff is gathered in this tiny spot.
As soon as you enter the shop, you're welcomed by the resident dog playing around the shop. Covered by various crafts and accessories, the shop has a fussy yet cool decor. I fell in love with the decorations made of lights, signs, eclectic objects and especially the mannequins located on the ceiling.
In this first room you can find a lot of vintage jewels, original jewelry, handmade accessories (I've seen a wallet made with a cassette tape that I have my eye on) and illustrated cards.
Next, you can make your way downstairs. I literally had to stop in the middle of the stairs to admire the abundant and impressive decor!
In this area, the abundance is even more impressive. Multicolored clothes mixed with prominent decorative pieces that makes this vintage shop feel like it's also an antique shop too.
The clothing style consists of everything from fifties dresses and hats to seventies shirts and jackets. The prices are really fair for vintage clothes - around €20 for a shirt and €50 for a jacket.
This shop's atmosphere is so cool that you never really want to leave. It's definitely my fave vintage spot in town!
2. Retro
Where is it? George's Street Arcade, 22 S Great George's St, Dublin 2.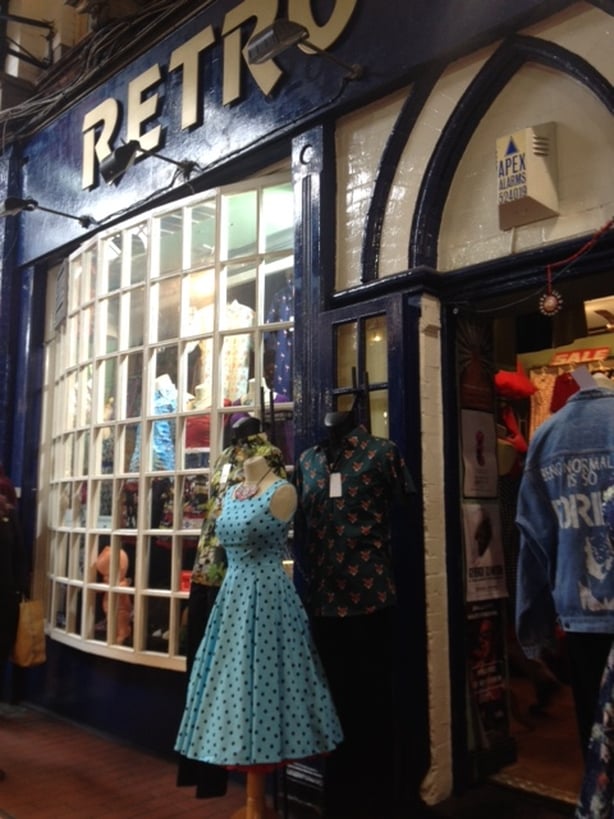 Hidden in the Ali Baba cave that is George's Street Arcade, Retro attracts customers in with its pin-up style dresses outside the shop door. When you enter into the very small and lovely shop, you realise that it is overflowing with vintage dresses from floor to ceiling.
You feel as if you've stepped back in time to the fifties with the many pin-up dresses, oversized printed shirts, jackets and swimsuits. Even Saoirse, the lovely sales assistant, looks like she's stepped straight out of the fifties with her red hair, fringe and retro style.
If you're looking for some 50's clothing, this is definitely THE place to be in Dublin. These are replicas, not true vintage pieces, but that just means you'll be the first to wear it!
3. Nine Crows
Where is it? 22 Temple Ln S, Temple Bar, Dublin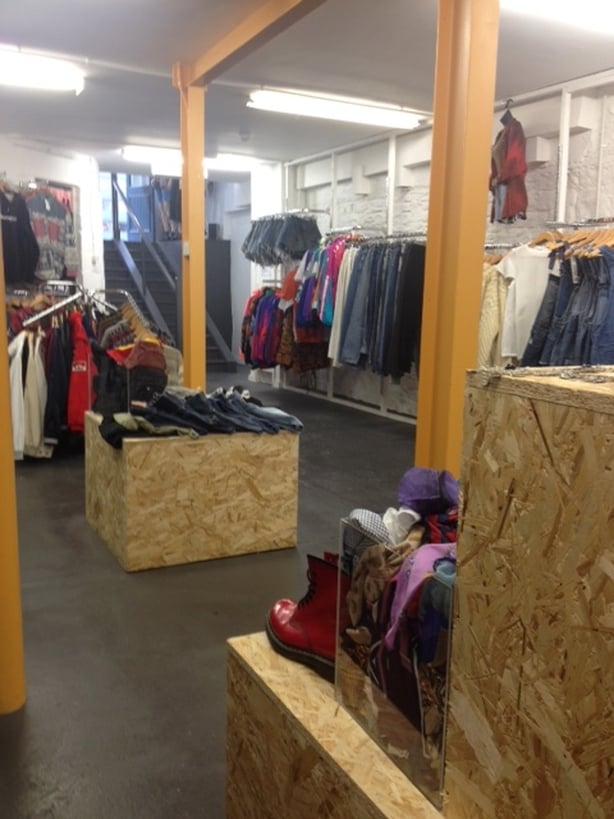 More refined than Lucy's Lounge, Nine Crowns is also located in the Temple Bar area.
This shop is one big room of hipster clothes but in the best way. Bomber jackets, leather jackets, oversized checked shirts, mom jeans... the very latest trends are there! The bonus of Nine Crow? They have a range of branded items including Levi's jeans and Dr Martens shoes.
Their accessories are also really cool too; they have a range of headbands, leather backpacks and some really unique pieces you can find while rummaging around.
Hidden in the room, there is also a nail stand. So after your shopping, you can have your nails done!
4. Om Diva
Where is it? 27 Drury St, Dublin 2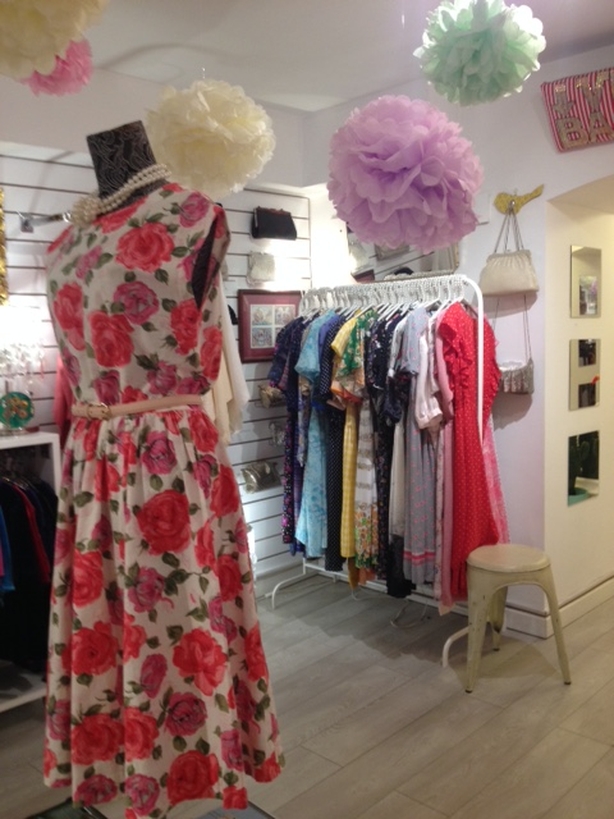 Om Diva is the loveliest shop I've ever seen. Girly, colourful and retro decorations are everywhere. This two-floor shop looks like a concept store and offers a contemporary collection of really original and classy clothes, but also has a vintage basement.
When you go in this vintage area you feel like you are opening a wardrobe full of treasures straight from the 1950's. Paper lanterns give the shop a really cosy and comfortable feel. The clothes are hand picked from all over the world and trust me, these vintage numbers are very wearable.
Accessories, cute bags and jewellery are available too, to complete your look. This shop is a real must-see!
5. The Harlequin
Where is it? 13 Castle Market, Dublin 2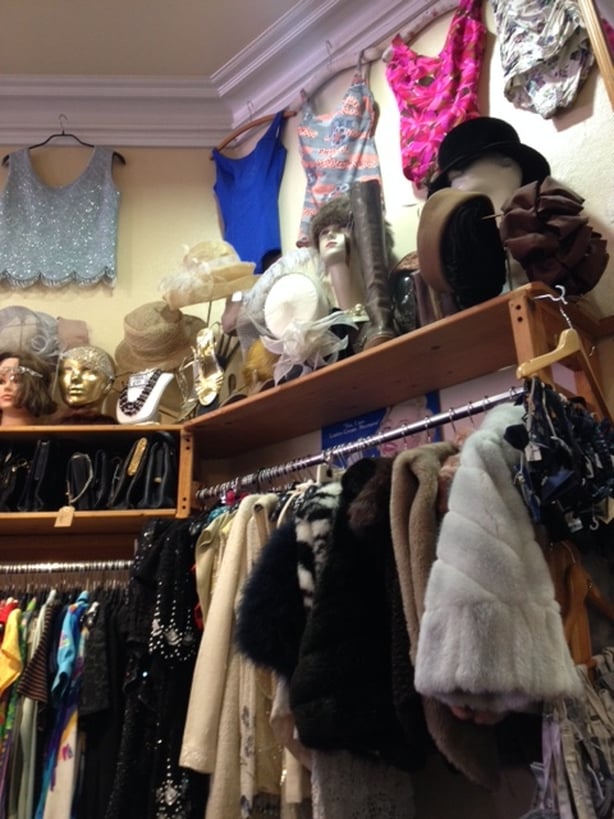 The Harlequin is an amazing vintage shop; you can find everything you could possibly want within these three floors. From sunglasses to fur jackets and Mom jeans to prom dresses, this place is vintage heaven!
The Harlequin sells vintage and second hand clothes that are hung up in every single corner available. If you climb the high stairs (while perusing the boots and berets hung on the wall), you'll find a lot of items on sale.
A real bonus of the shop is the men's department so you can leave with a vintage 'his and hers' set on every visit.
Dublin's vintage shops have a strong taste and choice of pieces. Conclusion: I deffo LOVED them!