As we come into summer we often take a more laidback approach to applying makeup, a quick slick of BB cream or tinted moisturiser with SPF, a scribbling on our brows with a pencil and a subtle sweep of bronzer and highlighter can be enough to look polished and radiant.
Keeping lips looking plump, nourished and just a little bit glam can be easy to achieve with some of the new-gen products on the market, many of which combine makeup with skincare benefits.
Here are our top picks of some of the greats out there. Pucker up!
Clarins Jolie Rouge Brilliant Lipstick, €23
If you're a fan of super plump, intensely pigmented lips then look no further than the Clarins Jolie Rouge Brilliant lipstick range. As you can see from the model shot above, are SUPER luminous, with ultra fine pearls providing a subtle shimmer to the lips. There's a whopping 12 shades to choose from, ranging from fiery reds, to hot pinks, juicy corals and perfect nudes. They're really well pigmented too, and feel so comfortable on the lips due to the inclusion of mango oil and pro-ceramides to nourish and soften lips.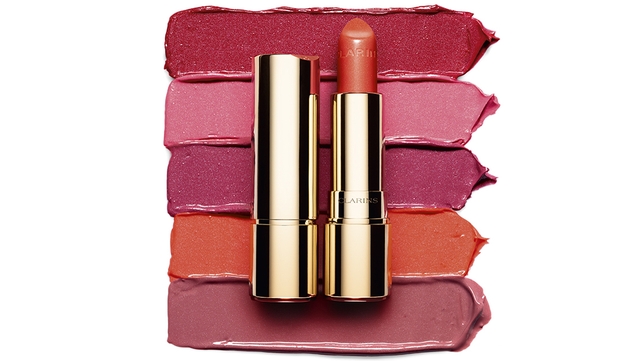 Lancome Juicy Shaker, €22
Lancome's Juicy Tubes are one of the most iconic products out there, and now the brand have taken it to the next level with Juicy Shaker, which is the most fun makeup launch we've seen in... forever. These innovative little lip products are super cute to look at, housed in a chunky tube, and come with an utterly unique cushion applicator which makes application not only pleasant, but easy as it hugs your lip contours.
As the name suggests, before application you have to give the tube a shake to combine the bi-phased formula of nourishing lip oils and pigments, creating the perfect glossy veil of colour for your lips. The feel of the Juicy Shaker on the lips is like no other, it's lightweight, moisturising and makes you want to smush your lips together all day long! There are gorgeous 14 shades to choose from, all of which are infused with different fragrances. Just yummy.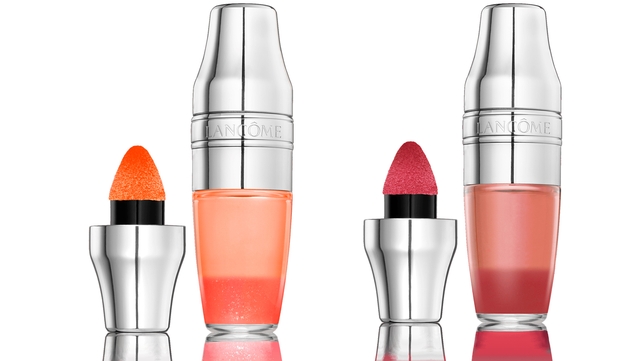 DB Face Super Gloss in Super Nude, €18
We're not generally the biggest fans of lipglosses, but the DB Face Super Gloss from Dublin salon Dylan Bradshaw's makeup range is to die for. The shade Super Nude is impossibly chic and makes us feel a little like Olivia Palermo when wearing it. Wishful thinking, perhaps, but it casts a beautiful, neutral browny-nude veil of colour over lips which looks just as good on makeup-free days as it does with a seriously dramatic smokey-eye. The texture is unlike a traditional gloss too, it has a bit more tackiness than a lip balm, but still feels easy to wear and, crucially, your stray hairs won't get stuck on your lips when you're wearing it. As an extra boon, it's formulated with hydration agents to flood lips with moisture.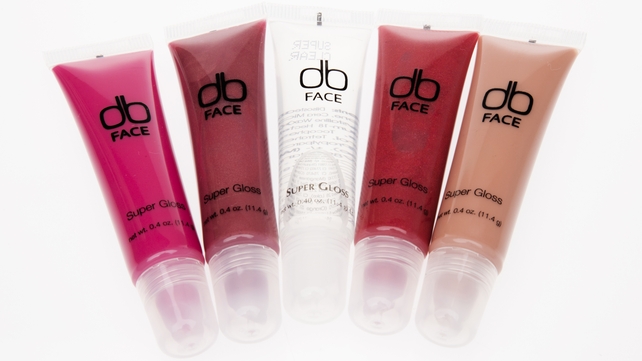 Yves Saint Laurent Glossy Stain Pop Water €33
The Yves Saint Laurent Glossy Stain Pop Water provide a pop of sheer colour coupled with hydration. These are formulated with water to impart extra moisture to lips, and we're particularly enamored with the hardworking applicator, which has unique slanted tip to allow for flawless application with perfect precision. Wear time is good, and after the glossiness has worn off you're still left with a pretty hint of colour on lips. To increase the colour intensity you can also layer these beauties for a plump pout that will easily see you from breakfast to lunch!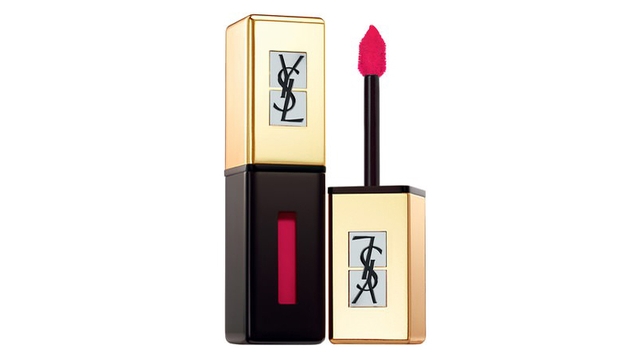 L'Oreal Infallible Matte Max Lip Lacquer, €10.49
Not all of us like a glossy or sheeny finish to lipstick, so step in the new L'Oreal Infallible Matte Max Lip Lacquer. These are bloody gorgeous and so well pigmented. This unusual powdery lip product is housed in a applicator lip pen which has a small sponge applicator, perfectly picking up just enough the product from the tube to spread over lips. My favourite three shades from the six-strong range are Disturbia, a bright orange-red, Virgin, a poppy pale pink and Oops I Pink it, a pretty blue-toned fuchsia. They feel super lightweight on lips, wear well without fading dramatically, and don't dry out lips. Super dooper.