I'm doing my own makeup for my wedding in August, both to save some money and because I quite enjoy doing my own makeup, but I feel I really need to hone my skills before the big day and find out which products will provide the long-lasting result I'll need.
I was aware that the amazing Brown Thomas Personal Beauty Team did beauty lessons, which are €80 redeemable against product, so I headed along to meet Nicole Lynch to get some insider tips on the best products to add to my arsenal.
Making sure your makeup actually stays on your face and doesn't wear off throughout the day is one of the primary concerns for bridal makeup - so Nicole first applied the cult classic Laura Mercier Oil-Free Foundation Primer (€42) to provide the perfect base for foundation.
As soon as Nicole saw my pale, makeup-free face she immediately knew which foundation to go for - Nars Sheer Glow (€41) in the shade Siberia - Light 1 which she applied with a fluffy foundation brush. The finish was extraordinary - great coverage which concealed any redness in my complexion but still gave a natural, 'skin-like' finish and a great glow. I was pretty blown away.
Nicole used the Nars Radiant Creamy Concealer (€28) to cover up the dark circles under my eyes, which has impressive coverage but a natural finish, before setting the makeup with the Charlotte Tilbury Airbrush Flawless Finish Skin Perfecting Mircro-Powder (phew!) in the shade Fair - 1. I immediately fell in love with this product - it has an ultra-light, soft feel and diffuses the skin for a soft-focus finish, but doesn't look like you're wearing anything. This moved straight to the top of my makeup wish-list!
Nicole then went in with the Charlotte Tilbury Filmstar Bronze and Glow (€65) to add some definition - teaching me a very clever little trick in the process. I usually sculpt my face by sucking in my cheeks and contouring in a straight line from my hairline, but Nicole instead applied the product in a rounded shape under my cheeks right into my nose. It sounds mad - but it honestly works. It gave my face such a nice shape and really made my cheeks stand out - do try this at home! Go slowly and make sure your brush is only lightly dusted with product for a subtle effect. Nicole then added the golden highlighter from the Filmstar palette to the tops of my cheekbones with a fluffy eyeshadow brush, and really blended the product into my skin, giving a much more natural finish than I've ever achieved myself.
To add a pop of colour, Nicole used the Charlotte Tilbury (I'm seeing a pattern here!) Sex On Fire Blusher (€39) swished onto the apples of my cheeks, before going in with the Bobbi Brown Pot Rouge Cream Blush in the peachy shade Fresh Melon (€27), tapping it into my skin with her fingertips. I normally would never use a cream product over a powder, but the technique really worked to add a fresh, dewy finish to my cheeks.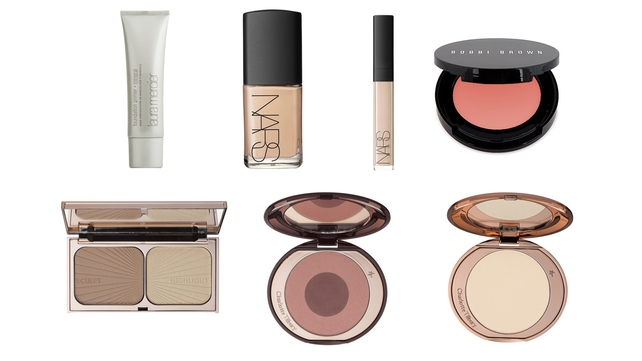 Some of the face products used to create the look
Now onto the eyes and the most technically difficult part of the look. I wanted a delicate smokey eye which added some definition without being too overpowering. Nicole achieved this to perfection with a combination of Mac eyeshadows in golden, copper and brown shades (All that Glitters, Texture, Swiss Chocolate, Amber Lights) to create a romantic, diffused smokey eye. She applied the paler colours all over my lid and into my inner socket, and used the darker coppers and browns on the outer corners both above and below my eye.
For an added dose of drama, she used her fingertip to apply the Dior Meteorite cream shadow on the centre of my socket, a gorgeous shimmery bronzey shade which caught the light beautifully. She then applied the tiniest line of brown eyeliner tightly on my upper eyelid, which was one of the most effective steps. It really defined my eyes, but just made my lashline look thicker, with minimal product. Very impressive.
To further open up my eyes, she used the Charlotte Tilbury Eye Cheat (€25) on my lower waterline, a product which I own and swear by. It's a flesh coloured pencil which instantly brightens up the eye area without looking too obvious, and it lasts and lasts throughout the day.
To lightly define my brows, Nicole used the Charlotte Tilbury Brow Lift (€30) in the lightest shade - Grace K . I usually would use a darker shade on my brows, but this kept them from being too overpowering, and kept my whole look soft and natural, which really worked well.
Finally to lips, and Nicole first filled in my entire lip with one of my favourite lip products ever - the Charlotte Tilbury Lip Cheat (€22) in Pillowtalk - the perfect pinky-nude shade. She then applied the YSL Pur Couture Lipstick in the shade 10, a creamy nude, before going in with the Charlotte Tilbury lipgloss (€22) in Sweet Stiletto. I'm not usually a fan of wearing gloss, but I had to say I loved how it looked on, it added a lot of plumpness and who can argue with that?!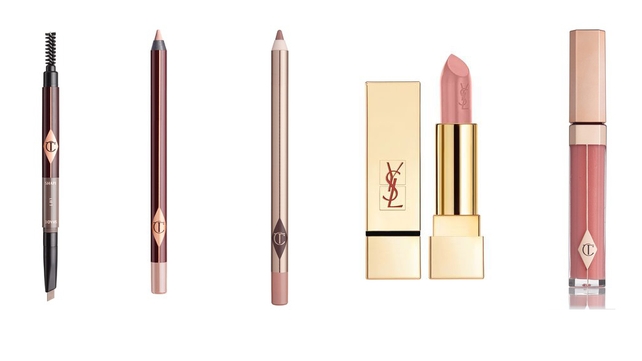 A selection of the eye and lip products
I was so impressed with the finished look, it was polished without feeling too overdone, and I still felt like myself, just a very camera-ready version of myself, which is perfect for bridal makeup! I can also attest to the long-lasting finish of the look, as it lasted all day and into the night.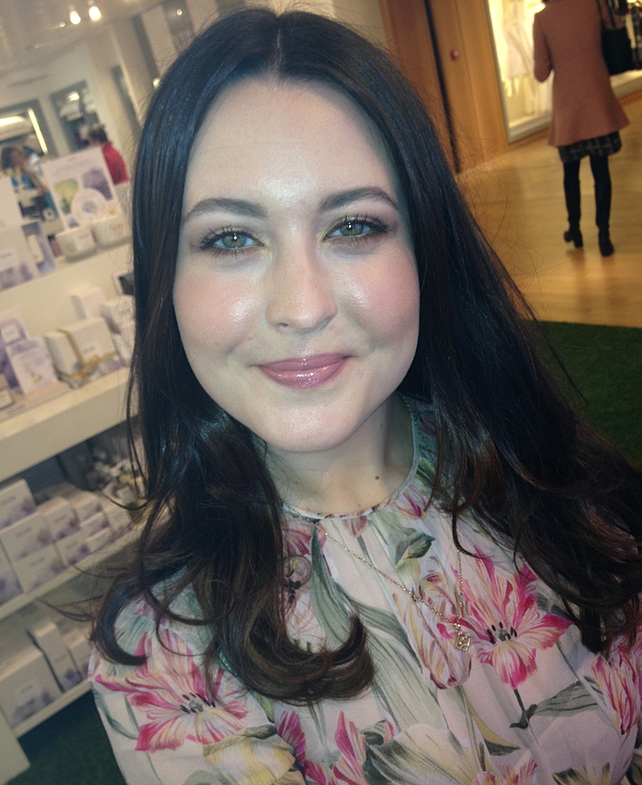 The Beauty Essentials Lessons at Brown Thomas last 60 minutes, cost €80 and are redeemable against product. If you're looking to revamp your makeup bag, or want to learn some tips before a big event, I would highly recommend the service. Although I can't afford to invest in all the beautiful products Nicole used, I picked up some invaluable tips which will stand to me for many make-up wearing years to come! And also, I can see myself purchasing some sneaky payday makeup treats over the next few months...
Brown Thomas also offers a Bridal Beauty Package which includes a wedding make-up trial with a Brown Thomas Beauty Stylist, a skincare consultation with a luxury skincare brand, a complimentary file and paint with nails Inc. and a bespoke fragrance consultation with a Jo Malone London bridal specialist before the big day. On the wedding day, the Personal Beauty Stylist will come to the bride's home and apply wedding day make-up for the bride and up to four bridal party members. The entire bridal package is priced at €600 and is currently only available in Dublin locations.