The Christmas party season is here and with it the dilemma of what to wear. Should you haul out the little black dress and add some sparkle? Opt for floor length glitz? Check out Louise Rawlins' top tips below.
1.    Skin - Stick to a strict skincare regime. Take your make-up off every night or as soon as you you get home. Let your skin breath and lavish it with creams and get a weekly facial. I use Estee lauder skin creams and Elizabeth Arden 8 hour cream once a week. I drink about 2 litres of water a day too, that's great for the body and skin.
2.    Sleep! – This time of the year is tiring, so get plenty of sleep when you can. Between work and partying you can starve yourself of sleep which leads to mood swings and you not being your best.
3.    A Great Coat! – Coats are my favourite item of clothing! Invest in a show stopping coat such as my Ruby Red Velvet Swing Coat. They make the ultimate party entrance and will give you the greatest feel good factor when you are out in cold, chilly weather. Prepare to be complimented on wherever you go!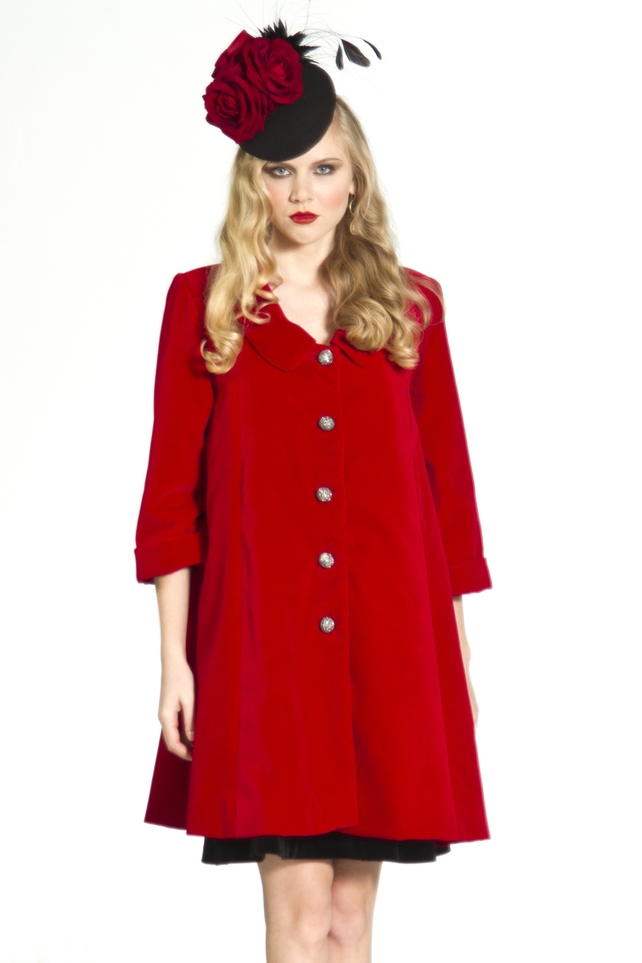 Ruby Red Velvet Swing Coat €540, hat by Georgina Heffernan millinery
4.    Dresses – Invest in some classic little block colour dresses which will allow you to change the look with accessories and save on buying lots of one-week-only pieces!
5.    Bling! – One of my favourite things in life is bling! Rings and earrings in particular add uber-class and festive sparkle to your look. I wear jewellery daytime and evening, and don't care whether I'm super blingy during the day as long as I look awesome! My favourite jewellery haunts are Rhinestones and Delphi Jewellers.
6.    Handbags & Shoes – One amazing handbag is all you need, mine is a black leather studded Alexander McQueen DeManta bag. Make sure your shoes are comfy! If you're buying comfy flats add an inch or two to yourself by buying heel insoles! I stuff mine into all my flats!
7.    Make-up – I'm a natural make-up kinda gal. Over doing it looks cakey and false. Keep it simple, use a good coverage make-up, so you end up applying less. I use Estee Lauder Maximum Cover Foundation and Chanel powder to set it. I'm not a fan of smokey eyes. I prefer a black eye liner and a colour on the lip. Elizabeth Arden's Rouge 01 or Chanel Coco Rouge Mademoiselle 05 are great reds. They have a blue-red tone which, unlike orange-red bases, don't make your teeth look stained. My favourite matt lipsticks are Inglot. I love 420, it's a deep plum and I'm currently searching for a nice blue. Yes, I want a blue lipstick!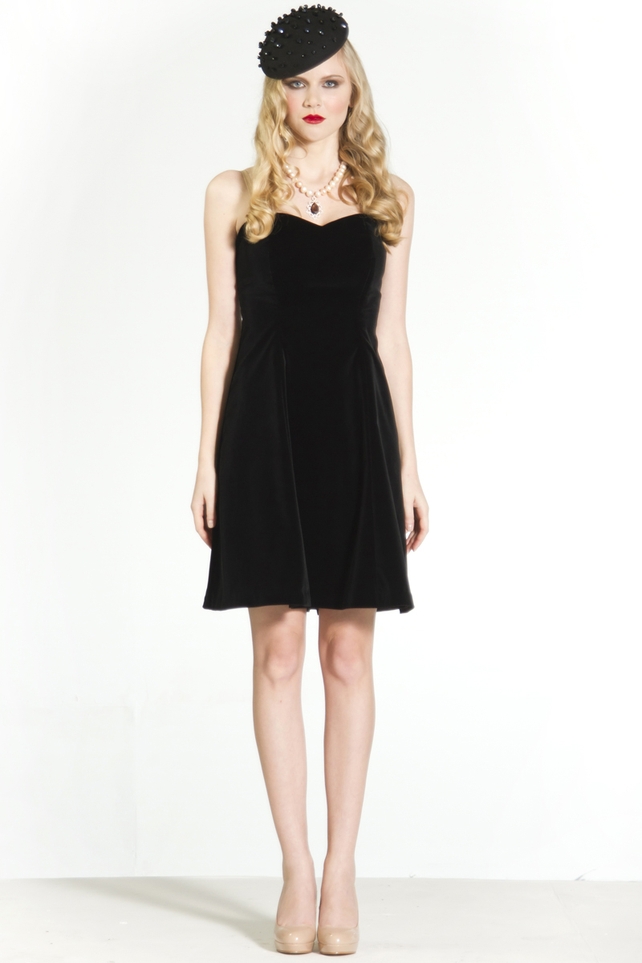 Black Velvet 'Sweetheart' Dress €220, hat by Georgina Heffernan millinery
8.    Hair – Trim and colour before your party sessions kick off and leave a mask in every few days for a few hours. I love a messy hair style and slap it on my head with lots of product before I go out. It's super interesting and really unusual. Also, my hair is purple-blue which is crazy to start with! Chuck in a crazy colour if you're in the mood for a temporary change!
9.    When it's over, it's over! – I'm not a fan of after parties, and the thoughts of going back to someone's 'gaff' to keep the party lit makes me cringe! Time's up at 3am! No need to over-indulge on booze in someone's house until the wee hours. You'll regret it the next day and feel and look exhausted for days after.
10.   Over Indulgence – Party time can lead to over-indulgence in both food and drink. Try to watch what you eat and exercise or go for a walk if you have over-indulged. Keep Alka-Seltzer in your bag just in case eating a bit too much at dinner makes you feel sluggish and wanting to go home. You'll be fine after an hour or two.
About Louise:
Louise Rawlins, 30, opened her boutique in Powerscourt Townhouse Centre this July. The shop stocks her two labels, Louise Rawlins and RAW ART Chic, along with some other Irish Designers including Georgia in Dublin, Niamh Ni Rourke Millinery, Brishen Designs and Ana Faye Handbags. 
The Louise Rawlins label is an elegant, colourful range of dresses, coats, evening wear and knitwear, while RAW ART Chic a quirkier label comprising of pieces, such as the 'Bomono' jacket, a quilted silk bronze jacket with royal blue lining.