Dublin's Conrad Hotel is set to host a fashion showcase event that will see three exciting Irish designers showcasing their creations at the hotel.
The three designers are fashion designer Natalie B Coleman, milliner Mark T Burke and fashion designer and fine artist, Laura Jayne Halton and all three will be displaying their autumn/winter collections in the front windows of the Conrad for both guests and the public to enjoy.
Speaking about the event, general manager of Conrad Dublin, Martin Mangan said: "We are thrilled to be able to support young Irish designers each of whom has a portfolio of incredible designs and creations."
He added: "Ireland is a hot bed for emerging design talent and nowhere will that be more evident that at Conrad Dublin over the coming weeks."
The designers selected have each achieved impressive levels of success and are some of the most promising young design talents in the country today.
Natalie B Coleman established her womenswear brand in 2010 and has dressed stars such as Laura Whitmore, Suki Waterhouse, Sharon Corr, Mary J Blige, PJ Harvey and Marina and the Diamonds.
26-year-old Mark T Burke won "Accessory Designer of the Year" at the 2010 Irish Innovation Awards and one of his designs was part of the winning "Best Dressed Lady" look at the 2010 Punchestown Races. One of his creations was also worn by the wife of jockey AP McCoy to the royal wedding of Zara Phillips.
Kildare native, Laura Jayne Halton won a competition to create the artistic illustrations for Sarah Jessica Parkers' fragrance campaign and also designed the dress that Academy Award nominated producer Fodhla Cronin Reilly wore to the Oscars ceremony.
You can see these designer's wonderful creations exhibited at the Conrad Hotel on Earlsfort Terrace until the 6th of October.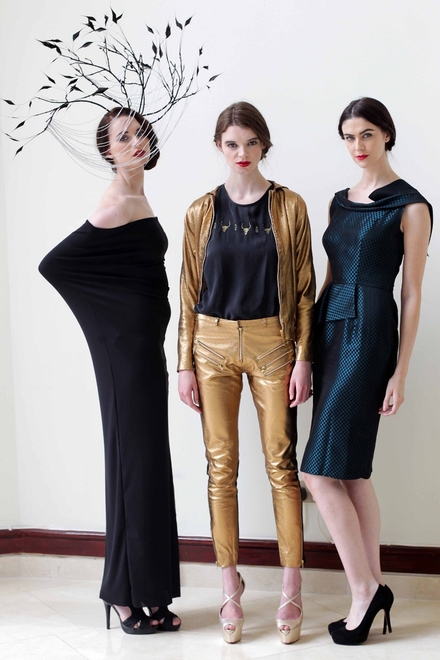 Designs from Mark T Burke, Natalie B Coleman, and Laura Jayne Halton at the Conrad Dublin