The brand has brought out an amazing new cream blusher which is available in six silky shades to enliven your complexion, and all of which perfectly match the Rouge Coco Shine lipstick shades. It's a very clever idea that's perfectly executed.
The cream blushers come in a variety of shades, from intense beige, to apricot, coral pink and burgundy. They have a beautifully light, creamy texture which seems to melt into skin, leaving a satin finish.
I tried out the Inspiration blush, a soft, pale pink, and the Rendez-Vous Rouge Coco Shine, which delivers a sheer wash of girlish, blue-based pink to lips.
I found these products instant favourites, to deliver a fresh, youthful appearance without looking like I've made too much effort.
The collection has gone for a muted smokey eye for autumn, with a quad eyeshadow palette containing shades of matte khaki, intense golden khaki, silvery taupe and golden ivory. Also available are two limited edition monochrome shadows in light lavender and metallic taupe shimmer.
There is also a gorgeous new Stylo Yeux Waterproof in a khaki shade enhanced with bronze shimmer. These are handy, twist-up eyeliner products which provide longlasting colour.
Chanel's there are three new limited edition nailpolish shades in Elixer, a pink with grey tones, Alchimie, a golden khaki, and Mysterious, a khaki/charcoal grey.
The Chanel Autumn collection is available in stores now.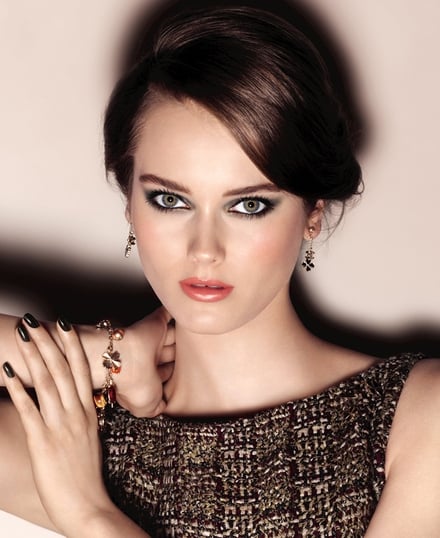 By Sarah McIntyre