The singer, who also fronts Madonna's Material Girl clothing line, took part in a huge photo shoot for the New York brand yesterday in Times Square.
Wearing a black dress and black mesh jacket, the star posed with a black bag while hailing a taxi cab and then leaned out the taxi window for another shot clutching a bright blue bag.
Rita's best friend, model Cara, had been used by the brand for its spring and autumn 2012 campaigns.
Before heading to the shoot, Rita tweeted: "Good morning. Hitting the gym then we do a HUGE photoshoot in the middle of Times Square! Come and say hi! 12pm! It's going down!!'
The 22-year-old and her "wifey" Cara, hosted a party for DKYNY just a month ago in London where Cara joined Rita on stage and attempted to grab her microphone.
The pair reportedly fell out over the incident but Rita has since taken to twitter to clear up the rumors she said: "I don't know what all these stupid stories are about but Im always going to have my best friend @Caradelevingne I love you!"
In June, it was reported by The Sun that the two friends are set to collaborate on a joint fashion venture for Topshop.
Rita Ora on location for DKNY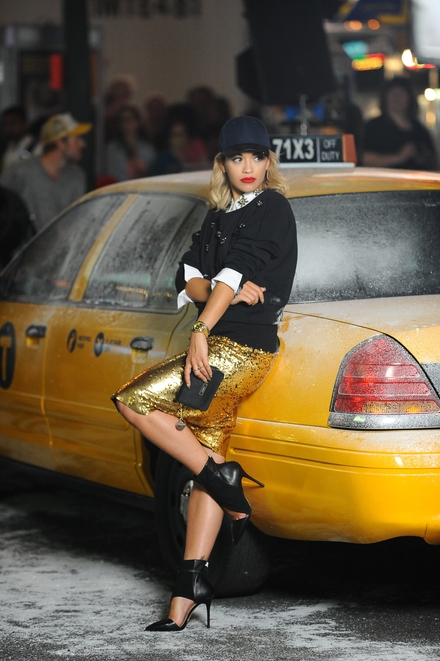 Rita Ora on location for DKNY