When Vicki Mooney started writing her style book, Curve-a-licious, in 2010, she knew she wasn't the conventional, slim and svelte fashion writer. But that didn't bother her. And just as well. Her book dishing out advice on 'dressing for your shape' and other style tips for curvy women got instant positive feedback from women, with over 1,000 contacting her after a recent Late Late Show appearance.
Her story is an inspiring one. Six years ago she was 28 stone and a dress size 32, until she had a gastric bypass and lost 14 stone. Now, Mooney is a size 16/18 and one of Ireland's top plus size models. Georgina Heffernan caught up with the glamorous model to find out a little more.
Georgina: Tell me a little about your weight loss journey?
Vicki: In 2004, I was 28 years old and I weighed 28 stone - that's a stone in weight for every year of my life. I didn't have any confidence, I lived in baggy tracksuits and I didn't go out. I also suffered from depression and anxiety attacks as a result of my weight.
I finally plucked up the courage to do something about my size in 2005. My doctor, Donal O' Shea, immediately put me on to the weight management team at Loughlinstown hospital and from there I began a year of therapy, dealing not only with my eating, but the emotional reasons behind my eating.
Deciding to have a gastric bypass must have been a very difficult decision, why did you decide to go for it?
I had a gastric bypass in August 2005, and I was terrified because not everybody makes it off the table. However, at that point I was morbidly obese and I was finding it difficult to even walk, so surgery was the best option for me.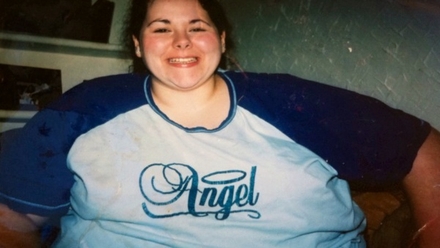 Why do you believe you gained so much weight initially?
I had a difficult childhood and food became my coping mechanism and my comfort. Whenever I was blue – I turned to food but, over the years, my weight just kept creeping up and up. One day in particular sticks out in my mind; I was out shopping and something upset me, I can't even remember what it was, but I bought 7 Ice cream bars and ate them all in under 20 minutes. It's funny, because my main meals were always healthy but I'd snack on sweets and chocolate constantly throughout the day.
Being a size 32, it must have been difficult to find clothes that fit. Was it tough finding fashionable clothing at that size?
Not being able to wear pretty, fashionable clothes was gut-wrenching to me. I've always loved glamour and fashion but when you are that big, your choices are severely limited, because they just don't make nice clothes in really big sizes.
I had to wear what could best be described as 'printed tents' and I dressed like a 70 year old. You know what upset me more than anything else? People were always telling me that I'd a pretty face but the subtext was 'Isn't it sad that you are so big- you could be so pretty'.
I used to look at my reflection in the mirror and try to imagine what I'd look like if I lost the weight but, at that point, my situation felt so hopeless. I thought there was no way out because every diet I tried ended in failure.
How quickly did you start to lose the weight after surgery?
The weight loss was dramatic. I went from eating a massive 3,000 calories a day to 500 and in the first 5 months I lost 5 stone. But nothing can prepare you for the reality of a gastric bypass; because your stomach is so small you can only eat tiny amounts of food. If I ate, for example, a slice of toast and a spoon of yogurt, I'd feel as if I'd eaten a massive Christmas dinner. To say that it took some getting used to would be something of an understatement. I had so many ups and downs in that first year, nothing could have prepared me for it, but I had to sort out my issues with food once and for all. It was a difficult process but in 14 months I'd lost 14 stone... and I was beginning to love my new shape.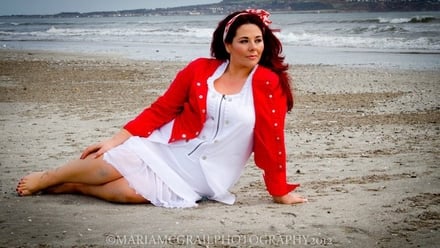 How did you get into modelling?
In 2007, after I had my daughter, I did a diploma in therapeutic counselling. I started to talk about my experiences and my confidence began to grow, I felt ready for a new challenge. I heard that Tempted boutique was running a competition to find a plus size model to represent their brand. I entered and came second but for me, it was a massive confidence boost.
From there Andrea Roche called me and asked me to join her modelling agency. I'll never forget it; she phoned me up out of the blue and said:' you are one of a kind ...a very beautiful girl. Would you like to model?' I nearly died of shock but it was an amazing opportunity, so I grabbed it with both hands. I'd hidden behind a desk in an office for so many years but this was my chance to do something I'd always dreamed of.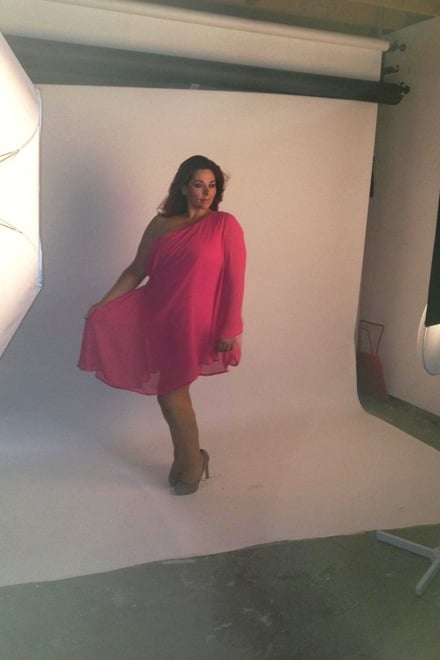 What does being a plus size model mean to you?
It means that I can be a positive role model for other curvy girls. These days there's so much pressure on women to conform to the super-skinny ideal. It's nice to have a realistic body type on the catwalk to counteract all of that; after all, the average size of a woman in Ireland is a size 14.
You recently wrote and published a style book for curvy girls, tell us about that?

Curve-a-licious – The Curvy Girls Guide to Looking and Feeling Delicious was something I'd wanted to do for such a long time. I wrote it with my best friend Anna Carroll-Browne, who thought that it was a fun project we could work on together but it grew into so much more. We realized that there was very little information out there, for larger ladies who love their fashion, for example, there are no magazines on the topic and very little books. Curve-a-licious is about changing the mindset of curvy women so that they begin to focus on the positive attributes they have – rather than being fixated on the negatives.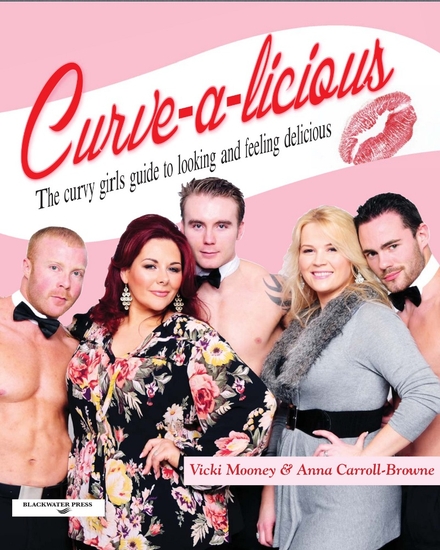 What's the feedback been from readers?
There's been a great response to the book and after I appeared on The Late Late Show I have been snowed under with e-mails from women who saw me and felt as if I was telling their story.
I got 1,000 emails the day after and they just keep flooding in (I am trying to reply to all of them personally but for every mail I finish, another two pop into my in-box!). it's something I never expected.
What are your plans for the future?
I am currently working on a second book and I'm also organising style workshops for larger ladies, so that's something that I'm really looking forward to. There's been some interest from TV companies who think that a fashion programme for larger ladies is an original and exciting idea but I'll just have to wait and see. The future's looking bright!