Georgina Heffernan sweet talked some of Ireland's most stylish women into showing us their favourite party dresses - explaining just why they love it so much.
Liz Greehy, Fashion Journalist - Online Editor / Blogger
This dress is one that I had my eye on online for quite a while before actually buying. It's a gorgeous black fitted Karen Millen dress in a thick, structured material that sparkles in the light; the shimmering quality of the dress makes it perfect for a Christmas party. Although the top of the dress is hidden by my jacket here, it actually has a type of structured edginess to it that feels almost Balmain-esque (which is the main reason I bought it).
I've had it for a couple of years now but because it is an ever versatile LBD, you can dress it up or dress it down and get so much use of it. In this climate, it pays to be frugal. I've worn it to a couple of work events and some personal family stuff also. I judged the Miss Clare heats in it and I also wore it to a really important work meeting in the past so I think it is safe to say, it has served me well. I adore sequins. This amazing gold sequin jacket, which is perfect for this time of year, is from Boohoo.com and my gorgeous flower cocktail ring is from Penneys.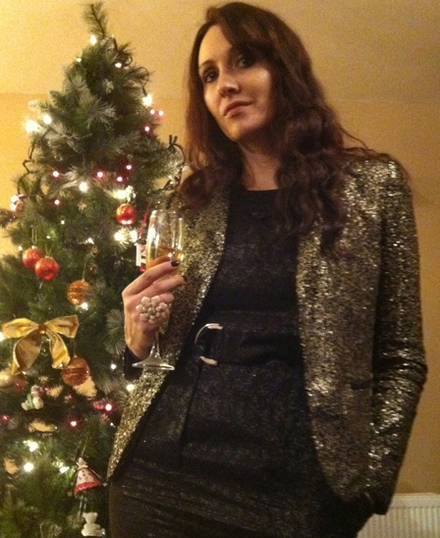 Rebekah McCreesh, model
I'm dreaming of a white Christmas with my favourite dress once more on the go. Christmas for me means family together and winter walks though frosty forest paths, preferably with a sprinkling of snow on the mountain tops of Slieve Gullion and The Mournes. This beautiful dress for me represents all that is special at Christmas time and the white colour is representative of the loved ones who won't be with us this festive season.
The dress is by local designer Shauna Fay and retails at €240. It is a timeless piece in off white and mocha, with a beautiful cowl drape back, Swarovski crystal strings and flower embroidery down the side. I adore it.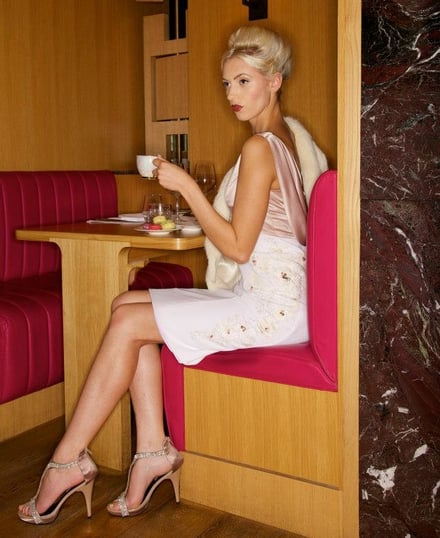 Geraldine O'Callaghan, TV personality
An old reliable of mine is my red Stop Staring 1940 style dress. It's easy to wear and always looks glam. I love the colour for silly season and for some reason I always feel in a good mood when I wear red. As it's a take on an era dress it never really goes out of style. I think this shape has been around for over 70 years for a reason; it's great for showing off curves and is flattering to most figures.
In fact, I think this shape looks better with curves to show in it as opposed to being a skinny minny. I bought it from Camille boutique and if I can remember correctly it cost €220. Well worth the investment as I've well gotten my wear out of it. Actually this time last year I presented a Christmas fashion show at a shopping centre in Dublin and great fun was had so the dress holds special memories for me too.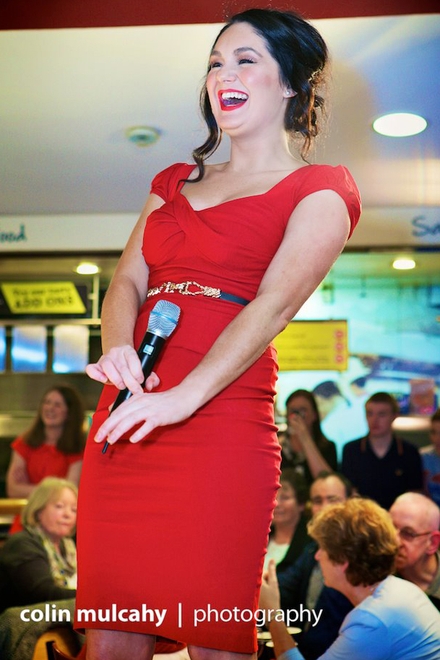 Claire O'Connor, fashion designer
It's a Claire O'Connor of course, specially made for me. The accessories I love! Sequined gloves from Oasis, ring from House of Fraser and an Alexander McQueen clutch. The reason I love it: firstly because it's one of a kind, I had less than a metre of fabric (hence it is short, so thick tights are a must) and not a scrap of material was wasted. I love the Swarovski embellishment and the fact that it is pink, quite girly and it sparkles - perfect for the festive season.
Berni Caffola, Businesswoman
My favourite party dress is of course black! I saw it in Warehouse, in Dundrum, a couple of years ago, passed a comment about it to my daughter - she along with my two sons bought it for me for Christmas. It's one of those LBDs that works over the party season. It is sparkly and above the knee, my legs being my best feature help, because it doesn't matter if I'm feeling fat. It covers a multitude and I feel great in it .
I am guilty of wearing it quite a lot, the last occasion being the launch of a Christmas single with Level 5. My son is one of the 5 boys in the band, and as I'm part of the management team I had to look presentable! I did question my choice of dress before I went but after being presented with flowers on stage I realised it was the right choice. Yet again!