The new colour gloss treatment was created by LA Celebrity Manicurist Tom Bachik and promises chip-free colour for up to 21 days.
As Mink are famed for their fantastic pedicures, I decided to try the new treatment on my toes, combined with the salon's Marine Pedicure.
My therapist did the Artistic Gloss colour first, applying a base coat, then two layers of a deep navy blue polish and finally a top coat, each of which were treated under a LED lamp for 20 seconds.
The result was perfect, glossy nails, and the finish is much thinner than Shellac.
I had the treatment done over 30 days ago and I haven't had one chip, although these treatments are usually longer wearing on toes than finger nails.
There are over 70 shades available, including some lovely neons.
Artistic Colour Gloss, available in Mink Hand and Foot Spa for €55, this includes mini manicure or pedicure as standard.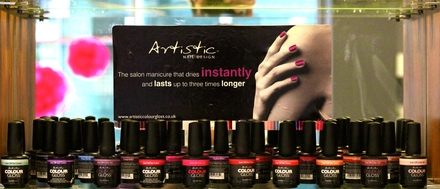 Sarah McIntyre
Mink Hand and Foot Spa
Donnybrook
Telephone: 01 260 3076
Email: donnybrook@mink.ie
45 Main Street,
Donnybrook,
Dublin 4.

Ballsbridge
Telephone: 01 636 2100
Email: ballsbridge@mink.ie
The Oval,
Shelbourne Road,
Ballsbridge,
Dublin 4.