To celebrate World Water Day on Monday, 22 March, Irish Water and Green-Schools Ireland are inviting students and their families throughout Ireland to celebrate the value of water by doing their own Mini Walk for Water at home.
You can download and share more information HERE
World Water Day is an annual event celebrating the value of fresh water in our lives and raising awareness of the 2.2 billion people around the world living without access to safe drinking water.
There are lots of resources on Water here: Green-Schools Ireland on Water
Water is a critically important resource and while we are fortunate in Ireland to have plentiful supplies of fresh water in our rivers, lakes and underground aquafers, the droughts we have experienced in recent summers have underlined the fact that we cannot take these precious water resources for granted.
In the build up to World Water Day on Monday, 22 March schools are asked to join in with a UN international campaign. It involves people sharing what water means to them so that everyone can become aware what a valuable resource water is to us all, and the need to protect and share it sustainably.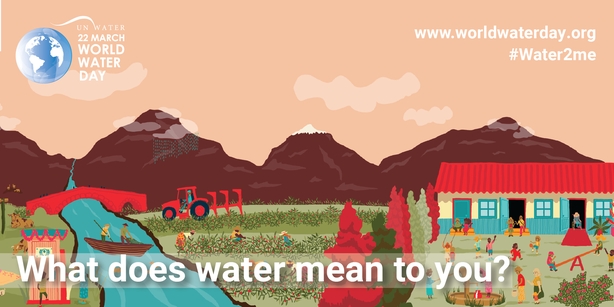 You can do this through social media by sharing what water means to you with the hashtag #Water2Me, and by tagging Green-Schools Ireland in social media posts/ tweets, so they can share it.
Please include an image that illustrates what water means to you.
There are more details HERE
Some examples of what you could do as a school are:
Take a photo of students holding up one word for what water means to them. This could could be done on a Zoom call for example. Then share it on the school social media.
Decide on a quote from the school on what water means to everyone in the school. You could accompany it with a photo that represents this on social media posts.
Videos could also double up as an entry to a cool Green-Schools Ireland video competition – HERE
Whatever other wonderful creative ideas you have please share them!