Before everyone breaks off for the Halloween holidays After School Hub has one last blast to supercharge your imaginations and get you set for all the fun next week.
Just like everyone at home the three Múinteoirí are off the air for the mid-term, but ALL the shows will be on RTÉ Player and you can still use the guide below to see what you missed.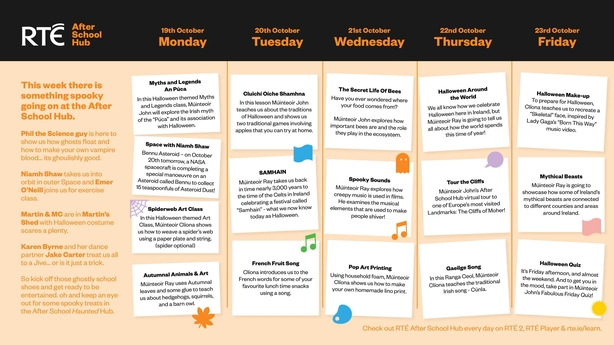 You can download your own version HERE
Agus as Gaeilge ANSEO
Friday's show
Múinteoir Clíona is going to make you look the part with a special Halloween make-up tutorial to help turn you into a skeleton. She is going a big Gaga herself after being inspired by the video for the song Born This Way by Lady Gaga.
To get the look you will need:
Gems
Eye shadow
Eyeliner
Face paint
Make-up sponges

Múinteoir Ray is using a book called Mythical Irish Beasts to guide you through the various monster, ghouls and other fantastic creatures that could be roaming the country this week. He is going to show how some of Ireland's mythical beasts are tied to different countries and areas around Ireland.

We always promised that we won't give you homework, but just to check that you have been listening Múinteoir John's Fabulous Friday Quiz takes us into the weekend.
Grab a pen and paper and join in.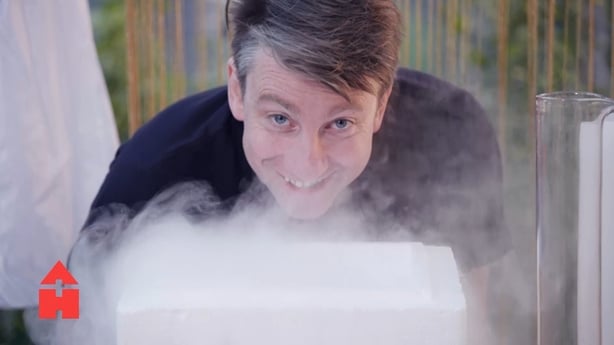 Phil is back, and this time it's all about blood. First there is the science bit as we look at what is flowing in our veins and what our blood is made up of.

Then we have a special to make fake blood. It's not too messy but just be careful and make sure an adult is around. You will need:
Flour
Maple syrup
Blue and red food colouring
A big and small spoon to measure.

Before Hub Lab you can learn more here: What's in your blood?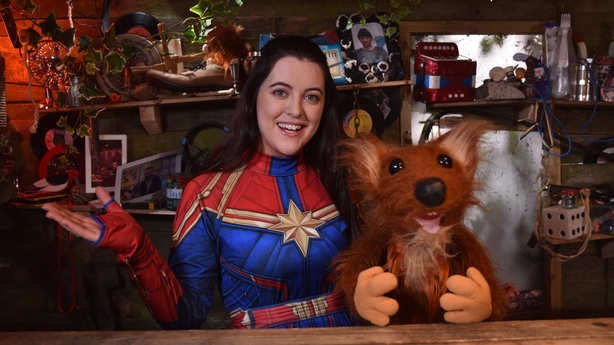 Once more this week, we go to the shed and see what is going on. To be honest they don't seem to know themselves but luckily everyone loves Martin and MC.

Will MC finally settle on an outfit?! Tune in to find out!
We hope everyone at home is getting as confident as Jake as Karen's dance lessons finish for the week. She still has a few things to teach him and everyone else at home as we build up to the big final dance.

Have fun and visit Dancing with Karen and Jake to catch up and practice over the holidays.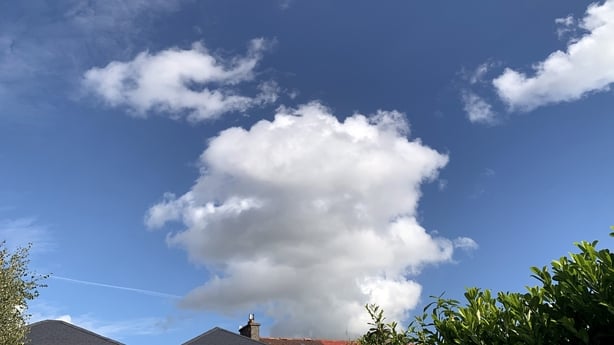 Chris Judge is back again to finish out the week and this cloud above is what he is using. It's not an easy one to guess, so make sure to tune in.
You can watch the other classes here: A Daily Cloud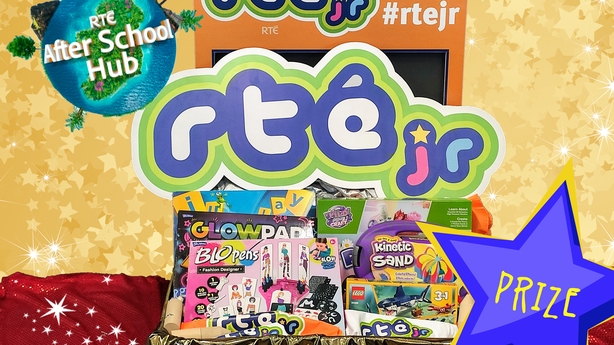 There is also big news in that you can now win great prizes by simply uploading your videos and sending them in to After School Hub - Upload your stuff here
John will be announcing the winner on the show!
Tune in to RTÉ2 every weekday from 3-4pm and catch up at any time on RTÉ Player