Mé Féin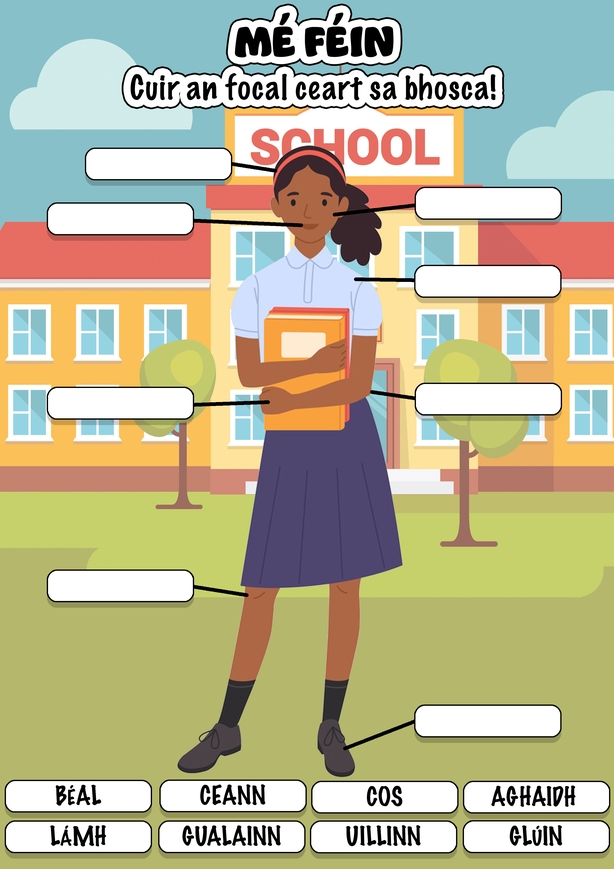 Deir Ó Grádaigh

Deir Ó Grádaigh is a great way for you to practice learning the parts of the body in Irish. In case you don't know it, here's how you play the game.
One player (the leader) begins by saying, for example, "Deir Ó Grádaigh cuir do lámha ar do cheann" and everyone has to do that.
However, if the leader calls out, "Cuir do lámha ar do cheann" and doesn't say, "Deir Ó Grádaigh," then no one should move.
If someone does an action without "Deir Ó Grádaigh" being said, they are out until the next round.
Try to use as many different parts of the body as you can when playing, so you can practice speaking them!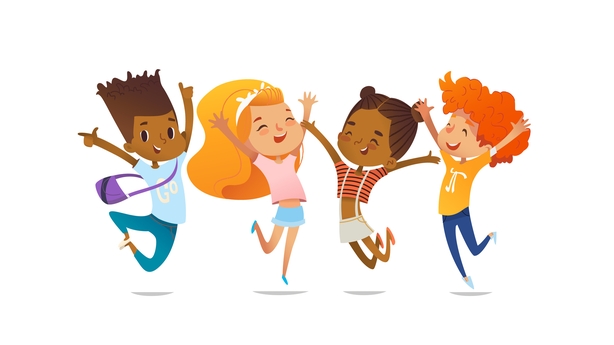 "Cad A Tharla, Múinteoir John?"

Read this story and answer the questions that follow.
D'éirigh Múinteoir John ar maidin. Chuir sé dhá cos amach as an leaba. Ansin sheas sé suas agus sheas sé díreach anuas ar phíosa Lego! Thosaigh sé ag léim timpeall ar chos amháin agus bhuail sé a uillin i gcoinne an balla! Ina dhiadh sin, chas sé timpeall agus bhuail sé a ghualainn i gcoinne an dorais! Chrom sé síos agus bhuail sé a cheann i gcoinne an tseilf. Sin mar a ghortaigh sé a chloigeann. Ghortaigh sé a chos, a uillin, agus a ghualainn freisin! Múinteoir John bocht!
Ceisteanna
Cén rúd ar sheas Múinteoir John air?
Céard a bhuail sé faoin mballa?
Céard faoi ar bhuail sé a cheann?
Ainmnigh trí bhall an choirp a ghortaigh Múinteoir John?
Ar ghortaigh tú aon bhall den chorp riamh. Cad a bhí i gceist?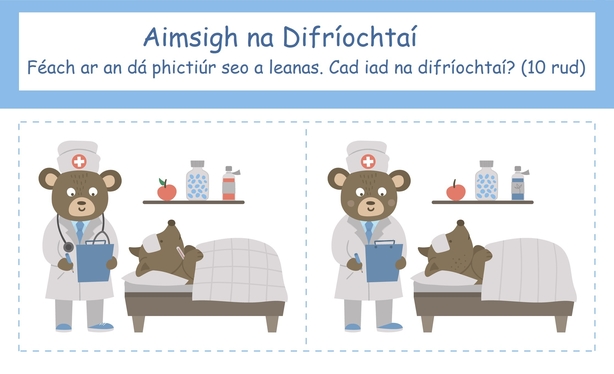 Cuirigí grianghraif chugainn don méid atá déanta agaibh. Iarraigí ar bhur dtuismitheoirí cabhrú leat iad a sheoladh chugainn.