We have a digital storytelling and movie masterclass on the RTÉ Home School Hub. Ever wondered what happens behind the camera of your favourite movie? Well we're showing you the magic of the movies and how to make your own short movie!
Lenny Abrahamson talks to Seamus on directing and filmmaking. We also have our friends from Cartoon Saloon giving us a behind the scenes look at an animation studio and explaining what goes into creating animated film and TV series.
Plus we'll be showcasing loads of amazing films across the week from young filmmakers from both Fisfilmproject.ie and the Fresh Film International Festival.
Sit back and get some popcorn... the movies are about to begin!

FÍS
FÍS is a successful short film project currently thriving in primary schools across Ireland. Under the current circumstances the FÍS partners (PDST and IADT) are linking in with RTÉ's Home School Hub to bring their wonderful resources to the attention of teachers working and children learning from home that they can be supported remotely, to continue to learn about the filmmaking process and how it can be applied in a curriculum relevant way.
If you are interested in any of the short films you see this week on Home School Hub then you can watch them in full at fisfilmproject.ie website. You can also find resources for stop motion animation making here and resources for live-action Film-making here.
Because of the current school closures, FÍS has also developed a fast-track, paired-back resource: #MakeAFilmAtHome blog. The series is packed with samples and video tutorials to inspire creativity. So why not let this time be a great opportunity to learn how to make either a live-action film or stop motion animation... it's lots of fun!
FÍS is an initiative of the Dept. of Education & Skills and is a collaborative partnership between the Professional Development Service for Teachers (PDST) and the Institute of Art, Design & Technology's National Film School, (IADT).




Fresh Films
Fresh Film was established in 1997 and is dedicated to encouraging young people to make films and to empower them as artists.
Fresh hosts Ireland's Young Filmmaker of the Year Awards and Fresh International Film Festival, it distributes Irish made young people's film worldwide, runs co-productions, masterclasses, in-school programmes and screenings and is a founder member of the international Youth Cinema Network.
In its time Fresh has received and watched thousands of films and we are always impressed by the talent and ingenuity of young filmmakers.
If you are interested in any of the short films you see this week you can visit freshfilmfestival.com for more information. Also, with a parent/guardian you can check out YouTube to see other films and follow them on Facebook, Twitter, and Instagram.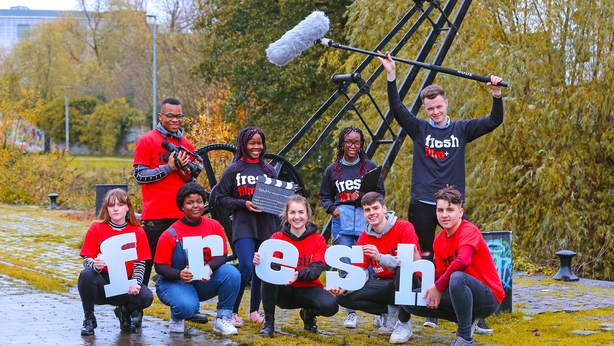 Schedule
RTÉ Home School Hub Movie week schedule:
| | | |
| --- | --- | --- |
| Date | Movie | Organisation |
| Monday 18th May | Spark | Fresh Films |
| Tuesday 19th May | Constance Markeivecz | FÍS |
| Tuesday 19th May | Toast | Fresh Films |
| Wednesday 20th May | The Life Cycle of the Salmon | FÍS |
| Wednesday 20th May | When Art is Passion | Fresh Films |
| Wednesday 20th May | Children Can't Resist | FÍS |
| Thursday 21st May | Monkey Madness | FÍS |
| Thursday 21st May | One Small Change | Fresh Films |
| Thursday 21st May | Say Something | FÍS |
| Friday 22nd May | The New Boy | FÍS |
| Friday 22nd May | School for Super Heroes | FÍS |
| Friday 22nd May | Gone but not Forgotten | FÍS |
| Friday 22nd May | The Depths | Fresh Films |