Tuesday 7th December 2021 RTE ONE @ 7pm
At the age of 22, in the early hours of December 8th, 2000, Trevor Deely vanished. His disappearance in Dublin shortly before Christmas became the subject of possibly the highest-profile search for a missing person in recent years.
Yet, since the moment he walked away from a CCTV camera on Haddington Road, near the Grand Canal in Dublin, nobody has been able to establish what happened to him. It remains a mystery to this day and his case still remains open.
Over the years, there have been some dramatic developments in the case. The use of enhanced technology revealed potential witnesses to his disappearance. It also gave us a snapshot of an older Trevor. Exhaustive poster and media campaigns have been launched over the years - mainly by Trevor's family and friends. Extensive searches were carried out in the area around the canal where he was last seen. And then, years later in 2017, when Gardaí excavated a woodland site near Chapelizod in Dublin after receiving new information, there was the possibility of a potential solution to the mystery. But, after what was six agonising weeks for Trevor Deely's family, the search unfortunately yielded nothing relevant to his case. It seemed that he simply vanished without a trace, leaving no clues as to what might have happened to him.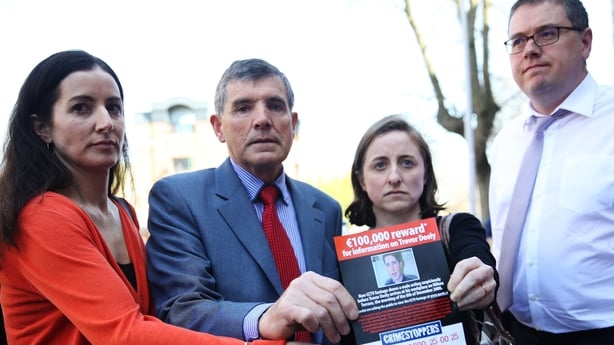 December 2021 marks 21 years since Trevor's disappearance and in this episode of Scannal we look back at the circumstances surrounding his disappearance and at the campaign and (extensive) searches that were carried out over the years. We talk to Trevor's closest friend, Glen Cullen, the last person that Trevor phoned before his disappearance. Glen reflects on the close bonds between them. He thinks of him often and hopes that one day he will see him again.
Mark Deely, tells us the story of his brother Trevor's disappearance first-hand, from his own point of view and that of his family. And, in a rare media interview, Trevor's sister Pamela speaks about the close relationship she had with her younger brother and trying to cope (coping) with the everyday pain of the last twenty years. She talks of the impact it has had on all her family, on those special milestones that her brother has missed. How her elderly parents need answers. The Deely family still holds out hope that Trevor will one day walk back into their lives. But ,most of all, they hope that someone, somewhere, will yet recall something about the early hours of that windy, rainy Friday night, December 8th, 2000, that will solve the mystery of what happened to their missing brother and son.
Mark Deely (Trevor's Brother)
"That's what makes it so mysterious, makes it so heart-breaking. There is no logic to this whatsoever. He was there and now he's not there".
"Could he walk in in the morning? Could he pick up the phone and ring my mother tomorrow? He could. Because nobody has ever told us, with proof, that he's dead".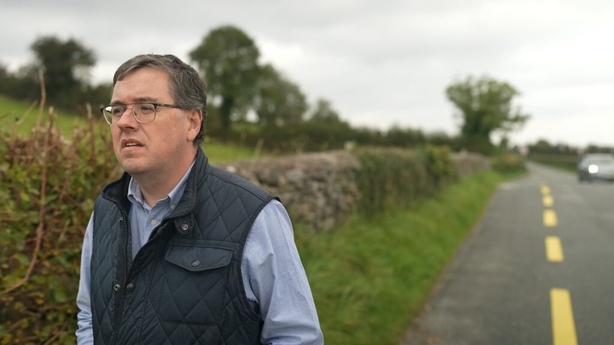 Go moch ar maidin an 8 Nollaig 2000, agus 22 bliain slánaithe aige, d'imigh Trevor Deely gan tásc gan tuairisc. Nuair a d'imigh sé ina cheo i mBaile Átha Cliath go gairid roimh an Nollaig, cuireadh tús le cuardach a bheadh ar cheann de na cuardaigh is mó i mbéal an phobail le blianta beaga anuas do dhuine a bhí ar iarraidh. Mar sin féin, ó shiúil sé ar shiúil ó cheamara TCI ar Bóthar Haddington i lár Bhaile Átha Cliath, níor éirigh le duine ar bith an méid a tharla dó a dhéanamh amach. ..is mistéir fós é ar bhain do Trevor.
Tháinig roinnt forbairtí suntasacha chun solais le himeacht na mblianta. Aithníodh, trí úsáid a bhaint as teicneolaíocht fheabhsaithe, daoine a bhféadfadh sé go raibh siad i láthair nuair a chuaigh sé ar iarraidh, agus fuaireamar íomhá ríomhghinte de Trevor agus é níos sine chomh maith. Seoladh feachtais uileghabhálacha póstaer agus meáin i gcaitheamh na mblianta, ag muintir Trevor go príomha. Rinneadh cuardaigh fhairsinge an cheantair cathrach óna ndeachaigh sé ar iarraidh, na canálacha & rl. Blianta ina dhiaidh sin in 2017, nuair a rinne Gardaí tochailt ar shuíomh coille gar do Séipéal Iosóid i mBaile Átha Cliath tar éis dóibh faisnéis nua a fháil, bhí an deis ann réiteach féideartha a fháil ar an rúndiamhair. Faraor, tar éis sé seachtaine corraitheach do theaghlach Trevor Deely ní raibh toradh ar bith ar an gcuardach i . Níl ann ach gur imigh sé gan tásc gan tuairisc, gan leid ar bith ann faoin méid a tharla.
I mí na Nollaig 2021, beifear ag comóradh 21 bliain ó d'imigh Trevor ar iarraidh agus san eipeasóid seo de Scannal, caithfear súil siar ar na cúinsí a bhain leis an gcás agus ar na cuardaigh leitheadacha agus na feachtais a cuireadh ar bun i gcaitheamh na mblianta. Labhraímid le Glen Cullen, dlúthchara Trevor agus an duine deireanach ar ghlaoigh sé air sula ndeachaigh sé ar iarraidh. Déanann Glen machnamh ar an dáimh a bhí eatarthu, cuimhníonn sé air go minic agus tá súil aige go gcasfar ar a chéile arís iad lá éigin.
Insíonn Mark Deely dúinn scéal imeacht a dhearthár Trevor , óna dhearcadh féin agus dearcadh a theaghlaigh. In agallamh leis na meáin, nach minic a tharlaíonn, labhraíonn deirfiúr Trevor, Pamela, faoin ndlúthchaidreamh a bhí aici lena deartháir níos óige agus faoi bheith ag déileáil leis an gcrá croí gach lá le fiche bliain anuas.
Labhraíonn sí faoin tionchar a bhí ag an gcás ar a muintir ar fad, ar na hócáidí tábhachtacha sin atá caillte ag Trevor. Tá freagraí ag teastáil óna tuismitheoirí, atá amach sna blianta. Tá dóchas aici fós go siúlfaidh sé isteach an doras. Ach thar aon rud eile, bíonn siad go léir ag súil go dtiocfadh rud éigin chun cuimhne ag duine éigin, áit éigin, i dtaobh uair mharbh na hoíche gaofaire fliche sin, Dé hAoine an 8 Nollaig 2000, píosa eolais a réiteodh an mhistéir faoinar tharla dá ndeartháir agus dá mac.
Scannal, Dé Máirt, 7 Nollaig ag 7pm ar RTÉ ONE