Scannal, Tuesday 23 November at 7pm on RTÉ ONE
The Birmingham pub bombings were, at the time, the biggest loss of life in Britain since World War Two. 21 people were killed, and hundreds seriously injured. There were calls for the reintroduction of the death penalty by an outraged British public and anti-Irish sentiment was rampant. Within hours of the bombs Six Irishmen had been arrested and were soon charged and sentenced to life in prison. They spent years protesting their innocence and fighting for justice.
Ag an am, ba iad na hionsaithe buamála a rinneadh ar thithe tábhairne in Birmingham, na heachtraí ba mhó inar maraíodh daoine sa Bhreatain ó aimsir an Dara Cogadh Domhanda. Maraíodh 21 duine agus gortaíodh na céadta. Bhí an oiread sin uafáis ar mhuintir na Breataine go raibh daoine ag éileamh go dtabharfaí ar ais pionós an bháis agus bhí maoithneachas frith-Éireannach go mór i réim. Taobh istigh de chúpla uair an chloig bhí Seisear Éireannach tógtha agus ní raibh sé i bhfad gur cúisíodh iad agus gur gearradh príosún saoil orthu. Chaith siad blianta fada ag maíomh nach raibh siad ciontach agus ag troid ar son an chirt.
Ach chuir córas dlí na Breataine stop leo gach uair, córas a bhí iomlán cinnte go raibh na fir ciontach cé go raibh níos mó agus níos mó fianaise ag teacht chun cinn go raibh na póilíní brúidiúil, gur cuireadh iallach ar na fir admhálacha a thabhairt agus go raibh amhras ann faoi fhianaise fhóiréinseach.
Faoi dheireadh thiar thall agus 16 bliain caite faoi ghlas acu scaoileadh na fir saor. B'in 30 bliain ó shin agus caithfear súil siar ar na heachtraí sin sa chlár seo de Scannal agus cuirfear an cheist - an bhfaighidh muintir na ndaoine a maraíodh sna hionsaithe buamála a gceart agus an bhfuil ceacht foghlamtha againn ón méid a tharla san am atá caite?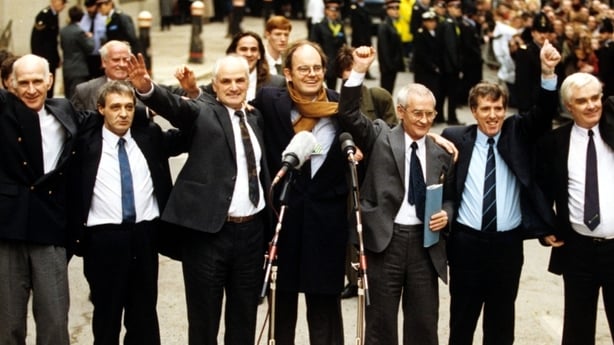 The British legal system thwarted them at every turn, utterly convinced of their guilt despite growing evidence of police brutality, coerced confessions and discredited forensic evidence.
Finally, 16 years into their life sentences, the six men walked free. Thirty years after their release Scannal looks back and asks if the families of the victims will ever see justice served and if we have learned from the mistakes of the past.
Could a similar miscarriage of justice happen today?
An bhféadfadh iomrall ceartais dá leithéid tarlú sa lá atá inniu ann?
Dé Máirt, 23 Samhain ag 7pm ar RTÉ ONE