Inniu ar Eachtraigh Dom ag 2.30pm ar RTÉ Raidió na Gaeltachta, labhróidh Gerry Motherway le Pádraig Ó Sé faoina shaol go dtí seo, idir maith agus olc.
Bheadh aithne mhaith ag éisteoirí RTÉ Raidió na Gaeltachta ar Gerry mar go mbíodh sé le cloisteáil go rialta ar An Saol ó Dheas agus Camchuairt ar feadh blianta fada.Ar an drochuair, bhuail an galar MSA (Multiple System Atrophy) Gerry cúpla bliain ó shin, agus dá réir tá sé i dtigh altranais anois mar a bhfuil cóir agus aire á thabhairt do.
Sa chlár seo inniu labhrann sé le Pádraig Ó Sé faoi mar a d'éirigh sé tinn, agus faoin saol mar atá anois. Labhrann sé freisin ar laethanta níos fearr – na blianta fada a chaith sé ag teagasc, go háirithe i gColáiste na Mumhan i mBéal Átha Ghaorthaidh.
Labhrann sé ar an aisteoireacht, agus na blianta fada a chaith sé le Compántas Chorcaí.Cloisfidh muid faoina óige, agus an aithne phearsanta a bhí aige ar Christy Ring, agus faoin bhfadhb óil a bhí aige, cé go bhfuil sé ag staonadh ón ól le 30 bliain anois.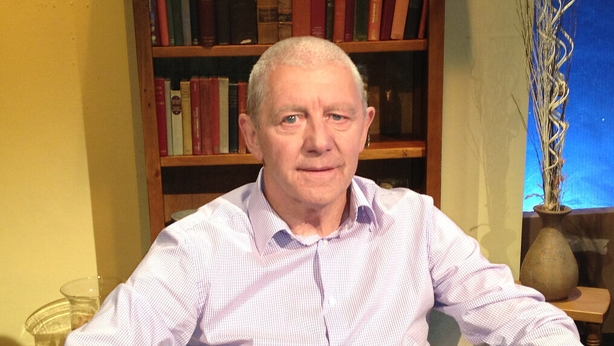 Today' we'll hear an interview with Gerry Motherway.
RTÉ RnaG listeners would know Gerry as a regular contributor to An Saol ó Dheas and Camchuairt programmes over many years.Sadly, Gerry was diagnosed with MSA (Multiple System Atrophy) a few years ago, and now lives in a residential care home in Cork where he receives the best of care.
He talks to Pádraig Ó Sé today about how he was diagnosed, and life since then.He also goes down memory lane, remembering the many years he spent as a teacher, especially the thirty years he spent in Coláiste na Mumhan in Béal Átha an Ghaorthaidh.
He talks about his passion for drama and acting, and his years with Compántas Chorcaí drama group.He describes his youth, how he knew Christy Ring from his schooldays, and his problems with alcohol, although he has been sober now for thirty years.
RTÉ Raidió na Gaeltachta, Dé Máirt 23 Samhain / Tues 23 Nov 2.05 pm