Tá Gaeilge ag Peppa Muc! Cé a cheapfadh é? Peppa Pig as Gaeilge starts this Monday, 11 October at 7.05am on RTÉ Junior.
Is faoi Pheppa (Laoise Ní Nualláin), muc bheag fhinniúil, agus a teaghlach, an tsraith álainn seo. I dteach Pheppa, tá Mamaí Muc (Gráinne Bleasdale) agus Daidí Muc (Eoin Mac Diarmada), agus a deartháir óg, George (Ruarc Ó Confhaola).
Playing George is Ruarc Ó Confhaola, 7 years old. He is in 1st class in Scoil Náisiúnta Cholmcille an Tulach in Conamara. He loves to act and play sports. Ruarc has trained with the Gaiety School of Acting. He is the 2021 Gaeltacht Ambassador for Cruinniú na n-Óg. He has recently wrapped filming TG4's "Nuair a Bheidh Mé Mór".
Ruarc loved his time voicing George in Peppa Pig. He really enjoyed working in studio in Telegael ar an Spidéal and Eoin and Ciarán couldn't have been any nicer he says. Every day was a fun experience and he loved watching each episode. His younger cousin Micheál loves "Peppa Pig" and is thrilled to be related to George.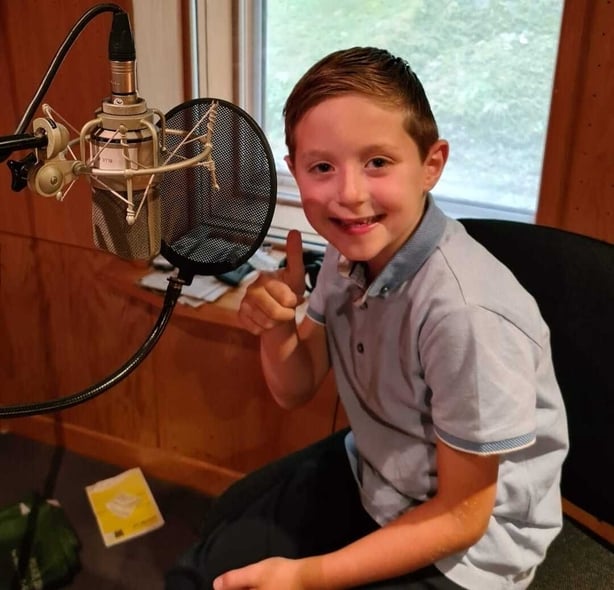 Tá Ruarc seacht mbliana d'aois, tá sé i rang a haon i Scoil Náisiúnta Cholmcille an Tulach i gConamara. Is breá leis a bheith ag aisteoireacht agus a bheith ag imirt spóirt. Tá traenáil déanta ag Ruarc i Scoil Aisteoireachta an Gaiety. Is é Ambasadóir na Gaeltachta do Chruinniú na n-Óg na bliana seo, 2021.
Chríochnaigh sé scannánaíocht ar an tsraith "Nuair a Bheidh Mé Mór" do TG4 le gairid.
Bhain Ruarc an-taitneamh as páirt George a dhéanamh sa tsraith "Peppa Pig". Thaitin sé go mór leis a bheith ag obair sa stiúidéo i Telegael sa Spidéal in éineacht le Eoin agus Ciarán. Bhí an-spraoi acu chuile lá agus thaitin sé go mór leis a bheith in ann chuile chlár a fheiceáil. Is breá le na chol cheathrar óg, Micheál, "Peppa Pig" agus tá seisean ar bís go bhfuil gaol aige le George!!
Is aoibhinn le Peppa bheith ag gléasadh suas, ag dul ar eachtraí agus ag léim i locháin uisce. Bíonn neart spraoi aici ag an naíonra, áit a mbíonn an múinteoir, Madame Gazelle (Bríd Treasa Ní Ghaoithín), ag coinneáil súil ar Pheppa agus a cuid cairde.
Tá Peppa an-mhór le Daideo Muc (Marcus Lamb). Is breá léi am a chaitheamh leis agus a bheith ag foghlaim rudaí nua uaidh.
Peppa Pig, RTÉ Junior, Dé Luain 11 Deireadh Fómhair ag 7.05am.