Peataí, Dé hAoine, 7.30pm ar RTÉ ONE.
How do you take care of a hairless dog? What happens if a tarantula loses a leg? And...how do you groom a chicken? Just SOME of the questions you'll find answered on Peataí! - a new 6 part series trotting onto our screens this Autumn!
Beidh Tessa Fleming ina Láithreoir ann chun fáilte a chur roimh Gaeilgeoirí agus a bpeataí as na ceithre cúige, agus ina teannta beidh Tréidlia Ellen Hegarty, Grúmaeir Paul Ó Gallachóir agus Iompraí Paula Doohan ag Feirm Ark i mBaile Nua na hArda, Co. an Dúin - áit a mbeidh lear mór cásanna le réiteach ag ár saineolaithe, agus tá siad ag súil go mór le luí isteach ar an obair!
Welcoming Gaeilgeóirí and their pets from the four provinces, Presenter Tessa Fleming is joined by Vet Ellen Hegarty, Groomer Paul Ó Gallachóir and Behaviourist Paula Doohan at the Ark Farm in Newtownards, Co.Down - where our experts have a packed roster of cases to solve, and they're dying to get stuck in!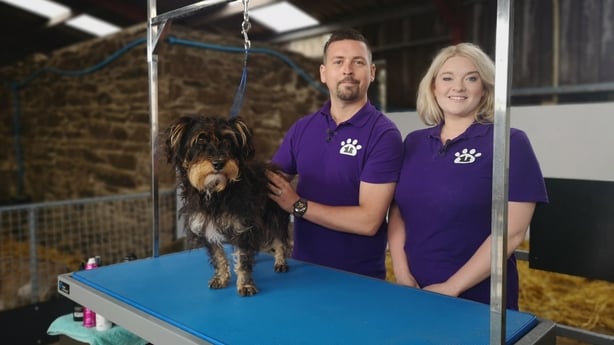 While groomer Paul gets down and dirty with an Irish Wolfhound and a recent rescue dog, vet Ellen gets to grips with overweight pony Báinín and naughty goat Sir Lancelot! Meanwhile, behaviourist Paula has some advice for a restless retired racehorse and a few tips for the fierce Wee Brí - a Chihuahua...who thinks she's a lion! Elsewhere Tessa meets Goujon the one-eyed hamster, Polly the show-stopping Silkie and Stormi, the bald Guinea pig who's changed owner Liath's life, for the better.
Le méadú tagtha ar líon na ndaoine a bhfuil peata acu le bliain anuas, léireoidh Peataí! gach a bhfuil i gceist, idir aisteach agus iontach, le do shaol a chaitheamh i dteannta ainmhí - na buaicphointí, na hísealphointí, na dúshláin agus ... an troscán coganta?! (Muise, nach coileáin iad?!) Bí cinnte a bheith ag breathnú chun eolas agus comhairle iontach ár saineolaithe a shú isteach maidir le cúram a dhéanamh dár bpeataí muirneacha!
Anocht, sa chéad chlár de Peataí! Tá ár saineolaithe ainmhithe ag súil go mór le bualadh le peataí (agus na daoine ar leo iad) as gach cearn d'Éirinn. Ag an tob-chlinic ar Fheirm Ark i mBaile Nua na hArda, Co. an Dúin, múineann tréidlia Ellen fios a bhéasa do ghabhar dána darb ainm Sir Lancelot, agus tugann sí ábhar dóchais do mhuintir Mhic Diarmada i dtaobh shláinte a Labradór álainn, Aodh. Tá tasc nach beag roimh iompraí Paula leis an gCú Faoil Cara, agus tá cleasa na ceirde ag grúmaeir Paul chun déileáil le Sonaí, Ruiséalach bídeach nach dtaitníonn uisce leis!
In Episode 1 of Peataí!, our animal experts can't wait to meet pets (and their humans) from every corner of the island of Ireland! At the pop-up clinic at the Ark Farm in Newtownards, Co.Down, vet Ellen puts some manners on a bold goat called Sir Lancelot, and gives the MacDiarmada family hope for the health of their lovely Labrador Aodh. Behaviourist Paula has her work cut out with Irish Wolfhound Cara, and groomer Paul has some tips and tricks for water wary Mini Jack Russell, Sonaí.
Peataí, Dé hAoine, 7.30pm ar RTÉ ONE.