Is fáilte chroíúil a chuirfear roimh dhaoine atá ag iarraidh filleadh ar an ndúchas nó roimh dhaoine ar mhaith leo athrú saoil agus athrú poirt a bheith acu nuair atá srianta COVID-19 ardaithe.
Tá cothromaíocht saoil is oibre sa gceantar seo agus deiseanna fiontraíochta ann chomh maith le hionad gteic, atá ina chuid de ghréasán náisiúnta mol digiteach, a chuireann iomaí deis ar fáil do mhuintir na háite, do ghnóthaí nua agus do dhaoine atá ag iarraidh dul i mbun cianoibre.
Ag tacú le seoladh an fheachtais dúirt Mícheál Ó hÉanaigh, Príomhfheidhmeannach Údarás na Gaeltachta:
"Tá muid ag fanacht leat - sin í an teachtaireacht láidir as Conamara Láir inniu. Is ceantar stairiúil agus álainn é ceantar Chonamara Láir chun dul i mbun cónaithe agus i mbun gnó ann agus tá muid ag féachaint ar bhealaí nuálacha chun daoine a mhealladh chun cur fúthu sa gceantar. Léiríonn rath na mol digiteach gteic le hos cionn bliana anuas gur féidir nascadh le háit ar bith ar domhan as ceantair chúlráideacha, ceantair ina bhfuil caighdeán saoil níos fearr ann chomh maith."
Déanann an feachtas cur síos ar an saol mar atá ag daoine áitiúla agus daoine a bhog chuig an gceantar, agus na deiseanna a cuireadh ar fáil dóibh ó thaobh gnó agus fostaíochta de.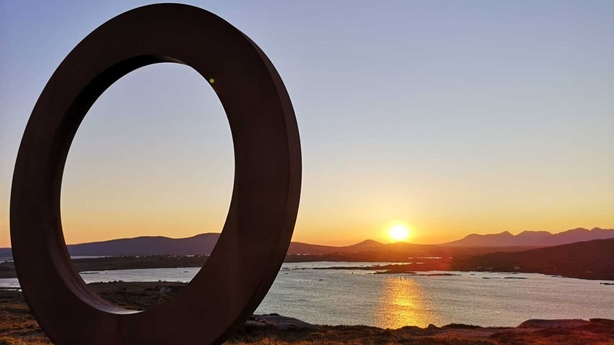 A warm welcome awaits those who wish to return home or those who wish to change their lives and relocate here when COVID-19 restrictions are lifted. A fantastic work life balance is available in this area which provides enterprise prospects from its gteic facility, which is part of a national digital hub network, providing many opportunities for local people, new businesses and those who wish to work remotely.
Referring to the campaign Máirín Ní Choisdealbha Seoige from Forbairt Chonamara Láir said:
"Conamara Láir is one of Ireland's cultural gems and despite ongoing challenges such as emigration and a decline in population the area has seen a revival in recent years.
This proud community has not lost its confidence or spirit and we want to showcase to the world the wonderful opportunities and future this area can provide to people who wish to move home or relocate to Conamara Láir. Notwithstanding the refusal of planning permission for the Páirc na Mara project this week it does not represent the last word for that project or indeed other projects that are being developed in the area. We have a big future ahead and there are many opportunities for people to change and improve their lives."