Tá Róisín Sheehy i dteannta Andrew Malcolm, sealgaire bídh, agus Liam Suipéal, aistritheoir agus staraí, i gCoill na Túir in aice le Lios Mór, Co. Phort Láirge sa chlár seo den tsraith, Tar Liom go dtí an Choill ar RTÉ Raidió na Gaeltachta.
Tá an-eolas ag Andrew ar luibheanna agus plandaí na coille agus an fharraige. Bíonn sé ag bailiú bia fiáin don Cliff House Hotel san Aird Mhór, agus tugann sé léargas dúinn ar an mbia folláin agus saibhreas nádúr na coille. Is staraí é Liam as Aird Mhór agus an-eolas aige ar an gceantar.
Sa dara cuid den clár, tá Róisín i nGort na Scairte i gCúil Aodha, Co. Chorcaí, áit a bhfuil coill ag Seán Ó Lionáird a chuir sé fiche bliain ó shin. Is saineolaí é Seán ar chúrsaí feirmeoireachta agus creideann sé gur chóir do gach duine go bhfuil talamh aige coill dúchasach a chur ag fás ar a gcuid tailte.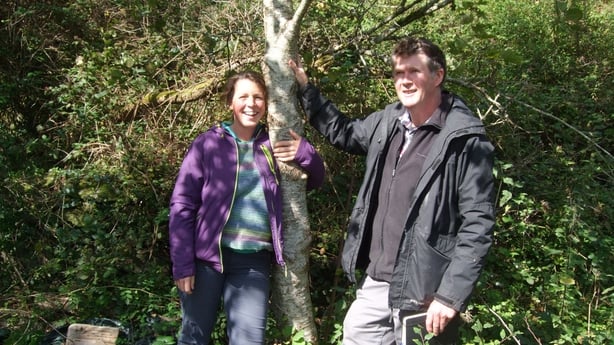 Róisín Sheehy visit forests all over the country in this new series, where she meets farmers, foragers, artists, singers and historians to talk about the importance, the power and the magical nature of forests. Today, she is in The Towers Woodland near Lismore, Co. Waterford, with Andrew Malcolm, a forager, and Liam Suipéal, a translator and historian. Andrew is very knowledgeable on herbs and plants, and gathers wild food for the Cliff House Hotel in Ardmore. He talks about healthy food and the bounty of nature. Liam is a historian from Ardmore and very knowledgeable about the area. In the second half of the programme, Róisín is in Gort na Scairte in Cúil Aodha in Co. Cork, with Seán Ó Lionáird. Seán is a farmer, and planted thirty acres of forest on his land twenty years ago. He believes all those who have land should plant some native woodland.