Más ag smaoineamh ar saoire atá tú, tá Conamara agus na hoileáin lán le hiontais dóibh siúd a bhfuil fiántas, nádúr agus cultúr uatha.
Tá Comhairle Chontae na Gaillimhe ar tí a céad feachtas margaíochta ceann scríbe do Chonamara & na hOileáin a sheoladh an samhradh seo. Tá an-tóir ar an réigiún seo atá i gcroílár Shlí an Atlantaigh Fhiáin, atá ag síneadh ó Chuan na Gaillimhe go dtí an Caoláire Rua, agus ina bhfuil Oileáin Árann agus Inis Bó Finne.
Tá branda margaíochta ceann scríbe athnuaite don réigiún, feachtas caidrimh poiblí agus meán sóisialta mar chuid den fheachtas nua, mar aon le comhairliúcháin le páirtithe leasmhara ó na príomhlíonraí turasóireachta réigiúnacha, Líonra Turasóireachta Chonamara agus Oileáin Árann (CAITN) agus Cósta Gaelach Chonamara agus Árann.
Chomh maith leis an bhfeachtas a sheoladh tá láithreán gréasáin nua ceann scríbe ar fáil freisin, is é sin Connemara.ie arna mhaoiniú ag Fóram Chonamara agus arna éascú ag Lisa Nic Mhathúna, Oifigeach Turasóireachta Chonamara de chuid Chósta Gaelach Chonamara agus Árann. Cuirfear pacáistí ar fáil ar an láithreán gréasáin nua ina mbeidh cóiríocht, gníomhaíochtaí agus fáilteachas san áireamh.
Dírítear i bhfeachtas na bliana 2021 ar dhá sprioclucht spéise faoi leith; teaghlaigh atá ar saoire sa bhaile agus 'daoine fásta gan srian orthu', iadsan atá faoi 45, a théann ar saoire thar lear go hiondúil ach ar mian leo spiorad na saoire Eorpaí a athchruthú sa bhaile i mbliana.
Tá an feachtas, atá á mhaoiniú trí Scéim Athnuachana na mBailte agus na Sráidbhailte, á bhainistiú ag Ruth Mulhern, Oifigeach Turasóireachta de chuid Chomhairle Chontae na Gaillimhe; " Is tréimhse dhúshlánach í seo don turasóireacht ach is tréimhse spéisiúil í mar sin féin, a mbeidh deiseanna iontacha ag baint léi le heolas a chur ar iontais na tíre seo an athuair. Fad atáimid ag fanacht ar an eolas is deireanaí ó thaobh cúrsaí taistil, tá margadh turasóireachta intíre na hÉireann i bhfad níos oscailte anois ná mar a bhí ón mbliain 2020, agus tá Conamara agus Oileáin Árann in áit mhaith chun lear mór lucht saoire a mhealladh an samhradh seo. Tráth a bhfuil tomhaltóirí sa tóir ar shólás agus ar shábháilteacht, is mór an faoiseamh atá le fáil i gConamara leis an méid gníomhaíochtaí amuigh faoin aer agus spásanna oscailte atá ar fáil ann.
Ó champáil sa Chlochán, a bheith ar do sháimhín só i gceann de na hóstán is fearr in Éirinn, camchuairt ar oileáin ar ár mbealach féin, neart deiseanna do ghníomhaíochtaí eachtraíochta, bia mara chomh úr is atá le fáil agus fáilte mhór chroíúil, níl amhras ar bith faoi ach go bhfuil an scoth le fáil i gConamara ó thaobh spásanna oscailte, gníomhaíochaí atá oiriúnach do theaghlaigh gan trácht ar an bhfáilte a chuirtear romhat ann. "
Táthar a fhógairt go láidir go mbeidh Conamara & na hOileáin oscailte le haghaidh gnó an samhradh seo agus go bhfuil siad réidh le fáilte a chur roimh thurasóirí, nuair a mhaolófar na srianta, dar ndóigh.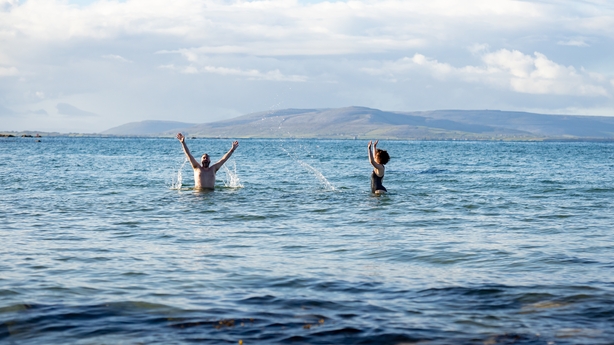 From sunrise to sunset, a holiday in Connemara is filled with adventure and exploration. Bringing viewers on a whistlestop journey across the white sandy green flag beaches and rugged terrain, through walking trails and the white crest of Atlantic waves, the region is ready to welcome back visitors after the recent lockdown period.
Connemara's diversity, from stony fields to island life, its people, literary culture, arts and music and its strength of outdoor activities and amenities are of particular appeal this summer as staycation tourists seek out safe environments due to Covid-19.
Connemara offers accommodation for all tastes, including glamping, self-catering, award-winning country houses, five-star hotels and guesthouses, in secluded areas, attractive villages or at the beach; there's something for everyone. The new connemara.ie website features a range of accommodation pages and special offers linking in with local activities and attractions like sea angling, boat cruises and sightseeing tours.
Visitors to the region are also encouraged to engage with the campaign by following the Connemara social media channels and using the hashtag #Connemara
Tá níos mó eolais le fáil anseo www.connemara.ie or follow on social media @Connemara.ie