Marú inár Measc - Dúnmharú Ann Nancy Smyth @9.30pm, Wednesday 19th May 2021, on TG4 How long does it take for a killer to think they have gotten away with their heinous act?
And how does a community get on with their lives, knowing that there could be or is a killer in their midst? MARÚ INÁR MEASC, is a new and compelling four-part true crime documentary series by Midas Productions for TG4 that shines a light on impact unprovoked murder cases have on families and communities in Ireland. This series could not have been made without the co-operation of each family who shared their story and allowed us the privilege of filming with them.
Episode 1, airing on 19th May 2021, brings us back in time to the community of Kilkenny City in September 1987 when the community woke to the news that 69 year old Ann Nancy Smyth, a widower who lived alone, had not survived a fire that destroyed her small cottage on Wolfe Tone Street, Kilkenny. A well-known and popular figure around Kilkenny, her death sent shockwaves through the entire community. Initially thought to be a tragic housefire, it later transpired that Nancy had died from strangulation. Her nephew, Des Murphy, recalls that it was at the morgue, when called to identify her body that he noticed marks on her neck. On the night that Nancy died, she had been seen arguing with local man, John Joseph Malone.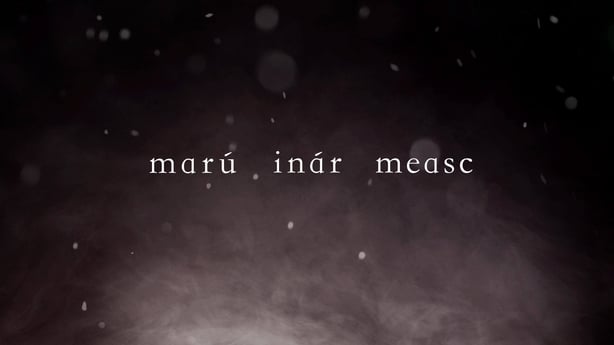 Malone denied murdering Nancy, and with all forensic evidence destroyed by the fire, Gardaí were left with little or no evidence to convict him. However, in 2012, a Cold Case Review was opened and a fresh Garda appeal brought forward new information. This information came in the form a witness who could place Malone at the scene of the crime and witnessed him threaten Nancy, and another witness to whom Malone confessed the murder. 2 For the first time, these key witnesses, Geraldine Brennan, and Jude Curran, tell their story in this episode as we uncover how it was Nancy's own community who finally brought her killer to justice 30 years after she was brutally murdered.
Taispeánfar Eipeasóid 1 an 19 Bealtaine 2021. Tabharfaidh an clár seo ar ais chuig pobal Chill Chainnigh muid i mí Mheán Fómhair 1987 nuair a fuarthas amach go bhfuair Ann Nancy Smyth bás go tragóideach i dtine ina teachín an oíche sin. Bhí Nancy 69 bliain d'aois nuair a fuair sí bás agus bhí sí ina cónaí léi féin sa teachín beag. Bhí aithne mhaith ag cách uirthi agus bhí siad croíbhriste nuair a chuala siad an drochscéala. Ar dtús ceapadh gur cailleadh Nancy de bharr tine tragóideach ach ansin fuair siad amach gurb amhlaidh a tachtadh í. Is nia le Nancy é Des Murphy agus is cuimhin leis gur thug sé na marcanna ar mhuineál Nancy faoi deara nuair a bhí sé ag an marbhlann chun an corp a aithint.
Chonaic duine éigin Nancy ag argóint le fear as an áit, John Joseph Malone, an oíche a bhfuair sí bás. Shéan sé go raibh aon bhaint aige leis an dúnmharú agus bhí gach rud scriosta sa tine gan aon fhianaise fágtha chun é a chiontú. Sa bhliain 2012 áfach, d'fhéach na Gardaí ar an gcás arís agus tháinig eolas nua chun cinn. Dúirt finné leis na Gardaí go bhfaca siad Malone tigh Nancy an oíche sin agus gur bhagair sé uirthi. Dúirt finné eile gur admhaigh Malone dóibh go raibh sé ciontach i mbás Nancy.
Don chéad uair riamh, labhraíonn na finnéithe seo, Geraldine Brennan agus Jude Curran, amach faoin méid a chonaic siad an oíche sin agus faigheann muid amach gurb iad an pobal féin a rug ar an dúnmharfóir 30 bliain i ndiaidh an mharaithe.
Tosaíonn Marú inár Measc anocht ar TG4, ag 9.30.