Scríobhann Marilyn Gaughan-Reddan, Ceannasaí Clár Gaillimh 2020, faoi shaothar nua Mháirtín O' Connor faoi athrú aeráide a bheidh á chraoladh ar TG4 don chéad uair, 9:30 pm, Dé Domhnaigh an 25 Aibreán 2021
The Mighty Ocean like all Galway 2020 European Capital of Culture projects is artistically led, built on partnership and collaboration, delivered by local cultural partners and broadcast to the world. The themes for the Galway 2020 programme are landscape, migration and language. This musical piece responds to these themes in a very meaningful way. Máirtín O'Connor is one of life's truly beautiful people; a man of soul, of the place and of music. He has created something unique and very special in his composition, The Mighty Ocean.
Like all our projects, it had to be re-imagined. In the re-working of the project, producer Siobhán O'Malley had the idea of Galway Music Residency producing the initiative, and we also approached TG4 with the idea of this being a film. It was an easy partnership as it was built on excellent working relationships spanning many years. TG4 and Galway Music Residency gave voice to this body of work in the most considered of ways. As the project grew we were delighted to have additional support from Creative Ireland through the local authorities in Galway, and along with HeavyMan Films and the 12 incredible musicians, the partnership that is the Mighty Ocean was complete.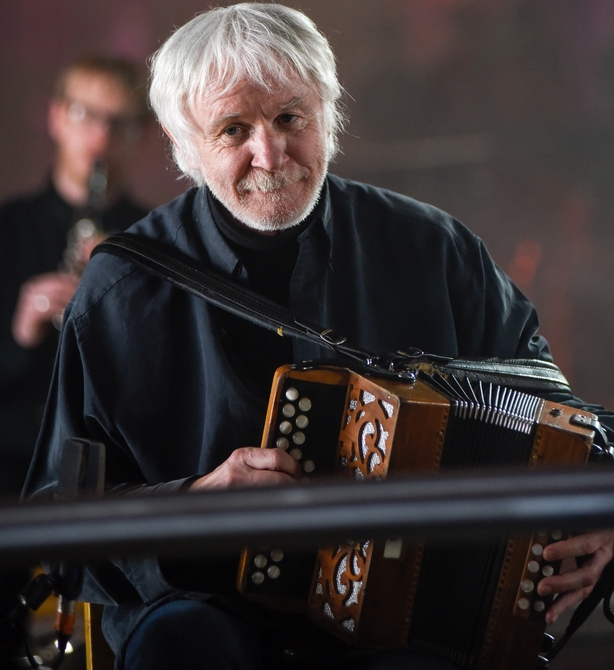 Idirphlé ceoil atá in The Mighty Ocean idir an cine daonna agus an timpeallacht, ina dtugtar léargas ar chumhacht na farraige, agus ina an gceistítear an díobháil atá an duine a dhéanamh do na haigéin atá go mór i mbaol. Dáréag ceoltóirí atá páirteach sa gcóiriú, Máirtín O'Connor, Garry Ó Briain, Cathal Hayden, Seamie O'Dowd, Jim Higgins, Sinead O'Connor, Ciara O'Connor agus Matthew Berril ina measc, chomh maith le ensemble an Galway Music Residency - an Ceathairéad ConTempo.
Chomh maith leis na téamaí a bhaineann le hathrú aeráide, leis an timpeallacht agus leis an taobh tíre, is comóradh an scannán aon uaire seo ar dheich mbliana d'idirphlé ceoil idir Galway Music Residency, an ensemble cónaitheachta ceoil - an Ceathairéad ConTempo, Máirtín O'Connor, Garry Ó Briain agus Cathal Hayden. Tá na páirtithe seo ag briseadh talamh nua ó thaobh ceoil agus cultúir le breis is chúig bhliana déag chun eispéireas ar leith ceoil a thabhairt do mhuintir na Gaillimhe agus go deimhin, an domhan. The Mighty Ocean toradh an mhuintearais chruthaithigh seo - ceiliúradh spleodrach ar cheol agus ar an bhfarraige.
It was extraordinary to watch the working relationship between Máirtín O'Connor, Garry O Briain, Cathal Hayden and Galway's ensemble in residence ConTempo Quartet. Through Galway Music Residency, they have worked closely over 15 years, fusing classical, traditional and Romanian folk music to create unique listening opportunities for the people of Galway. The musical understanding between them, despite their different traditions, and Garry's ability to create a bridge between the traditional and classical music languages, was remarkable to witness. The musical fellowship was completed by Máirtín's daughters Sinead and Ciara, Galway talent Matthew Berrill and traditional Irish legends Seamie O Dowd and Jim Higgins. An exceptional collection of musicians for an exceptional project.
It's been an incredible journey. COVID has given us all time to reflect on nature, to reflect on how we are treating the oceans. People are cold water swimming now more than ever and awareness is certainly increasing around the damage we are doing to this planet. The pandemic has shown us that we need to slow down to allow our planet to heal, we need to respect and connect more with our oceans and save them for future generations. This musical response is one that we are all really proud of, proud of the work, proud of the place, proud of it's messaging and proud of the partnership. We are grateful that through the TG4 player, this work to be viewed across the world through the lens of the great global connector that is the Mighty Ocean.
Bhí an tionscadal seo an-mhothúchánach. Tá cumhacht na farraige le feiceáil i gcumhacht an cheoil agus tá an dá rud fite fuaite ar bhealach nach bhfaca mé riamh cheana. Is é sin cumhacht na healaíne! This is the power of truly great art, truly great musicianship, to move you to a place that you didn't know you wanted to go to in the first place.
Craolfar The Mighty Ocean ag 9:30 pm, Dé Domhnaigh an 25 Aibreán 2021