Scríobhann Máiréad Ní Mhaonaigh, amhránaí agus fidléir le Altan faoi Ré an tSolais, ceolchoirm a thaispeánfar Lá 'le Pádraig ag 9.30 ar TG4.
The new music 'Ré an tSolais' is inspired by the year we have experienced through the Covid-19 lockdown. It has been so intense and sometimes very frightening for me. Seo ceol nua a chum mé le linn an dianghlasála i rith na paindéime. Tháinig Stiúrthóir Amharclann an Ghrianáin Patricia McBride chugam, le cuireadh a thabhairt domh ceol úr nua a chumadh do Fhéile Cheol Thraidisiúnta Leitir Ceanainn 2021.
The concert comprises of three sections which I invited friends and family to join me. "Fáilte an Earraigh" which I was commissioned to write in 2017 by Ceol na Coille, a music school run by Paul Harrigan, the piper, played by Paul and his sister Róisín and their families the Harrigans and the McGrorys.
Ansin thug mé cuireadh do Chiarán Ó Maonaigh, mac mo dheartháir, mo iníon Nia agus mo chara Manus Lunny píosaí eile atá cumtha agam a sheinnt. Ina measc bhí píosaí eile a chum mé i rith na dianghlasála anuraidh; 'An Grianstad/ The Halting Sun'.
Chum mé an ceol seo do thionsnamh 'Faoiseamh' le cuireadh ó clár radio RTÉ1 'The Rolling Wave' agus Taisce Ceoil Tradisiúnta na hÉireann. The final section of the show is the new composition for An Grianán 'Ré an tSolais'. The piece is based on traditional music rhythms. It starts off with a slow air 'Maidin Mhoch' that goes into a slow jig 'Port an tSolais' followed by a faster jig 'Ceo na Maidne' then a hornpipe; 'An Grianán' named after the theatre. Then I sing the song 'Ré an tSolais' and concludes with a reel 'Ríl an tSolais'.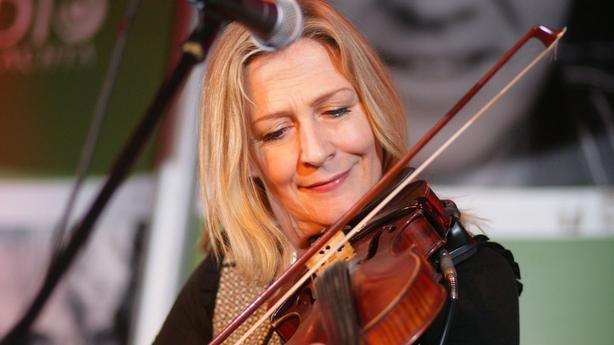 I was joined by Manus Lunny, Mark Kelly and Martin Tourish who helped me bring it to life! Rinne muid an cleachtadh ar Zoom agus in am an-ghairid le chéile ar an lá cionas srianta agus scarúint shóisialta shábháilte a choinneáil eadrainn.
The lockdown was initially very frightening for me. Ach de réir a chéile, d'éirigh mé cleachtaithe leis an t-am, agus leis an chiúnas. I got accustomed to my silent days during the pandemic but through that silence the sound of nature got amplified and gave me hope. Bhí ceol na n-éan níos binne ar maidin, bhí fuaim na gaoithe mar nótaí ceoil i mo chluasa. The symphony of nature brought me hope and light and healing.
Rachainn ag siúil achan mhaidin cois farraige agus ghlacfainn isteach anáil, aer úr glan. On my walks, the fresh air filled my lungs as if renewing my body and soul. D'aithin mé nach raibh mé ag maireachtáil mar is cóir le blianta fada go dtí sin. Up until then I was always rushing, living out of a suitcase, trying to juggle motherhood and work, and no one was benefitting! Ach stop an saol mar a bhí, agus ní raibh athrach le déanamh. Bhí mé sa bhaile le mo iníon, ag caitheamh am deas léí. Bhí an ghrian ag soilsiú. Bhí muid ag caitheamh am le chéile, ag siúl agus ag seinm ceoil.
I realised that the most important people in my life, my daughter, Nia, my mother and all my family was what was important to me. Ní raibh an dianghlasáil seo chomh holc domhsa! It has given me time to prioritise my life at this stage.
There's hope ahead. Tá loinnear solas amach romhainn, loinnear dóchais. Nuair a bheas muid abalta a bheith le chéile i gcomhluadar, ag caint agus ag comhrá. That ray of light ahead when we can be together, and maybe savour our friendships more than ever. Beimid ag caint agus ag ceol agus beidh gach gné den ár saol níos binne ná ariamh.
Ré an tSolais will air on TG4 on St. Patrick's Day at 9:30pm and can be viewed worldwide on the TG4 player TG4.ie