When it comes to naming babies, it's a bit like everything else, names come in and out of fashion. Seo mar a bhí againn anuraidh.
Don chéad uair le fada, tá buaite ag Grace ar Emily i measc na gcailíní. Fiadh has taken up the second most popular name in Ireland. Fíadh, with a síneadh fada has also made an appearance and has been making waves too.
Croía has grown most in popularity, rising from 162nd place in 2019 to 95th in 2020, a jump of 67 places, the CSO has recorded.
The CSO tells us how much the country has moved on in names:
Interestingly, not one of the top five names for girls in 2020 appeared in the top 100 names a half century earlier. Mary, Catherine, Margaret, Ann and Sharon were the most popular names for baby daughters in 1970, with 1,896 baby girls named Mary in that year. In 2020, there were 410 baby girls named Grace, 21.6% of the number of girls given the name Mary (1,896) in 1970.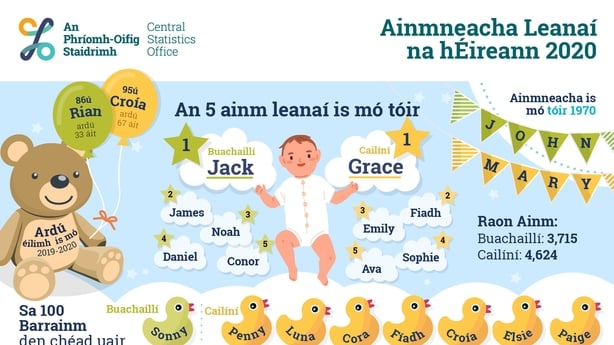 When it comes to the boys, Jack is still holding onto the top spot, followed by James, Noah and Daniel. Eoghan has made a comeback, it moved 29 places from 108th place in 2019 to 79th in 2020.
You can find out more about the CSO's analysis anseo