Ag tosú ar an 1 Márta ar RTÉ2 ar 08.40 agus 15.50, beidh C.L.U.B, clár faoi imreoirí óga CLG agus na clubanna a n-imríonn siad leo.
Beidh C.L.U.B ag tabhairt cuairt ar chlub CLG nua gach seachtain, ag taisteal ó Bhéal Feirste go Corcaigh, agus ó Bhaile Átha Cliath go Conamara.
Tá C.L.U.B á chur i láthair ag Máire Ní Bhraonáin (iar-imreoir peile na Gaillimhe) agus Diarmuid Lyng (iar-imreoir iomána Loch Garman). Ar chuile clár feicfidh muid imreoirí óga ó ar fud na tíre amuigh ar an bpáirc agus istigh sa stiúideo ag caint, ag cleachtadh scileanna, ag pleidhcíocht agus ag spraoi!
Mar bhuaicphointe gach clár beidh réalt CLG ag bualadh isteach chuig an stiúideo chun labhairt leis na láithreoirí agus na páistí. Ina measc beidh buaiteoir Imreoir na Bliana 2018, Ciarán Kilkenny (Caisleán Cnucha & Baile Átha Cliath), buaiteoir 18 bonn Uile-Éireann Rena Buckley (Corcaigh), agus seampín an domhain an Chraobh Liathróid Láimhe Domhanda Ciana Ní Churraoin, as Mícheál Breathnach i gConamara. Chomh maith leis sin, beidh an laoch Mícheál Ó Muircheartaigh linn gach seachtain mar aoi-láithreoir le fírící dochreidte faoi na clubanna ar fad.
Ag deireadh gach clár beidh comórtas idir na himreoirí óga ag Balla na Dúshláine. Beidh deis ag an duine leis an scór is airde liathróidí uisce a chaitheamh ar an gcóitseálaí is déine ón gclub. Díoltas ar deireadh as ucht na laps agus an traenáil breise sin ar fad!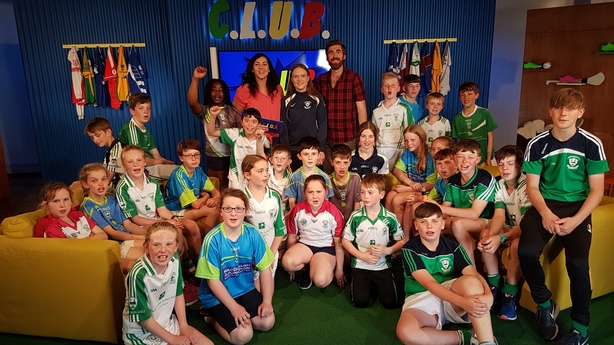 C.L.U.B is a about young GAA players all over the country and the clubs they represent. A different club will feature on the show each week, going all over the country from Belfast to Cork and Dublin to Conamara. C.L.U.B is presented by Máire Ní Bhraonáin (former Galway footballer) and Diarmuid Lyng (former Wexford hurler). On every show we'll see young players out on the pitch and in the studio chatting, practicing new skills, messing and having fun!
A highlight of every show will be our special guest GAA star. They'll be coming to the studio to chat with the presenters and children. Guests on the series include: 2018 Footballer of the Year Ciarán Kilkenny (Castleknock & Dublin), winner of 18 All-Ireland Titles Rena Buckley (Cork) agus world-champion handball player Ciana Ní Churraoin from the Mícheál Breathnach club in Conamara. On top of that the legend Mícheál Ó Muircheartaigh will join us in the studio every week as our guest presenter with incredible facts & folklore about the clubs.
At the end of every show young players will compete against each other at the Challenge Wall. The person with the highest score will get an opportunity to soak the toughest coach in the club with water balls. Finally revenge for all of those extra laps in training!
C.L.U.B ag tosú ar an 1 Márta ar RTÉ2 ar 08.40 agus 15.50