Beidh Cian Ó Cíobháin ag déanamh ceilúradh ar thionchar DJ Andrew Weatherall, a fuair bás an t-am seo anuraidh le clár omóis anocht ar an 17 Feabhra ar An Taobh Tuathail ar RTÉ Raidió na Gaeltachta
Deir Cian:
On Wednesday 17th February, the first anniversary of the death of legendary DJ, producer and acid house icon Andrew Weatherall, I'll be bringing you a very special programme based on both mine and your memories of Weatherall's unique DJ sets.
The Guv'nor was a regular visitor to Irish shores & I'd love if you could share any fond recollections you have of a night out spent dancing to his selections.What record did you hear him drop for the first time on a night out that blew your mind?Or, you might have an amusing anecdote he shared with you in the smoking area or round the side of the DJ booth?In addition, I'll be spinning some of the anthems he played at his own storied club residencies, such as 'Sabresonic', 'Bloodsugar' ,'Haywire' , 'Double Gone Chapel', 'Wrong Meeting' and 'A Love From Outer Space'.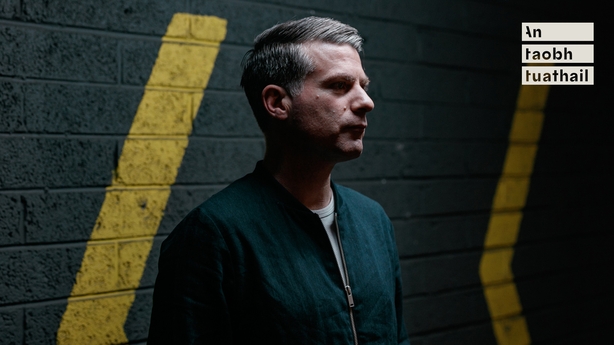 Your memories of Weatherall in the club, let's hear them, att@rte.ie for emails
Beidh clár ómóis agam cothrom an lae bliain ó shin a cailleadh an sár-dioscmharcach, léiritheoir agus laoch ceoil Andrew Weatherall. Táim ag lorg do bhur cuimhní cinn ar oícheanta ar an urlár damhsa agus an Guv'nor ar na cnaipí. Bhíodh Weatherall anseo in Éirinn go minic, agus ba bhreá liom scéalta a bhaineann leis a chlos don chlár speisialta.Cad iad na ceirníní ar leith a chuala tú á chasadh aige is tú ar an úrlár rince?Nó, b'fhéidir gur inis sé scéal greannmhar duit is sibh lasmuigh ag caitheamh toitín le chéile?
Chomh maith leis sin, cloisfimíd cuid den cheol is mó ó oícheanta cheoil Andrew, leithéidí 'Sabresonic', 'Bloodsugar', 'Haywire' , 'Double Gone Chapel', 'Wrong Meeting' agus 'A Love From Outer Space'.
Inis dom do scéalta faoi Weatherall sa chlub, cuma thíos ???? nó trí teachtaireacht a sheoladh chugham. 'Sé att@rte.ie mo sheoladh r-phoist.
Ná déan dearmad, tá An Taobh Tuathail ar siúl ón Luan go hAoine idir 10 agus meánoíche ar RTÉ Raidió na Gaeltachta.