Tomorrow night, Wednesday, at 9.30pm, TG4 looks at the life and legacy of Martin Mc Guinness, featuring interviews from Bill Clinton, Nell Mc Cafferty and Ian Paisley Jnr about this complicated Derry man.
Chruthaigh Martin McGuiness easaontú binbeach i measc an phobail. Ina theannta sin, thug sé daoine le chéile lena chuid scileanna idirbheartaíochta. Ba throdaí agus ba cheannasaí é, athair agus seanathair, mac agus fear céile.
Bhí mór-imní air faoi anró a phobail i gCathair Dhoire agus d'fhág sé a phost lena chathair agus cearta na ndaoine a chosaint. Sheas sé an fód ar feadh a shaol, ionas go mbeadh an ceart ag daoine iad féin a rialú agus smacht a bheith acu ar a saol féin, ag tosú leis an fhoréigean a bhain stangadh as Doire agus as Éirinn sna 1970aidí agus 80aidí agus a chríochnaigh leis féin ina chomhcheannasaí ar an tionól cineachta i dTuaisceart Éireann ar feadh beagnach deich mbliana, go dtí a bhás in 2017.
Déanann an clár nua faisnéise seo saol Martin McGuinness a mheas óna laethanta ag cosaint Taobh an Bhogaigh, go dtí a laethanta ag cosaint An Próiseas Síochána. Cloistear fianaise ó chairde, naimhde, comhleacaithe agus ó Mhartin é féin, agus muid ag amharc siar ar a shaol sainiúil mar réabhlóidí Éireannach. Sa chlár faisnéise seo, tá an t-agallamh deireanach a rinneadh ariamh le Martin McGuinness.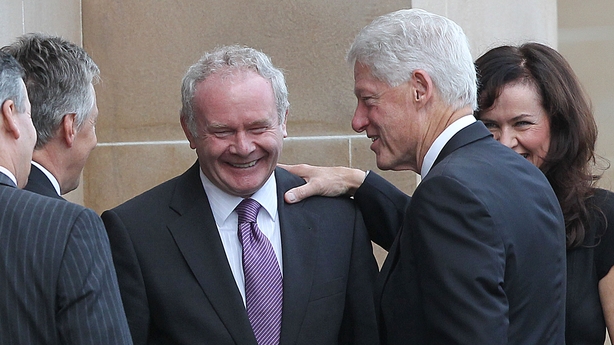 Insítear scéal an mhórphearsa as Doire le hagallaimh nua agus eisiacha le daoine a raibh aithne acu air agus iad sin a bhí ag obair lena thaobh, ar nós Nell McCafferty & Terry Crossan a insíonn scéalta faoi Dhoire sna 60aidí agus 70aidí. A chomhleacaithe i Sinn Féin a insíonn scéalta faoina gcuid oibre leis agus mar a stiúir sé Sinn Féin sa Tuaisceart i dtreo na síochána atá againn sa lá atá inniu. Déanann an t-iriseoir Peter Taylor cuntas ar an am a chuir John Hume comhairle air faoi Mhartin go luath sna 70aidí mar dhuine ar chóir dó súil a choinneáil air.
Luann Tony Blair láidreacht a dhualgas do mhuintir uile na hÉireann. Labhraíonn an tUachtarán Bill Clinton faoin gcaidreamh a bhí aige le Ian Paisley. Labhraíonn David Trimble agus Ian Óg Paisley faoin easpa muiníne a bhí ag na hAontachtóirí as Martin McGuinness, ach gur aithin siad go mbeadh orthu bealach na síochána a shiúil in éineacht le Martin McGuiness.
Ba dhuine casta é Martin McGuiness, agus bhí saol casta caite aige. Bhí sé faoi spotsholas na meán ar feadh 40 bliain. Thosaigh sé mar réabhlóidí, rinneadh polaiteoir dó agus bhí sé ina leas Chéad-Aire. Léiríonn an clár seo a scéal féin, scéal an fhir féin. Feictear sa chlár seo mar a chuaigh fear amháin ó theacht sraithe i gceantar ídithe de chathair gan aird ar bith uirthi, go fear a chuidigh le tógáil na síochána agus le fíor-rialtas a chur i bhfeidhm sa chuid corrach seo d'Éirinn.
Dé Céadaoin 6 Eanáir 9:30pm ar TG4 nó ar tg4.ie