Labhair muid le Seán agus Màiri Anna, láithreoirí Sruth na Maoile ar RTÉ Raidió na Gaeltachta faoin gclár speisialta a léiríonn an cheangail láidir idir Éirinn agus Albain
Tá 25 bliain slánaithe ag an gclár dátheangach, Sruth na Maoile, céard iad na dúshláin ba mhó a bhí agaibh ag an tús?
Seán: Ag an tús, sna naochaidí, thaisteal mé go Inbhir Nis, go BBC Raidió nan Gaidheal chun an chéad chuid den tsraith a thaifead. Bhí leath eile na sraithe le taifead i gCasla ina dhiadh sin, sraith cláracha 30 nóiméad a bhí againn sna chéad blianta sin.
Bhí mé tar éis castáil le Mairi Anna agus bainistíocht an BBC i mBaile Átha Cliath roimhe sin chun labhairt faoin tsraith, ach i ndáiríre ní raibh a fhios agam céard a bheadh romhaim thall. Mar a tharlaíonn, bhí Fáilte Uí Cheallaigh romhaim.
Tá Raidió na Gaidheal an-chosúil le RTE Raidió na Gaeltachta. Shuí muid síos agus phioc muid téama do gach clár - ceol beirte, ceol na mban, ceol na bhfear agus téamaí eile. Ní raibh tuiscint na beirte againn go maith ar theanga a chéile ar dtús, rud a d'fhág go raibh go leor réamh obair le déanamh againn sula ndeachaigh muid sa stiúideó. Ní raibh ríomhaire ná idirlíonn ann chun taighde a dhéanamh, bhí na cláracha bunaithe ar an méid eolais a hí againn fhéin cuid mhaith! Bhí muid beagán neirbhíseach, ach bródúil go raibh muid ag tabhairt faoi shraith thábhachtach idir dhá chraoltóir. Is beag an cuimhne a bhí againn go mbeadh muid ag tabhairt faoin 26ú sraith sna blianta a bhí romhainn, agus go mbeadh gradam againn ó Fhéile na Meáin Cheilteach!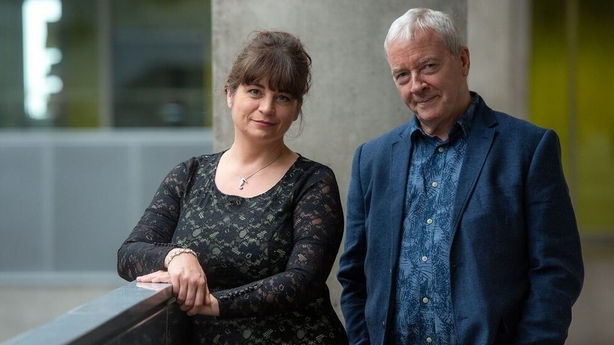 Agus sibh ag féachaint siar ar fiche cúig bliain den chlár, an dóigh libh gur éirigh libh an nasc atá idir Éirinn agus Albain a neartú tríd an gceol?
Seán: Níl aon dabht orm ach gur chruthaith an tsraith Sruth na Maoile nasc idir Éirinn agus Albain.
Bhí mise agus Mairi Anna ag foghlaim go leanúnach faoi na cosúlachtaí ollmhóra a bhí idir ár gceol agus cultúr, agus bhí muid ag iarraidh go mbeadh ár gcuid éisteoirí ag foghlaim linn freisin. Thosaigh muid ag tabhairt faoi deara go raibh ceoltóirí ar chaol taobh de Shruth na Maoile ag rá linn go raibh siad ag éisteacht. Rinneamar láithriú ar roinnt ceolchoirmeacha mar gheall ar cháil na sraithe, agus mar a tharlaíonn, gan mórán de bhlianta eile bhí cúrsaí ceoil ar siúl in Éirinn agus Alban ina raibh Éireannaigh agus Albanaigh ag freastal orthu, agus ag tosnú grúpaí ceoil agus ag casadh ceoil a chéile. Rinneamar fhéin sraith teilifíse amháin de Shruth na Maoile sna naochaidí agus is dócha gur réitigh muid an bhealaigh do dhaoine atá tagtha inár ndiaidh le sraitheanna ceoil eile.
Were you aware of RTÉ Raidió na Gaeltachta before you became involved with Sruth na Maoile?
Màiri Anna: When I was young, we would go home to my parents' islands for all the holidays (I was born and brought up in Glasgow) and my dad's island of Tiree had terrible radio reception for BBC. It was often clearer to listen to RTÉ, and so I was aware of Irish radio from early on. One of my first visits to Ireland to sing was as part of Turas nam Bàrd, and exchange of Gaelic musicians and poets which used to take place every year. I went over in (I think) 1988, and recorded a session in a radio studio in Derrybeg. Imagine my delight when we started to record Sruth na Maoile to find myself right back in the same studio for some of the programmes. They even found the recording in the archive!
What does the connection between the two celtic countries mean to Scots-Gaelic speakers?
Màiri Anna: I think Sruth na Maoile has done a lot to foster the connections between the two Gaelic-speaking nations. We are a whole generation on from when we first started broadcasting Sruth na Maoile, and travel between the two countries back then was a lot more out of the ordinary, along with the opportunities to discover more about the music and song of each community. Hearing Irish on Gaelic radio and Gaelic on Irish radio, especially through the medium of music, made a big difference to understanding and awareness between the two celtic countries, and I think we've been able to play a big part back then and since in creating and maintaining cultural friendships on either side of the Sruth. It was a real testament to the power of the programme to watch the cast list of our 25th anniversary gala concert at the Glór Theatre in Ennis last October – from Clannad's Máire Brennan to the young Scottish band Eabhal, it was like a live timeline of the show. We're very proud to be a part of that international, interceltic community, and it was a real honour to be recognised for that with a Celtic Media Festival Torc earlier this year.
How best would you describe Sruth na Maoile to those who haven't listened to it before?
Màiri Anna: Two long-time friends who were brought up around music and making music, talking to each other and sharing cool stuff from each other's collections, and having a bilingual ball in the process. And there may also be laughter.
Craoltar Sruth na Maoile ar RTÉ Raidió na Gaeltachta Déardaoin ar a 7pm