Film-maker Loïc Jourdain on his latest documentary on life on Tory Island. Toraigh: Creag Bheag i Lár na Farraige (Tory:A Little Rock in the Middle of the Ocean) will be screened on TG4 at 9.30pm.
This is the third documentary I've made about Tory Island. My life changed in 1999 when I landed on the island in a curragh built by a group of people from my home territory of Brittany. Tory was almost ten miles off the coast, and once I arrived there, and met the people, this island, and the Donegal coast, became my home.
Over the next 20 years I made films about the Donegal islands and their people. I could see at first hand how these vulnerable communities are often neglected by the authorities and how they struggle with daily life simply because of where they are born, and where they choose to live. They are faced with physical isolation, the perils of the sea and storms, they lack services we take for granted, and really suffer from the absence of long term employment. When traditional routes into work such as fishing are curtailed by Dublin, there are few options other than emigration abroad, or relocation to the mainland. From my perspective, that means having to leave behind a strong community of family and friends, and a rich cultural heritage of language and music. Ironically, those who take the ferry to leave the island to find work will often pass the many visitors who come to the island to learn Irish, to view the spectacular scenery, or to spend an evening set-dancing in the Tory island club.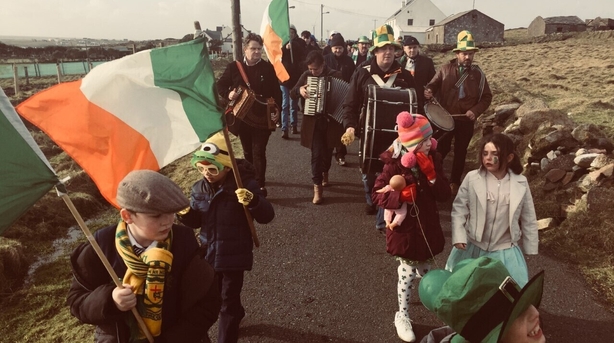 I felt compelled to document these lives, and bear witness to these personal accounts of island life. It seems obvious to me that Tory can be viewed as a microcosm of wider society – where the marginalised and vulnerable can be easily set to one side and ignored.
When I heard that Patsy Dan, the 'king' of the island for over 20 years was sick, it really pushed me to start this new film. It's very hard to predict or control what will happen on Tory, but I couldn't have picked a better time to observe and record the harsh reality of island life. Aside from Patsy's illness, the island community was left reeling by a decision to replace the existing ferry service with a significantly older boat.
While the island was united in opposition to the new ferry service, how best to respond gradually caused a deep split in the small community. Some islanders wanted to resist, and block the new ferry from landing. Others counselled caution, and compromise, and the community meetings I witnessed became difficult and heavy. Old fall outs from the past re-emerged, distressing to all, but largely invisible to those who continue to visit the island throughout.
Through it all we witness Patsy's health decline, as the strong spirit of the island wavers in the face of a new crisis imposed from outside.

Produced and filmed over two years, the film is supported by TG4, BBC NI, ILBF, CNC (France),the Breton Regional Fund in France, TBO and TVR (France). A cinema version will be released in France and Ireland in 2020.
Toraigh: Creag Bheag i Lár na Farraige (Tory: A Little Rock in the Middle of the Ocean) will be screened on TG4 tonight at 9.30pm