Between 1937 and 1939, schoolchildren collected almost half a million pages of folklore from their families and neighbours. Tonight at 8pm on TG4, Seoda Bhailiúchán na Scol, more than 80 years later, investigates what remains and what has fallen by the wayside?
Is é 'Bailiúchán na Scol' an bailiúchán béaloidis is mó & is uaillmhianaí a rinneadh riamh in Éirinn. Bhailigh leanaí scoile as 5000 bunscoil beagnach leathmhilliún leathanach d'ábhar béaloidis óna muintir & óna gcomharsana idir 1937 & 1939. Ba é Coimisiún Béaloideasa Éireann a chuir an scéim bailithe seo ar bun. Bhí an togra ag brath go mór ar chomhoibriú na Roinne Oideachais agus Chumann Múinteoirí Éireann.
Le linn an tionscadail, earcaíodh breis agus 50,000 páiste scoile as 5,000 scoil i 26 contae Saorstát Éireann le béaloideas a bhailiú ina gceantair féin. I measc an ábhair a bhailigh siad tá stairsheanchas, dinnseanchas, scéalta bealoidis agus finscéalta, tomhais agus seanfhocail, cluichí agus caithimh aimsire, modhanna oibre agus ceirdeanna. Is féidir teacht ar an mbailiúchán ar duchas.ie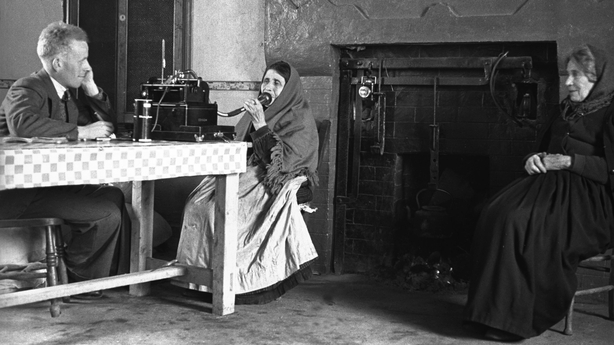 Sa tsraith seo, rachaidh seachtar ag póirseáil i mBailiúchán na Scol lena fháil amach cad atá ann agus a mhéid den eolas, de na traidisiúin & nósanna a dtráchtar orthu – atá fós le sonrú i saol an lae inniu. Is iad Aenghus Mac Grianna, Sláine Ní Chathalláin, Diarmuid Lyng, Stiofán Seoige, Jo Ní Chéide, Brian Ó Domhnaill & Máire Treasa Ní Cheallaigh an seachtar atá i gceist.
Seoda Bhailiúchán na Scol starts tonight at 8pm on TG4