Anocht ar The Geansaí, fiosraítear The Liffey Swim atá ag comóradh céad bliain i mbliana. Cad a thugann ar dhaoine léimt isteach sa Life?
The second episode of the new series of The Geansaí airs tonight at 7pm on RTÉ One, focussing on Ireland's sporting communities and their stories, marks the 100th Liffey Swim from near the Guinness Brewery to Custom House Quay. This year because it's such a special year there's been a huge demand to enter the 2.2km race which the highlight of of the year for Leinster Open Sea Swimmers. Over 600 men and women qualified to brave the Liffey's waters but the excitement belies the hard work, training and qualifying competitive swims up and down the coast that have gone into getting each of them ready for the big day.
"Chuala mé go raibh sé cinneál fuar san uisce agus bhí roinnt scéalta nach raibh sé comh glan is gur chóir dó a bheith. So tá mé ag iarraidh é sin a chur as mo cheann agus taitneamh as bhaint as an snámh."-Maria Schäler - NAC Masters
The 2019 Liffey Swim went ahead despite fears about the quality of the water due to sewage overflows after recent heavy rain.
"It's really disappointing - the swim was invented 100 years ago to show that the quality of the water in the Liffey was OK to swim in and here we are 100 years later and it's still not good enough to swim in really but this is a hardy bunch and everybody is looking forward to it... people had to qualify with 12 swims - nobody was going to give it up. you know, hold your mouth and go for it !" Paul O'Flynn - Liffey Winner 2018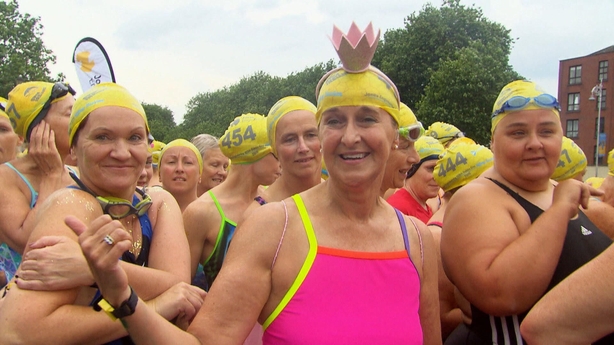 Before taking the plunge, last year's Men's winner - RTÉ Sports presenter Paul O'Flynn - had no illusions about his chances of a repeat victory.
"The handicappers ensure that you get one chance to win the Liffey and one chance only... I went off 8 minutes last year I'm on 12'15" today ... I am here for the day out! But I'll give it a shot anyway."Paul O'Flynn - Liffey Winner 2018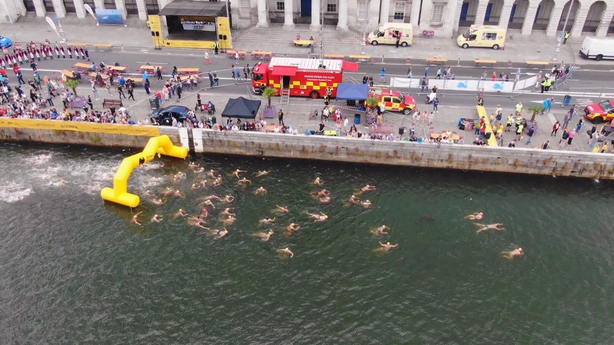 Another former winner who was giving it a go again this year, is John Mulvey. He was back in the water 50 years after winning the race in 1969, this time together with two of his own children.
"I was 14 years of age ... just so young, just a kid... but it was great and you know in that era there was a lot of young teenagers were winning it.." John Mulvey - Liffey Winner 1969
The Geansaí, 100 Bliain ag Snámh, anocht, Dé Máirt 17ú Mean Fomhair ar RTÉ One ag 19.00