Tonight on RTÉ One at 7pm, Spéis sa Spás is celebrating the 50th anniversary of the first lunar landing finds out what the next generation of Irish space researchers and scientists are up to.
50 years ago this week the first humans landed on the moon. Those Apollo 11 astronauts, who set off on their pioneering mission, built on the research of generations of scientists and the fascination of humanity with the moon and all that lies beyond in our dark night skies.Their lunar voyage caught the world's imagination in 1969, the Cold War space race was a very tangible result to the huge scientific effort, but also it broadened everyone's horizons, the sky was no longer the limit!
And in the half century since the lunar landing it has inspired generations of scientists to go further and break new barriers in our understanding of the universe where we live, on our tiny little blue planet. Cláracha Gaeilge RTÉ remembers Apollo 11 and finds out what the current and next generation of Irish space researchers and enthusiasts are up to.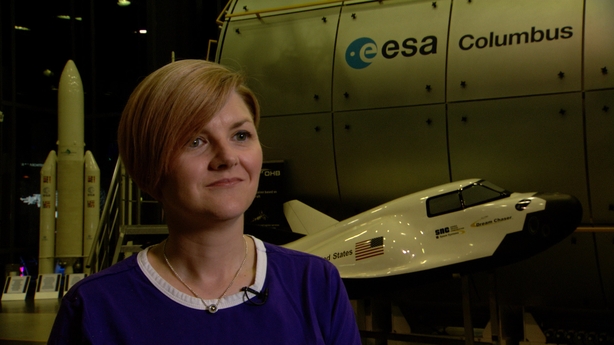 In the 1950's & 60's, Dublin City Council, then known as "Dublin Corporation", built housing and in one North City suburb, in what was the Woodville Estate, many roads were renamed to commemorate Apollo 11 in 1969. These include Armstrong Walk, Apollo Way, Tranquility Grove, Eagle Park and Aldrin Walk. Pupils today from nearby Gaeilscoil Cholmcille give us their thoughts on all things space related.
18 year old Fionn Ferreira hails from the Mizen Peninsula in Co. Cork and is 'Head Curator & Head Lecturer' at Schull planetarium on the grounds of Schull Community School. To date he has won several International Science Awards and even has a dwarf planet named after him! He expertly handles the old projector which draws the night sky and gives informative lectures on the Galaxy & the Universe during his school holidays. Fionn accompanied by Caoimhín De Bhailís of Blackrock Observatory, navigate the night sky.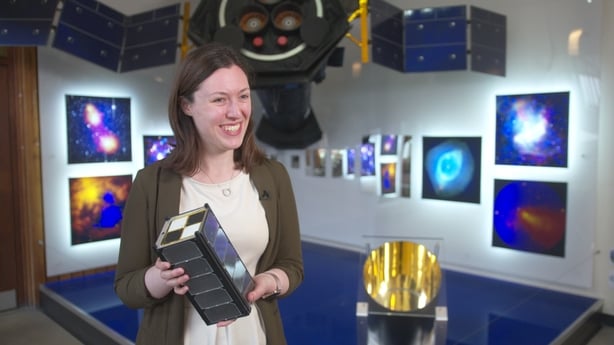 Ruth McAvinia has a huge sense of wonder and wears many hats; she's currently a News Editor at ATG and works at the European Space Agency's communication office where no two days are the same. With a degree in Irish & Drama from Trinity College she followed the stars and ended up in a Science & Space related career that she adores. Ruth works on an ongoing basis with the International Space University.
Kim Heary is one of the first Irish graduates selected to undertake a two year European Space Agency (ESA) Traineeship in conjunction with the Irish Research Council and is incredibly passionate about her work. Her days are spent in the ESA laboratory in Noordwijk, The Netherlands, testing new materials for satellites in low flying orbit.
Lána Salmon is one of 20 PhD students at University College Dublin, designing and developing a cube satellite called EIRSAT-1. Although small in size, this is Ireland's first satellite, known as a cubesat and they're hoping to have it launched from the International Space Station in the not too distant future.
Dr. Darach Watson is an astrophysicist at the world renowned Niels Bohr Institute's "Dark Cosmology Centre" in Copenhagen. His area of research is concentrated on what was until recently completely unknown, the 95% of what makes up the universe – loosely called dark matter or dark energy, simply because we know so little about it.
Craolfar Spéis sa Spás ar RTÉ One ag 19.00 Déardaoin