Labhair Olivia O' Leary le Nuala Ní Dhomhnaill ar The Poetry Programme ar RTÉ Radio One faoina saol mar fhile, faoina féiniúlacht mar bhean agus mar fhile le Gaeilge
Labhrann Nuala faoina rogha a cuid filíochta a scríobh i nGaeilge amháin, faoina caidreamh deacair lena máthair mar gheall ar a rogha saoil agus faoin tslí a scríobhann sí faoi ghnéasachas na mban.
Bronnadh duais Herbert ar Nuala an bhliain seo caite, duais speisialta idirnáisiúnta í seo agus ba í Nuala an chéad bhean ariamh a fuair an duais seo. Deir sí go raibh seo fíorthábhachtach di ar dhá chúis, toisc gur bean í agus gur i nGaeilge a bhíonn sí ag scíobh freisin.
for me it meant, a woman is as good as the men and in future, things wouldn't be all men. When I started poetry, they were all men'
Labhair Ní Dhomhnaill faoin aitheantas atá anois faighte ag an nGaeilge leis an duais seo.
'English poetry is wonderful but it is not for me'
Tugann sí ómós do Mháire Mhac an tSaoi, file eile a scríobh i nGaeilge agus í ag plé a cuid oibre cheannródaíoch maidir le gnéasachas na mban.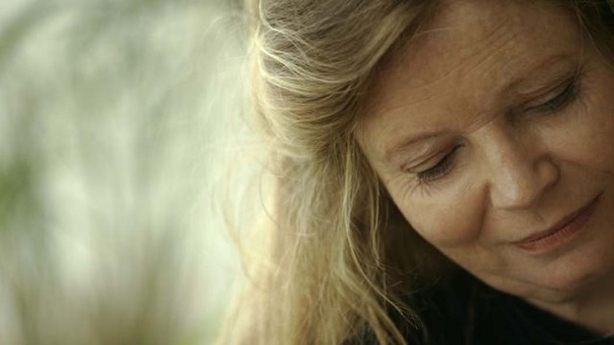 Olivia O'Leary meets Nuala Ní Dhomhnaill, acclaimed Irish language poet and former Ireland Chair of Poetry, at her home in Dublin.
Born in Lancashire in 1952 to Irish parents, Nuala Ní Dhomhnaill moved to Ireland when she was five years old and was brought up in the Dingle Gaeltacht and in Nenagh, County Tipperary. She writes all her poetry in Irish, which she calls 'the language of my soul'.
She talks about her work and reads from her collection Northern Lights, a bilingual collection published in 2018 by Gallery Press. It consists of twenty-eight poems from across her career, and some new poems.
Craoltar The Poetry Programme ar RTÉ Radio One Dé Domhnaigh ag 7.30