This is a writing workshop with a difference- learn from two Irish language writers, Celia de Fréine and Ciara Ní É in a workshop in which they explore the duality of writing in both languages and also show participants how to use spoken word as Gaeilge!
The Irish Writers Centre is hosting this event on Saturday, 11 May for those who would like to learn about how to use more Gaeilge in their writing.
Celia de Fréine writes in many genres in both Irish and English. Her poetry, plays and screenplays have won numerous awards, including (for poetry) the Patrick Kavanagh Award, Gradam Litríochta Chló Iar-Chonnacht and the British Comparative Literature Association Translation Award.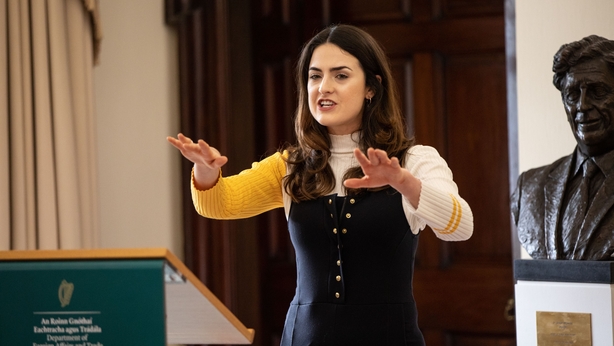 Scríobhann Celia de Fréine i go leor seánraí i nGaeilge agus i mBéarla. Tá iliomad duaiseanna buaite aici dá cuid filíochta, drámaí agus a scripteanna, ina measc (dá cuid filíochta) Duais Patrick Kavanagh, Gradam Litríochta Chló Iar-Chonnacht agus Duais Aistriúcháin Chumann Litríocht Chomparáideach na Breataine.
Dubliner Ciara Ní É (sounds like KNEE YAY) is the founder of REIC, a monthly bilingual spoken word and open mic night that features poetry, music, storytelling and rap. She has performed her work in New York, London, and Sweden, and across Ireland including at festivals like Electric Picnic, Body and Soul, and IMRAM.
Is Bleáthcliathach í Ciara Ní É. Ise a bhunaigh an oíche mic oscailte REIC, a mbíonn filíocht den fhocal labharth, rap, ceol, agus scéalta le cloisteáil ann. Scríobhann sí i mBéarla agus i nGaeilge Tá a cuid filíochta léite aici i Nua Eabhrac, i Londain, sa tSualainn, agus in Éirinn ag féiltí éagsúla - Electric Picnic, Body and Soul, IMRAM, agus neart eile ina measc.
For more info on this event, look here