Anocht ag 7.30 i.n. ar RTÉ One a thosaíonn sraith nua dhátheangach, Mo Threibh. Sraith í seo a fhiosraíonn daoine a bhfuil spéis acu i bhfochultúir éagsúla ó Rockabillies go Metal.
Brand new four-part bi-lingual series My Tribe reveals the underground worlds of some of music's most defining youth culture movements – the Rockabillies, the Mods, the Skinheads and the Punks. It takes the viewer inside these scenes where music is life, clothing is precise, and attitude is everything.
The series delves into the archives to reveal the fascinating origins of these subcultures while also meeting the modern-day members of these tribes to find out what makes them so enduring. This is the definitive story of Ireland's musical tribes from the 1950s to today, sound-tracked by the essential anthems of these scenes including songs by Bill Haley, The Jam, The Specials, and The Undertones.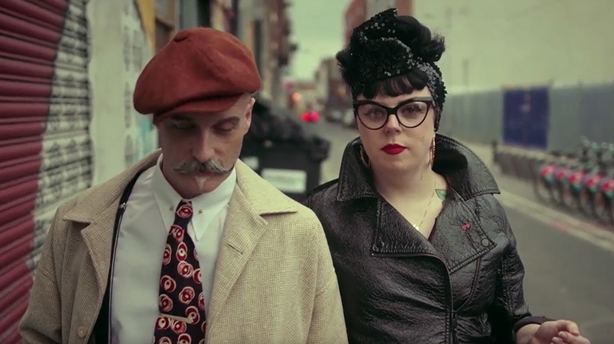 Episode One of My Tribe explores the Rockabilly scene from its Teddy Boy origins to its new, young movers and shakers:
Teddy Boy Dominic, perfectly presented in his tailor-made Drape suit and surrounded by his collection of original 1950s jukeboxes, explains how the music and style of this British subculture arrived in Ireland. Looking like they walked straight off the set of American Graffiti, young couple Jimmy & Jenny from Waterford tell us how they found love, friendship and family in today's 50s inspired Rockabilly scene.
Effervescent Sorcha explains that Rockabilly is entwined with her identity and introduces us to her very own tribe at home with her jiving husband Christian and 3-year-old, Elvis-loving son Vincent.
Eamonn in Wexford recalls how the scene exploded in the town of Enniscorthy in the 1980s, having a lasting impact on his whole life. And Metalhead Muiris explains the transition from Rock & Roll to Metal and how the symbolism and rawness of that scene is a part of his life that isn't going away.
Tosaíonn Mo Threibh anocht ar RTÉ One ag 7.30 i.n.