Iarla Ó Lionáird, singer with The Gloaming, spoke to Tristan Rosenstock on An Cúinne Dána on RTÉ Raidió na Gaeltachta about the group's latest album, The Gloaming Three.
Ó Lionáird who hails from the Cork Gaeltacht talks of meditation, poetry and breaking the rules when it comes to traditional music.
Speaking about poetry which he has put to music from the likes of Seán Ó Ríordáin and Liam Ó Muirthile, which he put to music, he says:
"Braitheann sé i bhfírinne ar an dán. I gcás an dáin áirithe sin Saoirse, ba é an téama a chuaigh i bhfeidhm orm; an ceangal atá againn leis an mbaile, leis an dúchas, leis an bpobal. Shamhlaíos is dócha go raibh réimsí áirithe de mo scéal fhéin faoi cheilt laistigh den dán sin. Scéal an Riordánaigh fhéin, measaim gur mo scéal atá ann chomh maith.
Braithim go bhfuil saghas 'negotiation' i gceist idir mé fhéin agus mo bhaile dhúchais agus an traidisiún. Níor ghéilleas go ró-fhuirist don dtuairim nach raibh an traidisiún solúbtha. Theastaigh uaimse go mbeadh sé solúbtha. Ar an dul céanna, is breá liom na rialacha. An fáth gur dheineas é i ndeireadh na dála ná go rabhas ag iarraidh rud éigin a iniúchadh mar gheall orm fhéin."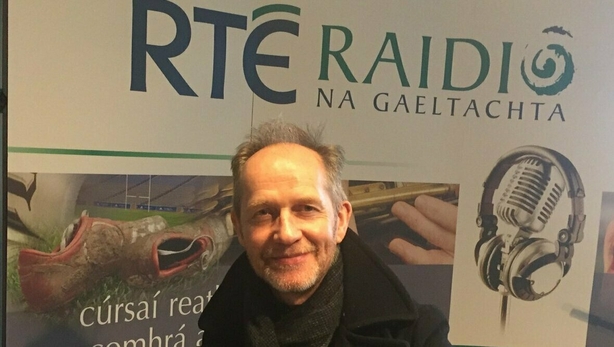 On going against the grain within traditional musical circles, Ó Lionáird says whilst he thinks it's very important for the artist to attain freedom outside of the community, at the same time, when he sings Saoirse, he feels as if he is 'renewing the visa'
"Creidim go bhfuil sé ana-thábhachtach go mbeadh saoirse ag an ealaíontóir lasmuigh den bpobal. Ach ag an am céanna, nuair a chanaim an amhráin sin, braithim go bhfuilim ag iarraidh athnuachan a dhéanamh ar an visa, you know..saghas an comhthuiscint mar a deireann an dán fhéin idir mé fhéin agus an pobal, an seanaphobal, an teanga, na nósanna agus na daoine..go bhfuilim ag lorg redemption nó rud éigin, agus go bhfuilim ag iarraidh a bheith umhail agus beaguchtach mar a deireann an dán."
Iarla mentions how The Gloaming's success makes him uncomfortable, a lot of the time. An unnatural frontman, he doesn't revel in front of crowds like people imagine he does:
"Tá sé thar a bheith míchompórdach formhór an ama, chun a bheith macánta. Bhíomar díreach ag déanamh ceoil. Is spás eagalthach é. Nílim compórdach ós comhair pobail faoi mar a cheapadh daoine go mbeinn. Ní 'front man' nádúrtha mé, ní spéis liom é sin."
Craoltar An Cúinne Dána ar RTÉ Raidió na Gaeltachta gach Domhnach ó 18.30 go dtí 19.00