The question of teaching Irish at both primary and post-primary levels has once again raised its head as the latest report from inspectors at the Department of Education has expressed concern at both levels.
Three educators, Sinéad Ní Ghuidhir, Dr Dorothy Ní Uigín and Tammy Ní Laoire spoke to Cormac Ó hEadhra about the myriad of challenges facing educators which have resulted in the drop in teaching standards on Cormac ag 5, RTÉ Raidió na Gaeltachta.
Sinéad Ní Ghuidhir, Lecturer in Education, NUIG told Cormac they have experience of Irish graduates applying to a Masters in Education through Irish (the only program of its kind) who don't have the appropriate level of Irish. When Cormac asked how this could happen, Sinéad said there were flaws in every part of the education system, from primary school to third level:
'Tá fabhtaí i ngach cuid den chóras, ó bhunscoil go hollscoil.'
Dr Dorothy Ní Uigín, Acting CEO of Acadamh na hOllscolaíochta Gaeilge, NUIG made it clear that whilst there were many students in NUIG whose competency in Irish was satisfactory, those students aren't always attracted to teaching as a profession for various reasons, including pay.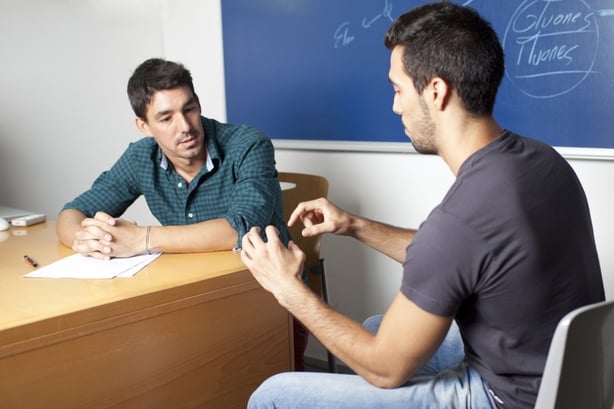 The educators suggested there was now a 'vicious circle' in action, resulting in the standard dropping as some of the teachers' language competency wasn't up to scratch and this, in turn, affects the students in their classrooms every day.
Tammy Ní Laoire, a secondary school teacher, said whilst she didn't blame primary school teachers, the huge range in students' competency is so pronounced by the time they start secondary school, the teacher feels like they have to start from the beginning.
'Imríonn na múinteoirí bunscoile fíorthionchar ar na daltaí ag teacht isteach.'
Tammy also mentioned the secondary school curriculum in which competency and literature are both major components. She describes the course as wide-ranging and heavy for those who come into secondary school without much Irish.
Dr Ní Uigín says the pressure to garner points in the Leaving Cert has resulted in learning by rote in order to pass state exams instead of real competency in the language.
'Sílim go bhfuil den fhoghlaim de ghlan mheabhair ar siúl ag na daltaí agus tá sé sin aitheanta againn. '
Cormac finished by reading some of the many texts and tweets received highlighting the frustrations with the system and its failures.
Craoltar Cormac ag 5 ar RTÉ Raidió na Gaeltacha idir 5 agus 6 ón Luan go hAoine.