John Byrne talks to Dubliner Stuart Townsend about his starring role in new US drama Betrayal, which begins on Tuesday October 29 on RTÉ Two at 10:00pm.
While Irish actors have done extremely well in Hollywood in recent decades, it's very rare for someone from the Emerald Isle to land a leading role in a prime time American TV show. Dubliner Stuart Townsend has bucked that trend, and from Tuesday (October 29) you can see how he's getting on in a new drama called Betrayal as its European premiere takes place on RTÉ Two.
From ABC – the people whose previous shows include Desperate Housewives and, more recently, Revenge – this is a story based on the Dutch drama series Overspel, and stars Hannah Ware as Sara Hanley, a photographer, who begins an affair with Jack McAllister, a lawyer for a powerful family, played by Stuart Townsend.
The show's illicit lovers are both unhappily married to other people, but things begin to really get complicated when it transpires that a murder trial involves the cheating pair - and on separate sides of the case.
For Townsend (who looks remarkably fresh given that he'll be celebrating his 41st birthday in a couple of weeks), it's a huge opportunity to put himself centrestage in the Tinseltown shop window, a place where even a supporting role in a TV pilot that might not even be televised, is a major miracle.
On the blower from Chicago, where Betrayal is both filmed and set, he's in typically chirpy mood.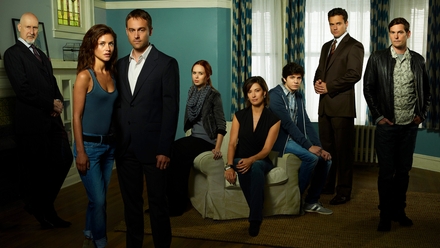 John Byrne: So, Stuart, how is the Windy City?
Stuart Townsend: It's very cold! It just got cold about five days ago. But up until then it had been beautiful. I was doing a running scene yesterday, down by the river, which is like a wind tunnel. And I'm in my little running gear. That was fun.
So tell us about your character in Betrayal, Jack McAllister?
He's a bit of a randy fella! Jack is part of this very powerful Chicago family. What we learn a little later in the pilot is that he was kind of brought into the family; he married into it, it's not his own family. He now works for them, he's married to the daughter, and all is going well. He's got two nice kids, he's got a nice house, got a nice life. He's rich.
But obviously that isn't enough for him?
He's got everything he could want – but he's a little dead inside. He spots this woman, and something happens, and feels alive for the first time. Initially, nothing happens. But they meet each other again and they get together. He takes this big leap – which is, of course, stupid – it has repercussions that you'll see later on in the show. But sometimes the heart just goes where it wants to go, and I think we can recognise that.
I see James Cromwell plays Jack's father-in-law. He was amazing in season two of American Horror Story. It must be fun working with him?
Yeah, he got an Emmy for American Horror Story. I haven't seen it yet, but I've heard about it. He's so amazing. He's 6' 7". He's a giant! He's an incredible actor. He's a very imposing man and yet he's such a nice man, such a gentleman. But he turns it on as Thatcher Karsten – he's such a badass! He really can be terrifying. It's great to work with him.
We're shooting episode number 10, and it's kind of amazing where the show has gone in terms of their relationship. I work for him in the beginning of the show and then, having this affair has the potential to put a lot of things in jeopardy, including the job and our relationship. And where the writers are taking it, I have to say, is really amazing.
Where would you pitch it? Is it a soap on stilts, like the classic Dallas?
Is it a soap? People call it a soap, and there are elements of that. But I call it a rocking solid drama. I think the first two episodes, you kind of have to just... in a way they're the set-up. They're not my favourite episodes, to be honest. They're solid but, really, the show gets going in number three. We've shot all these scripts and it's pretty exciting, I have to say. All the actors come on set and we're all talking about the next script. I think the audience should hang tight and see the first two episodes as just laying the groundwork. There'll be a major pay-off.
It's a family drama; it's got romance; it's got that whole thriller element with the murder; there's legal stuff. But, essentially, it's kind of relatable to everybody, because these are relationships that we all have: with our families, with ourselves.
The plot is pretty intricate. What they lay out in the pilot really gets explored and I have to say for me, as an actor, it's amazing. All these characters are multi-dimensional, and I don't know if you get that with a soap, normally. For me, it doesn't feel like we're doing a soap.
This is a great opportunity for you, isn't it?
I love working with good actors. Sometimes you can get on a show and the writers are doing it – there are so many variables. But in this show, you're working with professionals across the board. And they're very good. I'm really enjoying it.
Betrayal begins on Tuesday October 29 on RTÉ Two at 10.00pm