Reviewed: Scandal (Thursday, More4); Nashville (Tuesday, TG4); Father Figure (Monday, RTÉ Two)
If Scandal was an animal rather than a TV show it would certainly be a shark. This is a show that never stops. It's so relentless, most weeks I find myself exhausted after watching an episode, and I would defy anyone to sit down and watch multiple episodes in a single sitting. The sheer pace of this show is unprecedented.
Thankfully, the rat-a-tat dialogue has slowed down a little after a blistering start to season two, allowing for some much-need pause for thought, but last Thursday's episode was like a season condensed, so much happened.
At this stage I'd have to say that regular viewers will know that this show is unmissable – all I can do is plead with anyone who hasn't started watching to check out Scandal from the start (and I'll skip giving away any spoilers to potential new fans). I'm going to stop writing about it, too - at least until the season two finale, which is months away.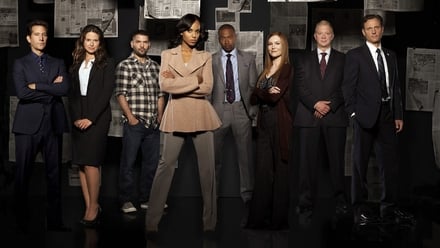 But I will add that Kerry Washington is outstanding in the lead role of DC problem-solver Olivia Pope, while the plot zig-zags around the cast of characters (and plenty of new faces as well) like a legion of dragonflies around a spinning disco ball. Dizzying.
Far more traditionally-paced is Nashville. But, like Scandal, it's one of the better of the recent arrivals from Stateside TV. Starring former Friday Night Lights and American Horror Story luminary Connie Britton and Hayden Panettiere - indestructible cheerleader Claire Bennet in Heroes – it's a very soapy tale of two country singers, the fading queen of country Rayna James (Britton) and the young pretender to her throne, Panettiere's Juliette Barnes.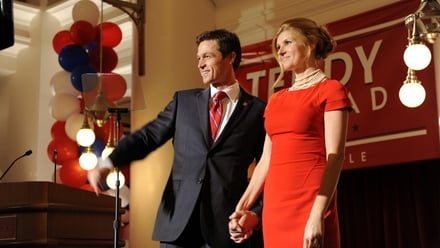 Season one's long over on More4, but TG4 recently acquired the show for Irish viewers and its mix of heightened drama and an excellent country soundtrack should make it almost tailor-made for an Irish audience.
Last Tuesday's episode, the third, Juliette's junkie mother shows up, which is never going to result in good news for anyone. Things get worse for Juliette when she calls the much-desired guitarist Deacon to the studio to record the song they wrote together, in another attempt to sign him to her band. He ultimately resists.
Meanwhile, Rayna's two daughters perform in their school talent show, and she discovers information about her mother that gives her new perspective on her father – but that doesn't stop her from having a row with her manipulative and aggressive old man.
Nashville is all about tempers and tiaras; it's the cat fight Revenge could've been if it hadn't lost its way so dramatically during its second season. The key here is that Connie Britton can carry a show – she was great in Friday Night Lights – but she's also being pushed all the way by Panettiere, who shows much more depth as an actress than she did in the utterly disappointing Heroes. It's only three episodes in, so if you haven't seen it yet then catching-up is easy at the moment . . .
Monday nights on RTÉ Two are all about comedy. Once MNS is over, it's funny shows all the way until bedtime. We'll leave the joys of Grandma's House for another time (as well as Big Bang Theory, Go On, Damo & Ivor and The Mario Rosenstock Show) and concentrate on Father Figure.
Given the overwhelming success of Brendan O'Carroll's Mrs Brown's Boys, green seems to be the new black in terms of BBC One comedy now that Jason Byrne has followed in O'Carroll's footsteps by landing his own sitcom.
But while Mrs Brown's Boys is very much a stage-set, end-of-pier vehicle that basically moves O'Carroll's long-running mammy figure in front of TV screens, Father Figure is all-new, although more like a typical, modern BBC sitcom.
In recent years the Beeb has fallen well below the standards it set itself from the 1960s up until the Noughties, and seems to rely almost solely on slapstick for laughs where it once produced timeless comedy classics such as Steptoe and Son, Dad's Army, Fawlty Towers, Sykes, Only Fools and Horses and One Foot in the Grave. Lee Mack's Not Going Out has probably been the best BBC comedy in recent years, and that's hardly been the new Seinfeld.
It's not that Father Figure is bad; it's okay – the latest in a very long line of bland BBC sitcoms. If Byrne can bring a bit more individualism and/or or quirkiness to the show, it would be much better for it.
Last Monday's second episode was a vast improvement on the previous week's opener, with some good one-liners adding to the show's general fall-over-and-its-funny game plan. The basic plot – get everyone in a car that breaks down in the middle of nowhere – has been done before (in Not Going Out, for example), but Byrne's assortment of characters kept it reasonably fresh. Plus he's got a decent cast to play with, which is always a bonus.
C- and improving. If Byrne can keep Father Figure going on an upward trajectory, pretty soon he'll have a hit show on his hands.
John Byrne