Sports presenter Tracy Piggot is the latest celebrity to hang up her apron. Suzanne Byrne finds out who her tip to claim the trophy is and what went wrong in last night's challenges.
How nervous where you after your warning last week about reaching the challenges that were ahead now that you had reached the halfway point?
Well they have all been very tough challenges. We had no idea until that morning what was ahead of us, so when Claire came out and did the demonstration it was pretty evident that is was going to be a tough challenge. I welcomed all the challenges, I knew they were going to be quite hard and I actually think the pastry challenge was my favourite, I really enjoyed it. It was so different from anything I had ever tried before and I think we were all in the same boat. Claire was fascinating, listening to all she had done in her career and what drove to her to do what she does. I really relished the challenge.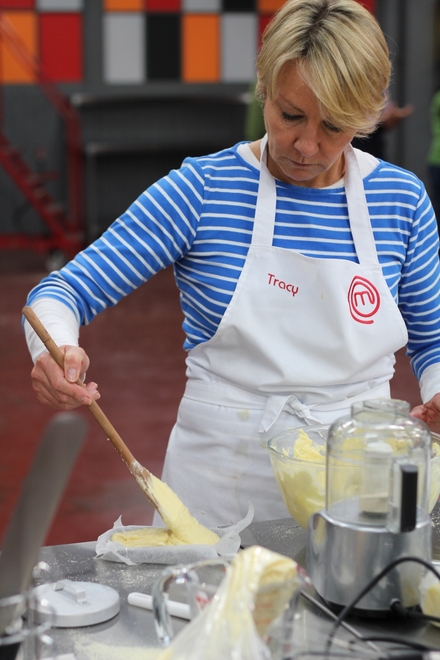 Where you surprised to see how much detail goes into making a dessert like the Summer Fruit Trifle?
At that level, it is mind blowing. All of us we were amazed at what we achieved and how it didn't look to bad at the end. It was quite finicky and there was of lots of detail – and that wouldn't have been my strongest point. But the fact that you actually saw what it would look like at the end was a help to me because I found presentation was always my downfall, I couldn't always visualise how things would look at the end.
Was there added pressure with Claire standing there watching you?
Oh yes! She is at the top of her game and she is so successful and so respected in the industry. But she was such a nice person; she never scowled or made you feel any worse.
This was the first week you were all doing the same thing at the same time did that up the tension in the kitchen?
There was definitely a real sense of tension. The week before there was a little bit, but there was more this week. And I think that is how the show goes, each week the tension ups and it gets more difficult.
You first dessert, the Summer Fruit Trifle went really well – despite the jelly disaster – they were really impressed with it.
Yes! I was really pleased and it is quite humbling when you have someone like Claire saying nice things about your food. That was the thing I found fascinating about the process was that it really meant a lot when you got good feedback. I was really thrilled because I had never done anything remotely like that before and the thought that I could create something like that, well I never imagined I would be able.
And the fact that you pulled it back after the jelly disaster – that must have been a real win for you?
Well yes, jelly gate, it was tough! I think I used the wrong dish to put the jelly in the first place which is why I couldn't get it out but I kept my calm and kept going. And as you know jelly is a wobbly thing… so I was very proud of myself.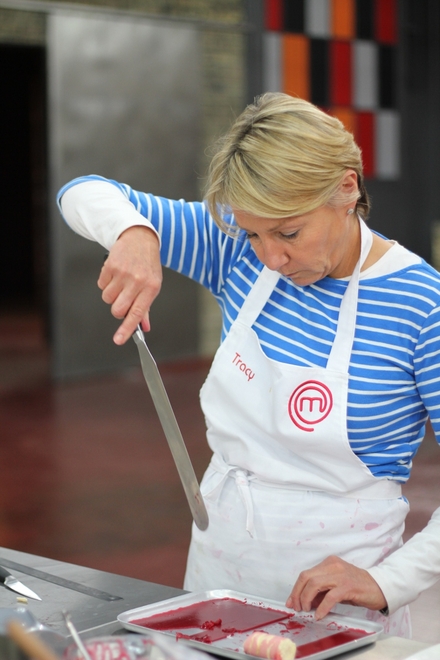 Your second dish was a little different to what people might consider a traditional dessert, what inspired that?
We were asked to do a childhood dessert and we really didn't have desserts when I was growing up and I am quite a savoury person, so I decided to a play on a cheese plate. So I looked it up and spoke to a couple of friends of mine and it does exist, so I didn't invest it, but I played around with it a bit. I thought it was lovely taste wise, but unfortunately it doesn't look so good and that has been my downfall all along, I just couldn't quite get the dishes to look good on the plate. I knew that my time was probably up when all these beautiful dishes started to be presented to the judges and I'm looking at mine going, 'Oh no'. The only other one that wasn't great was Conor's, so I knew it was him or me going out, and he had been pretty good up to this point so… And I also over caramelised the pears!
Tell us about the moment they announced you as the person who was leaving?
You are left standing a while and I was well aware it was Conor or I, and you know, I was hoping it wasn't him because I really like him, and you don't want anyone to leave. And yet I still thought I would love to stay in a bit longer and I was really getting into it, plus I knew what was coming down the line and I really wanted to be there to meet some of the experts they had coming on the show. I was very sad and disappointed. It was a fair decision though – I had blown it the week before as well.
There seemed to be a lot of support amongst the group – was this real or where you just playing nice with the competition?
It was really strange how we all just gelled and that really is what I will take away from it the most that I have made a bunch of new friends and we will stay in touch. That was a big deal to me – I really think that is lovely.
What you learned from the show?
For myself personally, I have picked up a lot of ideas for cooking and techniques to use in the kitchen. I knew beforehand that I really like stepping outside my comfort zone so that was re-instilled in me. It is great to try something completely different and not be afraid to look silly or have a laugh. There is so much doom and gloom at the moment and I just thought I am just going to go and enjoy. I mean what was the worst that could happen; I looked like a crap cook. I really did enjoy. I was really amazed that I got to the halfway point and I was really proud of myself, but I really do wish I could have stayed a bit longer.
What was your favourite dish that you cooked?
I suppose it has to be the first one because I got such good comments – the Dover Sole. It was quite difficult, I had to skin my own fish and I was very proud of that. I was so nervous at that stage so to get good comments on that first day was brilliant, it meant an awful lot.
Who is your tip to win?
Aengus, I am sure Aengus is going to win it! Absolutely and I have thought that from day one. I thought his dessert was amazing. It was just beautiful looking and I am just so fond of him. We had some laughs and aside from that, his presentation, the way he is organised around his pod and his whole approach, I walked out of the kitchen thinking, yeah; he is going to win it!
Nick and Dylan, did you enjoy working with them?
Very much so. They are both very good at what they do and they have those different personalities that bounce off each other well. For me it was so fascinating to go to the other side of a show that I have watched for years and to see how it all comes together.
And finally would you do it all again?
I would do it again, especially if it was that group of people. And I definitely wouldn't cook pork!