It's very much a case of hello and goodbye as John Byrne looks at the season finales of three US TV shows and welcomes a curious new kid on the BBC block.
Reviewed: The Big Bang Theory (Thursday, More4); How I Met Your Mother (Thursday, More4); Defiance (Tuesday, Syfy); Top of the Lake (Saturday, BBC Two)
With The Middle and Modern Family ending the previous week, I'm starting to resent all these farewells. Two more of America's top sitcoms said goodbye for the summer last Thursday as both The Big Bang Theory and How I Met Your Mother wrapped on More4 (although the sixth season of TBBT does continue on RTÉ Two, so skip the next four paragraphs if you don't want to know what's happened).
While the show has defied the previous laws of comedic gravity in the US by taking a big leap forward in terms of viewing numbers with its sixth season, The Big Bang Theory remains pretty much off-radar this side of the Atlantic, which is a pity given that the multi-award-winning Jim Parsons (below) continues to excel as the ultimate geek, physicist Sheldon Cooper.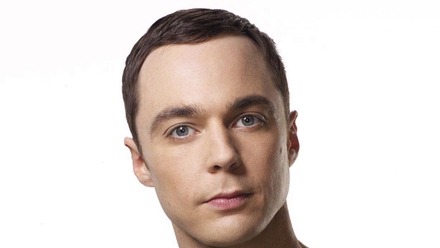 As the season comes to an end, there are signs of progress for some of the socially-inept scientists that have been the core of this show since it started. As regular More4 viewers will know, Raj Koothrapalli (Kunal Nayyar) finally landed a girlfriend, the equally-phobic Lucy (played by Kate Micucci). By the end of the episode Lucy's gone, but the good news is that Raj is so traumatised by the event that he can finally talk when sober in front of women.
The major issue in the episode is that Leonard has been offered a job working for Stephen Hawking. The catch is it's on a rig in the North Sea, and he'll be away for four months. Penny ultimately gives him her blessing (something that was hilariously a little slower to come from Sheldon).
Like many successful sitcoms, there's a certain comfort in the certainty that comes with The Big Bang Theory. It doesn't break any conventions, but – more important than anything else – it's still funny after six years, which is far more important.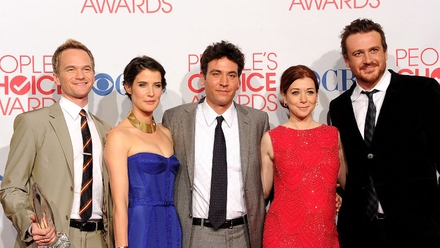 How I Met You Mother, on the other hand, has been dragging a bit in recent seasons. Given the show's premise – dad telling his kids, well, how he met their mother – there was always going to be a time when viewers had to find out who the kids' mother was, and last Thursday's season eight finale closed with that major reveal, after years of increasingly tiresome teasing.
Hands up, for a long time I was convinced that Ted would end up with Robin, and as this latest episode rolled along I was waiting for the moment that meant Ted was going to ruin Barney and Robin's wedding by admitting to the latter that he truly, madly and deeply loved her. Especially when he discussed Robin's missing locket with Lily.
Instead, the season ended with the camera giving viewers the first glimpse of Ted's wife, described only as "The Girl with the Yellow Umbrella". She's played by Cristin Milioti, whose previous includes playing in Once on Broadway.
And while HIMYM has been a lot of fun – especially Neil Patrick Harris as womaniser Barney Stinson – it's pretty much run its course at this stage, so the ninth and final season offers the writers a chance to wrap everything up and give the show the send-off it deserves. And long-term fans a necessary escape.
The last week also saw the end of the season for a more recent arrival as Defiance finished its initial run on Syfy. But unless it can come up with some really interesting plot lines or character development, it's difficult to see this show lasting more than another year.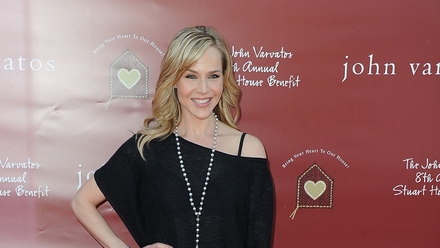 Despite a strong cast that includes Grant Bowler, Julie Benz (above), this sci-fi series (serious?) about a future, post-apocalyptic Earth shared by various aliens as well as locals has rarely been better than mundane, although so much happened in this first season finale that my head's spinning trying to recall it all.
First off, Julie Benz's mayor lost her gig in the latest election, to the ambitious alien Datak. Meanwhile, Datak's wife (played by Jaime Murray, ex-Dexter, Spartacus and Warehouse 13) breaks up with her on/off, brothel-running, secret lesbian lover (it's complicated) by poisoning her to death.
Meanwhile, Grant Bowler's character, Nolan, gets killed while trying to protect his alien daughter Irisa, who's got some weird stuff under her skin that's sought by some nasty mercenaries. Ultimately, she gets him back to life by going to some strange place underground, but the episodes ends with the realisation that the militaristic Earth Republic is taking over Defiance.
After eleven weeks of plod and little plot, it was all a bit much to take in, but at least stuff happened.It's all set up for the second season, but they've got to do better (and with every episode) in order to keep Defiance on the road.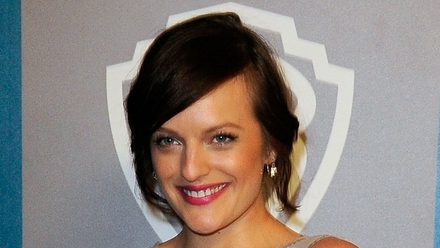 Finally, there's something new to report on this week. And it's not American either, although its lead is from the US and has been a TV staple for the majority of her 31 years. Former West Wing and soon-to-be ex-Mad Men cast member Elisabeth Moss turned up in Top of the Lake (Saturday, BBC Two), a murder mystery drama directed by Jane Campion, the latest movie director to relocate to the small screen.
Moody and broody - and looking like it's going to get very weird before it ends – Top of the Lake is set on New Zealand's South Island, and the scenery is almost as fantastic as the storyline. The opener set things up nicely as a pregnant 12-year-old disappears and Moss's Detective Robin Griffin, back home visiting her ailing mother, ends up investigating.
Peter Mullan plays the missing girl's rather dysfunctional alpha male father ("No one loves her like I do," he says after being completely unfazed by the news that his 12-year-child is expecting one of her own). He's more animated about a women's refuge that's suddenly set up camp nearby on a plot of land named Paradise. The refuge is led by an unrecognisable Holy Hunter (from Campion's breakthrough movie, The Piano), and consists of several psychologically-damaged ladies living out of shipping containers plonked across Paradise.
Considering that for some time Saturday night has – for the more discerning viewer – been a time to soak up continental crime capers and shows such as The Killing, Inspector Moltalbano and Wallender, this fits in nicely in a head-scratching, it must all mean something, kind of way.
It's certainly more interesting than Your Face Sounds Familiar, although that's hardly something worth bragging about. We'll give Top of the Lake a couple of weeks to see if it can rise from curio to cracker.
John Byrne