"I think it's a pity that now, offering flowers to a lady becomes indecent," said Polanski, stirring the pot in Cannes. "I think that trying to level the gender, it's purely idiotic. I think that chases the romance from our lives, and that's a great pity." So, the controversial Polanski set the town talking, on his views on gender and his disappointment at the ''masculinizing'' of women as he arrived with his wife and his star, Emmanuelle Seigner.
So that was one of the final sparks as the Festival wound down, Polanksi caused outrage, Marion Cottaird cried, Jim Jarmusch glared, Paris Hilton pouted, jewellery was stolen and the red carpet has been rolled up for another year… So this will be my final blog – a little delayed thanks to Easy Jet and Aer Lingus, queues at Nice airport, missing my luggage and iPhone dying.
The beginning of the end was Friday evening, as we went to the ice cream parlour off the Croisette we noticed the normal daily queues were gone. The buzz was all about Monaco and the Grand Prix which kicked off on Friday with many of the jet-set pack shifting the party an hour away to Monaco. The majority of the film community had left earlier in the week.
I got up at the crack of dawn on Friday to try to book tickets for Roman Polanski's exotically title La Venus A La Fourerre (Venus In Fur). Despite the infamous personal scandal that has followed him, I have admired him as a filmmaker for as long as I can remember. From Rosemary's Baby and Chinatown to Tess, The Pianist and The Ghost Writer, he has been one of the towering directors of modern film.
"I think when you show a film here, you have to be in the competition, you have to be a sport," Polanski told journalists before the official screening. "And even if I don't get anything I can say, 'Well, I got it already.'" Polanksi's wife and muse, Emmanuelle Seigner, stole the show on the red carpet.

Wearing a red dress with a thigh-high slit, the actress took plunging necklines to a whole new level and all eyes were on her as she waltzed along the red carpet in her custom Alexandre Vauthier low-cut silk jersey gown which she styled with red Christian Louboutin sandals. Venus in Fur stars Polanski's wife as brash actress Vanda who crashes an audition to convince writer Thomas, played by Mathieu Amalric, to cast her as the lead in his new play.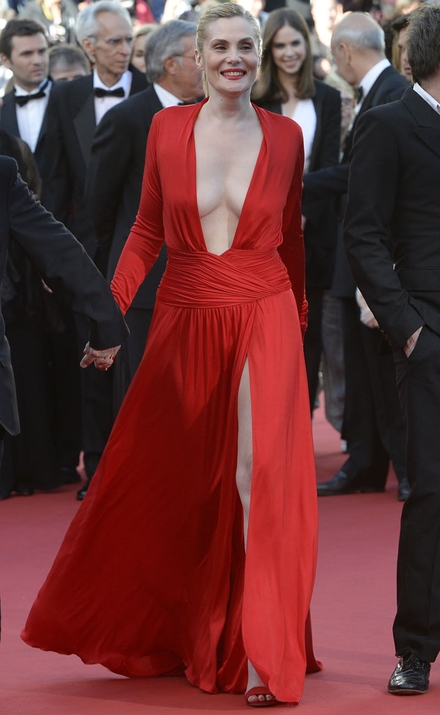 Soon, the roles in the play are being acted out by Vanda and Thomas, and as the themes of domination and submission come into focus, roles become reversed and reality is blurred. It makes me wonder if it was a case of reality becoming art, or art becoming reality.
The Guardian's Peter Bradshaw called Polanski's first French-language film a "playful if occasionally heavy-handed jeu d'ésprit on the subject of sexual role-play, the games we all play, illusion and reality, and directing as a sexual act."
There was no mad partying on Friday night but instead I opted for a nice meal of fresh fish skewer and frites with friends in Cannes. I was planning on waking at 7am in the morning to secure tickets for the red carpet screening of Jim Jarmusch's film. Jarmusch's Only lovers left Alive is the US directors' take on the currently trendy vampires theme, featuring Adam (Tom Hiddleston) and Eve (Tilda Swinton) as a stylish globe-trotting vampire couple who've been together since the 1860s and have their own sources of top-quality blood.
I arrived at Cannes train station and practically sprinted to the Palais to be one of the fortunate people to secure the elusive tickets. After being refused by the internet booking system, and the producers' booking system, we finally got lucky getting the last two remain tickets from the young actors' corner, a small office at the back of the Palais which keeps tickets for young actors like myself, and then all we had to do was hang around until the screening at 10am. As it was my last day, I wandered around the retro film shops. I couldn't purchase any merchandise as there are strict regulations on dress codes and carrying bags onto the red carpet. As 9:30 came, we stood in line in a state of high anticipation. Jim Jarmuch walked the red carpet, just 10 feet away from where we were queuing, posing for photos.
In Only Lovers Left Alive, the 21st century vampires refuse to feed on living people, instead buying their blood illicitly from hospitals and middlemen, like any other illegal drug.
Joking that he decided to make a vampire film after "we heard you could make a lot of money with them", Jarmusch confessed he had not seen any of what he termed the "current commercial vampire films" such as the Twilight series, but said he had a love for the genre. "There have been a lot of beautiful vampire films," he said.
Only Lovers Left Alive is also something of a tribute to Detroit, the now-ravaged Michigan car-making city that amongst other claims to fame was the home of Motown. Describing Detroit as the "Paris of the Midwest" Jarmusch praised its "great spirit" and said: "It has an incredible musical culture, so much amazing American music has come and continues to come from Detroit. If you see what has happened to it it's very shocking and moving. It's kind of a decimated city."

As Jarmusch and his cast left the red carpet, we were about to enter when all 100 of us in the queue were turned away.''Excuse moi? We have tickettes?? '' It turned out they had given out 2,500 tickets for a 2,000 seated cinema, to ensure full capacity. There was nothing the French would do. After hanging around Cannes all day, we had to turn on our heels and leave, tickets in hand.

As you have read by now, Abdellatif Kechiche's lesbian romance Blue Is the Warmest Color: The Life of Adele has won the Palme d'Or, the top honour of the Cannes Film Festival. The jury, which included Steven Speilberg & Nicole Kidman took the unusual move of awarding the Palme not just to Kechiche, but also to the film's two young stars: Adele Exarchopoulos and Lea Seydoux. The three clutched each other as they accepted the award, one of cinema's greatest honours. "The film had a beautiful French youth that I discovered during the long time filming the movie," said Kechiche at the festival closing ceremony Sunday. "It taught me a lot about the spirit of freedom."

And that is Cannes all wrapped up, ''the spirit of freedom''...
Emma Eliza Regan