John Byrne's TV choices for the week ahead (Wed Apr 17 - Tue Apr 23)
Kylie's back acting on the box, there's a new comedy on the Beeb, and the impressive Broadchurch comes to an end – so there are plenty of TV options worth investigating over the next seven days.
Pick of the week
The Good Wife (Thursday, More4)
A couple of weeks ago I was horrified when I saw an episode of The Good Wife that wasn't brilliant. Normal service quickly resumed however and this week's tale promises to be yet another cracker from a superb show that has possibly the greatest ensemble cast in TV history. Seriously: Julianna Margulies, Josh Charles,Christine Baranski, Archie Panjabi, Alan Cumming, Matt Czuchry - all brilliant; and that's before adding the many great guest stars, and the recently MIA Mary Beth Peil, who's been wonderful as meddlesome mother-in-lawJackie Florrick. What a show! This week, Alicia is presented with a career-changing opportunity that carries a huge financial risk when Will and Diane offer to make her an equity partner in the firm in exchange for a large capital contribution. Elsewhere, Jordan and Eli plot a possible attack on Maddie Hayward's campaign, but their plan backfires, while David (the delightfully acidic Zach Grenier - yet another class act) represents the fiancée of an internet billionaire during a complex pre-nup negotiation.
Star of the week
Kylie Minogue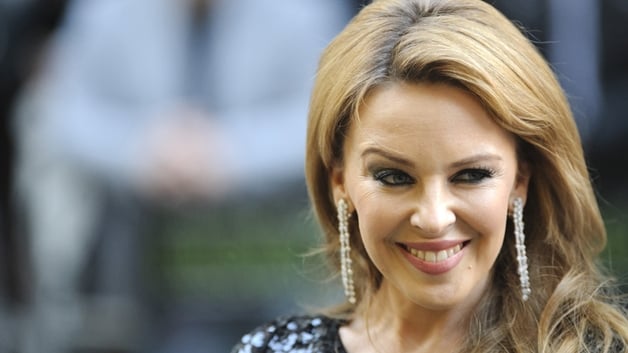 Playhouse Presents . . . (Thursday, Sky Arts 1)
She's been a pop star for so long now it's easy to forget – that's if you knew - Kylie Minogue was once an Australian actress who sang at a charity show and unintentionally launched a new career for herself. An awful lot of water's gone under the bridge since her heyday on Neighbours, but the pocket-sized Australian's back in the acting game, with this brand new series. It's her first TV role since appearing in the Doctor Who Christmas Special in 2007.
She's in great company here as Anna Friel, Ian Hart, David Harewood and Vanessa Redgrave are among the various contributors as the all-star Playhouse Presents . . . strand returns for a second series of comedies and dramas, written and directed by the likes of Idris Elba, Matt Smith, Marc Warren and Johnny Vegas.
The series begins with Warren's dark comedy/drama Hey Diddly Dee, featuring Kylie, Mathew Horne, Peter Serafinowicz and David Harewood. Set during last-minute rehearsals for a West End biopic of Andy Warhol, it explores ego, superstition and rivalry in the theatre through the eyes of Johnny (Horne), a despairing stage runner and understudy with big dreams. Johnny suffers the arrogance and rudeness of star of the show Roger Kite (Serafinowicz). He insists Johnny heats up his coffee, organises his fan mail and, most importantly, keeps the theatre's lucky black cat Diddly away from him. Eager to impress, Johnny is at first obedient but when Roger humiliates him in front of the rest of the cast, Johnny's resentment grows. He suffers a crisis of conscience as voices urge him to ensure Roger misses opening night. And then tragedy strikes . . .
Starting this week
The Ice Cream Girls (Friday, UTV)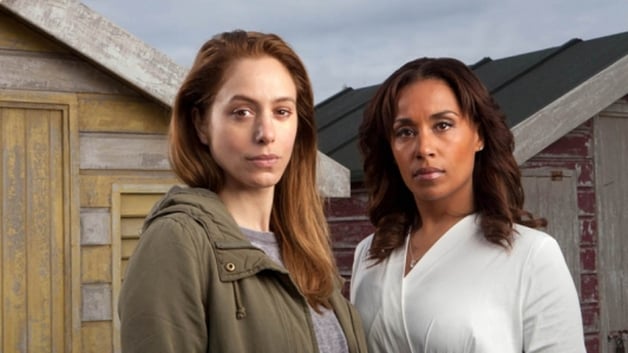 This is a three-part adaptation of Dorothy Koomson's novel of the same name. Two women who were accused of murdering their schoolteacher in the summer of 1995 are forced to confront their dark, shared history when one of them is released from prison almost two decades later, having always protested her innocence. Returning to her home town, Poppy decides to track down old friend Serena and get her to admit the truth about what really happened that fateful night.
Also starting this week:
Oliver Stone's Untold History of the United States (Friday, Sky Atlantic) Film director Oliver Stone's creates a sweeping documentary series - expect controversial views from the start.
It's Love, Actually (Thursday, Sky Living) A whimsical documentary series about modern couples as men and women in relationships of all shapes and sizes talk about living together.
Ending this week
Broadchurch (Monday, UTV)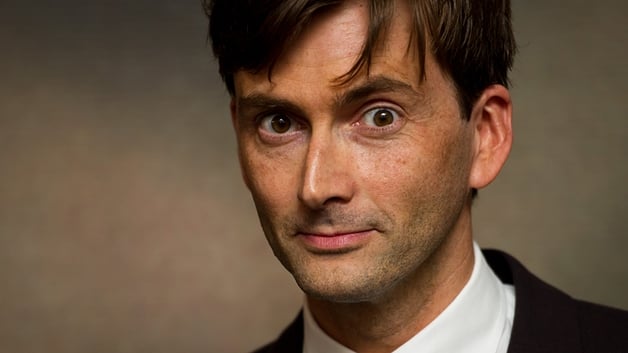 After weeks of speculation, this impressive new drama comes to an end with the Broadchurch community struggling to come to terms with the truth about the events surrounding Danny Latimer's death. And the revelations are such that they threaten to prevent the dead boy from being allowed to rest in peace. It's been fun while it lasted, thanks in a large part to a super cast that includes David Tennant, Olivia Colman, Andrew Buchan, Jodie Whittaker, Arthur Darvill and Pauline Quirke.
Also ending this week:
The Syndicate (Tuesday, BBC One) Despite winning the lottery, Mandy's life is worse than ever. With Steve bound and gagged in the cellar, Helen ups her demands to stay quiet.

Drama of the week
Boss (Thursday, More4)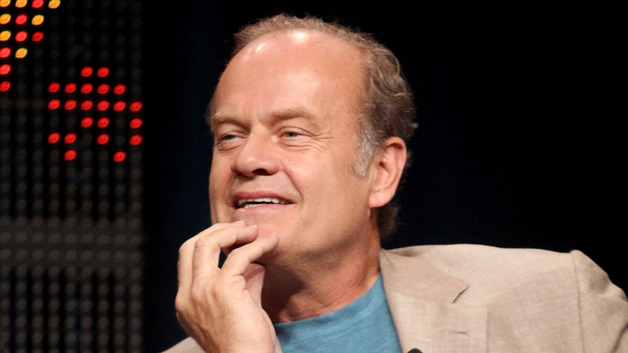 Although this award-winning show has already ended in the US after two seasons due to poor viewing figures, it's well worth investing in for the remainder of its run on More4. Basically a political version of Damages (although not quite as good), Kelsey Grammar impresses as Tom Kane, the Chicago Mayor who's terminally ill. This week Kane and his camp battle with the media to dominate the situation when long-buried information about the disposal of toxic waste near the airport comes to the surface via a mysterious blogger. Meanwhile, with the primary elections rapidly approaching, the team do everything they can to maintain the upper hand.
Comedy of the week
The Wright Way (Tuesday, BBC One)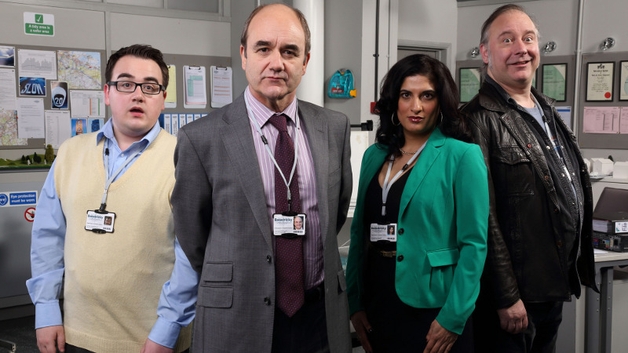 The Beeb has a pretty appalling record in recent years in terms of sitcoms. Fingers crossed they've done something right here – but I seriously doubt it. Created by Ben Elton (so that's a yellow card before a ball's kicked), The Wright Way follows Baselricky Council Officer Gerald Wright. A recent divorcee and new single Dad, Wright's personal life is just one long struggle against the petty irritations and inconvenience that dominate his life. The Wright Way stars David Haig (The Thin Blue Line), Beattie Edmondson (Absolutely Fabulous), Joanne Matthews (Call The Midwife), Kacey Ainsworth (EastEnders), Rufus Jones (Mongrels), Luke Gell (Two Pints of Lager and a Packet of Crisps), Australian actor Michael Falzon, Mina Anwar and Toby Longworth.
Documentary of the week
Room Wanted (Monday, RTÉ One)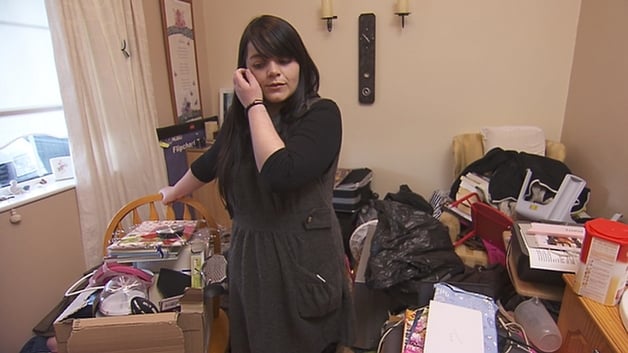 With nearly 100,000 people on the social housing waiting list in Ireland, family accommodation is at breaking point. This new documentary follows several families in their bid to find a permanent home using Ireland's social welfare system.
The families searching for a council home include Trudie Core, her husband Oscar and their two young children have been on the housing list since their return from recession-wracked Spain last year. They are looking for a home on rental supplement but are currently living cramped with Trudie's parents.
Also: Lisa O'Sullivan has been on the housing list for eight years. Nearly blind and living in rural Cork, she needs to find a home closer to the city and medical services. Finally there's a young couple, Diane Joyce and Daragh Hogan, on the Carlow housing list.
Margaret O'Toole is one of the last remaining tenants in a 60-year-old Dublin flat complex, St Teresa's Gardens. Earmarked for regeneration during the boom, the complex now sits largely boarded-up and abandoned.