John Byrne looks at the cluttered Thursday night schedule - the 'best night of the week for TV', he insists - taking in a new reality show, two US dramas, and the long-running sitcom How I Met Your Mother.

Reviewed: The Takeover (Thursday, RTÉ One); Vegas (Thursday, Sky Atlantic); Blue Bloods (Thursday, Sky Atlantic); How I Met Your Mother (Thursday, E4)
There's no argument: Thursday is the best night of the week for TV. The Good Wife and Nashville (both More4) are two of the best shows around, with the former still top of the pile in my book. Then there's the array of comedies available on E4, repeats of the superb The Closer on Alibi (as well as Rizzoli & Isles and Castle), the fine drama Prisoner Wives (BBC One), tailed-off with late-night treats as varied as Private Practice and Sons of Anarchy (both on RTÉ Two), plus the truly brilliant Breaking Bad on TG4. Phew!
Into this overcrowded scene, The Takeover arrived last week on RTÉ Two. One of the two pilot shows green-lighted from last year's Format Farm series (the other one being Monday night's fun Six in the City). The set-up's pretty straightforward: an ailing business is temporarily taken over by its staff, who are overseen by Norah Casey, former dragon on Dragons' Den, and a successful business operator in real life (whatever that is).

The first show in this run took up the challenges faced by Navan Race and Golf Course, a business that had seen better days as both sports have suffered in the recession. Typical of this kind of show, there is ultimately just one question to be answered: can the staff come up with the ideas to put their boss right?

It's all about the journey and – ultimately – it's about Norah Casey bottling any thunderbolts that come from a bout of brainstorming. It's no Ramsay's Kitchen Nightmares, so if you want to see people getting chewed up and spat out, you'd better go elsewhere. The approach here is much more positive; much more Irish. There's empathy here, and an almost naive desire to turn things around.

Ultimately, it's a bit chaotic (all involved have just ten working days to pull it all together), but when the boss, Darren Lawlor, returns after his fortnight away, Norah Casey pointed out the members of staff she was impressed by, and you get the impression that all involved were invigorated by the experience, including the gaffer. At a time when the entire population is walking under a cloud, there's a lot to be said for that.

Besides, given the parlous state of the Irish economy, this show could run and run. Ailing businesses must be queuing-up to gain a bit of exposure, a positive bonding experience and a dusting-down from Norah Casey.

One show that has managed to keep its head well above the water during these austere days is How I Met Your Mother. It's one of the top sitcoms in the USA but has strangely been ignored on this side of the Atlantic, shown on E4 in the UK and nowhere to be seen on Irish TV - which is a pity, because it's the kind of show that could've been a big hit here.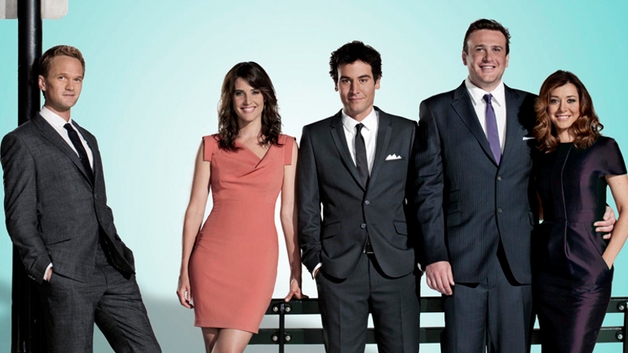 Borrowing a lot from the hugely successful Friends (which ran for ten years), it's about a bunch of thirtysomething pals in New York, with the hook being the narrator explaining to his kids that this is what happened long before they were born, with it all leading up to the moment when the title finally fulfils its promise.

In last Thursday's episode, the New York State Judiciary Committee convenes to question Marshall (Jason Segal – who's now a huge movie star thanks to the platform HIMYM provided him) about his conduct during the previous week's trial against Gruber Pharmaceuticals over its alleged contamination of Frog Lake. It's very much a stand-alone episode, reflecting a show that's in its eighth season, with a final ninth agreed by all involved; the train's at the station and just about to depart.

Although it's not exactly Louie or 30 Rock, HIMYM is a first-class, middle-of-the-road, episodic buddy sitcom that guarantees a fun half-hour. The cast is great, the characters are nailed-down, so regular viewers know exactly what they'll get when they tune in. HIMYM is pure showbiz and will never let you down. These guys are great pals, as emphasised in this episode when Barney and Robin resolve the romantic side of their relationship as, well, friends. This is no show for cynics.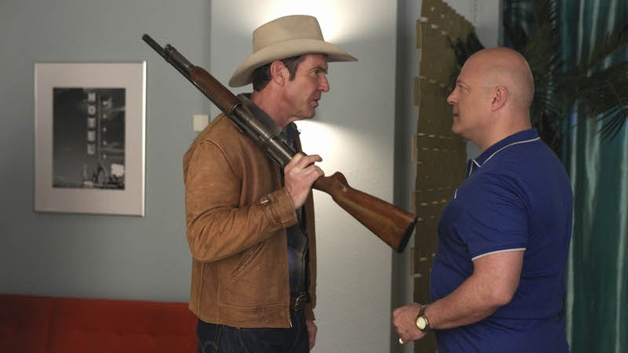 One show that offered a lot more edge on its arrival in this season's schedule, Vegas (Sky Atlantic) has to be considered a bit of a disappointment so far. Sure, it looks fantastic, the main protagonists are high-calibre (Michael Chiklis and Dennis Quaid), but unlike the show from where it borrows its aesthetic – AMC's Mad Men – it lacks any depth and is just another, pretty straightforward, murder-of-the-week procedural. It's not that it's bad – it's very watchable – but you know it could, and should, be a lot better.

The latest instalment was typical: a dentist is bumped-off for no apparent reason, until it's worked out that he was making fake gambling chips and a partner of his got greedy. On the positive side, the mayoral election looks rather interesting as Chiklis' casino boss Savino backed a new guy.

While Vegas is in the 'could-do-better' category, Blue Bloods (Sky Atlantic) has to be the most bog-standard cop show I've seen in a long time and this third season is really dull. Every week, the Reagan family – who include a cop, a detective, a district attorney, a nurse and the police commissioner – save New York, and usually by working together. It's like the rest of the population don't exist!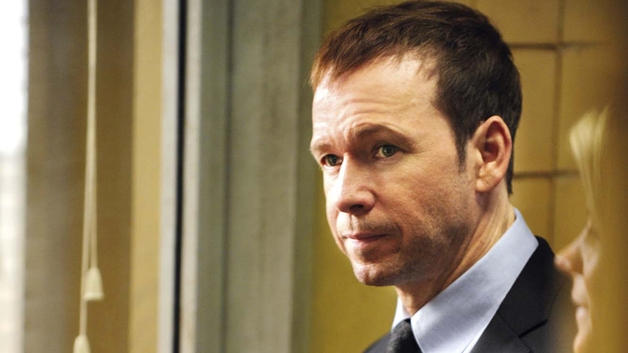 Plus (or negative) Tom Sellick's Frank Reagan has to be one of the most annoyingly smug characters in TV history, while Danny Wahlberg's Danny Reagan seems to be the kind of guy who would not just approve of, but would encourage waterboarding; he's one angry man, and last Thursday's episode saw him undertake anger management classes.
At this stage I can't figure out why I still watch Blue Bloods, especially since Jennifer Esposito was unceremoniously sacked after she took ill late last year (and, boy, is Danny missing his sidekick, Esposito's Jackie Curatola). I do like the rookie cop, Jamie Reagan, played by Will Estes, but the rest of the clan just give me the creeps.
John Byrne