This week on Emmerdale, Moira is alarmed to see Nate and Cain getting on well.
Nate tells Moira he's booked them a night together, and as they set off separately, he texts her, unaware she's left her phone at home.
When Nate arrives at the hotel, Moira is busy looking for her phone. When Nate moves in for a kiss she succumbs to the moment and forgets about the phone.
On the farm, Pete finds Moira's phone and sees the message from Nate and realises what's going on. Nate geta a phonecall from Pete revealing he knows about their affair, but will Pete tell Cain?
Elsewhere, Kerry spots Frank's keyring and pockets it, but soon the pressure mounts for Kerry when Tracy tells her she has called the Hotten Courier to arrange an interview.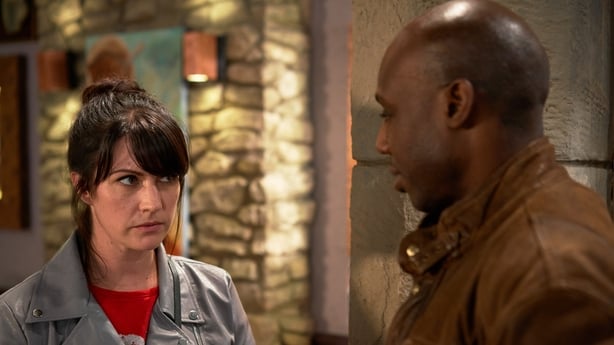 The next day, Tracy spots Frank's keyring has fallen from Kerry's bag and Kerry and Amy have to keep their cool while Tracy questions them about it.
Kerry squirms as she meets with the journalist and feels wracked with guilt.
Meanwhile, Tracy looks for her dad's keyring in Kerry's bedroom, but while searching she finds passports and one-way tickets.
Tracy demands to know what's going on, and she's left reeling when Kerry admits she was responsible for Frank's death. Kerry lies and says she alone was responsible for the robbery and fire to protect Amy.
When Amy arrives, Tracy tries to get the truth out of her. Amy and Kerry lock Tracy in to stop her going to the police. Tracy tries to escape with Kerry in hot pursuit, but Kerry falls and hits her head hard off the ground.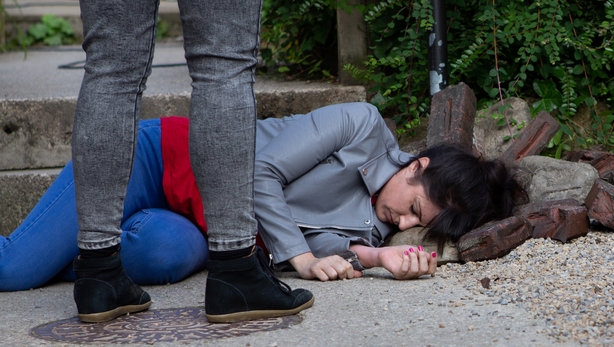 A devastated Amy cries over Kerry's unresponsive body, while Tracy is convinced she's killed Kerry...